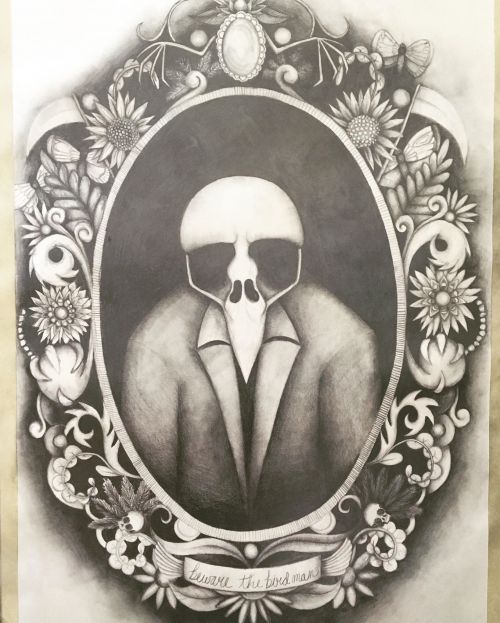 For the month of October, Fargo's Red Raven Espresso Parlor will feature the work of local artist Morganne Behl, whose ink, graphite, and colored-pencil sketches are a perfect fit for the Halloween season. This horror-themed exhibition will contain at least fourteen framed drawings, featuring images of skulls, bees, and bird demons.
Among the most intriguing of Behl's pieces is "Bird Man," a graphite sketch that took six months to complete. Though original drafts of this creature were more animal-like in appearance, with wings and horns, the final result is a portrait of a humanoid demon with a bird skull for a head.
Of the inspiration for "Bird Man," Behl says, "This year's been really tough. I started off in this relationship—we were talking about getting married—and then I was like, 'I don't think this is going to work,' called it off, and just kind of started dating around a lot, got my heart broken a bunch, and it was awful. There was this one guy who really just kind of took advantage of me being in a very low spot… His behavior struck me as very vulture-like… And so the original 'Bird Man' was like going to be a weird bird-demon crossover, and then I was sketching out some other ideas, and it just turned into this bird in a suit… He's meant of kind of symbolize death a little bit."
The exhibition will feature another graphite piece called "Eviscerated," which Behl completed as a follow-up to "Bird Man" over the course of four months. This sketch shows a woman being attacked by large bird talons, with one set of talons covering her mouth while the other tears through her throat.
Another memorable sketch, "Prologue," depicts a human face with honey dripping from the nose and mouth against a honeycomb-patterned background. The inspiration for this was a song by the singer Halsey, the lyrics of which include, "Hands so bloody, tastes like honey."
As an artist, Behl is largely self-taught, having had limited formal education when it comes to visual art.
"I took classes in high school, I took one class in college and didn't finish it… The supplies alone were insane. I probably spent like $400 on supplies for that one class. I still use a lot of the materials though, so it's fine… It can be a very expensive hobby."
She adds, "I would really love for it to be a career path, but for now, it's more of just something I do when I'm able. With the job I have right now, I'm really lucky, because there's a lot of downtime, so I can work on little things at my desk. You can't bring an 18 x 24 to work, but some of the littler ones are easier."