​The Buzz at Red River Market
Arts | August 16th, 2017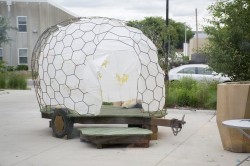 Interactive Hive through Plains Art Museum goes to market
Photo by Jerry Sherven
This summer, interns between the ages of 11 and 18 participated in Buzz Lab, a program through the Plains Art Museum that gives students the opportunity to teach the public about pollinators through art, design and interaction.
On Saturday, the Buzz Lab interns will bring part of their summer project to the Red River Market. Called the Hive, the interns enlisted local artist Dwight Mickelson to design and build a mobile, giant beehive that can travel.
"The sculpture I do is social practice, which is using art in the community and engaging the community. Having folks be part of the art in some way," Mickelson said. "I've done other projects with the Plains, and they asked if I'd do something with the Buzz Lab this year. I designed a mobile, giant beehive that travels around."
The beehive itself, explained Mickelson, is "basically a trailer that's made out of wood and that's shaped as a sphere with hexagon-shaped metal." Mickelson said the space is cocoon-like, with translucent fabric that allows natural lighting to filter through.
Patrons at the market will be able to step inside the Hive, which can fit four to five people. Inside, the Queen Bee will predict their future and discuss issues about pollinators. There will be various types of honey for taste-testing, including dandelion and wildflower honey, and Amanda Heidt of Hannaher's Print Studio will be doing t-shirt printing with bee-related prints. The community will also be able to create a community bee nest.
"The Hive itself is performance art," said Mickelson. "Art is always difficult to get people to experience. They usually look for around 11 seconds. Any time you can get them to stop and smell and see and listen and engage, something that keeps them there for a minute or two, you can really get an idea across or an experience."
Buzz Lab was started four years ago by Christine Baemuler, an artist based in the Twin Cities who continues to lead the program as lead teaching artist. Baemuler participated in "Defiant Gardens," a symposium through the Plains in 2009, when she proposed creating an environment for pollinators in Fargo.
"From the beginning, the idea was that it would be at an elementary school," said Netha Cloeter, Director of Education and Social Engagement at the museum. Initially, the garden was going to be set up through Madison Elementary in Fargo, but when it switched to its permanent residence at the Plains, the focus on education remained the same. "We wanted to keep youth education as a component, so we created an internship program and called it Buzz Lab."
The first summer, interns helped plant the original pollinator garden. Since then, they have done additional plantings and began teaching the community about the importance of pollinators in the local ecosystem.
"The young adults in the program are future leaders in our community and have voices that can create change in our community," said Cloeter. "We challenge them to think about how we can change habits and social issues within the community. We hone in on the issue of colony collapse with honey bees and other threats that are attacking bees. We offer that problem as something they can collectively solve, and one of the ways we do that is through public education."
Buzz Lab has offered public opportunities to assist in planting the pollinator garden at the Plains. They also held Rally for the Bees, where they invited public leaders and representatives to an event where the interns spoke on behalf of the bees.
"We want to equip interns with ideas and knowledge they can implement in creating their own gardens, creating community gardens and learning about the difference between wasps and bees," Cloeter explained. "We teach them to appreciate and look closely at the natural world and think about how our human actions impact that world."
This is Mickelson's first time working with the Buzz Lab interns, and he describes the experience as awe-inspiring.
"They're very creative and aware of the issues we have, ecologically speaking," he said. "They want to do something about it, which is very cool and fun. It's inspiring me."
Previously, the Hive traveled to Rabanus Park for the Summer Series Pollinator Party. The interns also met with professors at North Dakota State University in their bee lab. Mickelson said it may show up again this fall, to "help the community learn and be interested in pollinators and their habitat."
"You almost feel bee-like going in this structure. If you stand and walk, it's almost bee-like the way people are coming and going," Mickelson explained. "You start to feel the pattern of the bees, you get their point of view. Honeybees make hives and are communal. That's one of the things we wanted to emphasize. That's one thing people will learn when they interact inside the hive. Each different bee has a different role which is a metaphor for human interaction. We have lots to learn from bees, I think. We need to remember that we're a community in many forms."
IF YOU GO
Buzz Lab's the Hive
Saturday, August 19, 10am-2pm
Red River Market, NE corner of 4th & Broadway
701-551-6100; plainsart.org