​The cowboy with a crowbar
by Sabrina Hornung | .(JavaScript must be enabled to view this email address) | Arts | December 20th, 2017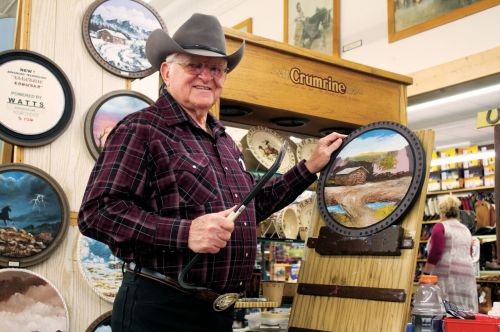 Bob Watts will be 80 next March. The Montana-based artist is armed with a crowbar and acrylic paint and can be found painting at the Miles City Saddlery during the Miles City Bucking Horse Sale each year. He painted with a brush all of his life, until he had an artist epiphany in 1975, after trying to sell his paintings at the grand opening of the Kirkwood Mall in Bismarck, North Dakota.
"I was so excited, boy, I was painting pictures and the mall was so busy with this grand opening and three days went by. True story, wouldn't you know it but I hadn't sold a thing. I had three little tykes at home who needed a Christmas and I needed to do something different. I guess the word is desperation."
He went on. "That night, driving in the garage, upon opening the door I looked at the tool bar and there was the crowbar hanging and it was like a two-by-four upside the head--there's something different!
"I couldn't sleep that night. I went down to the mall early the next morning, before all the traffic started, and I was trying it out with all different angles." He said he could hardly handle the crowbar due to the weight, but he was determined.
"I heard some old geezer behind me say--hey do you sell these things?" He turned and noticed that a crowd of 50 or 60 people had gathered behind him, watching him work and enjoying the spectacle of an artist treating a crowbar like one would treat a palette knife. He sold the painting for $50 before he could even finish it.
"They soon lined up to get a picture and we had a good Christmas." But the buck didn't just stop there.

A few months later, Watts was sitting at the supper table when he received a call from his sister in Greeley, Colorado. She mentioned that she had seen him on television. He thought she was kidding but not too long after that, he started to receive calls from news outlets in Dallas, Boise, Chicago--his story went national and orders started to pour in from across the country.
When working on commissioned work in his studio he prefers to use a brush instead of a crowbar. "It's a novelty. When you have a crowd and you want to attract attention, this does the trick! This last year, not only was this such a novelty but I decided I needed to add something more, because artists are kind of that way. So I rigged up my other crowbar and made it 'electronic,' so when I paint my piece I have my electric cord hanging there and it puzzles them. Then I have to show them that I have it plugged in on the easel--there's nothing there. I have fun and that's what life's about."
Which is fitting. There is a sign above his station at the saddlery during the bucking horse sale that reads "Powered by Watts."
It takes Bob Watts one and a half to two hours to finish one of his crowbar paintings. Of course it depends on how much visiting he does. His record is eight paintings in one day. His medium of choice is acrylic due to its fast-drying nature.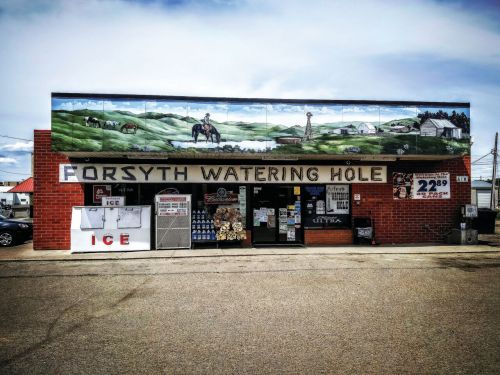 Watts is a self-taught artist. When he was growing up the main priority was getting work done on the farm, though he was often found drawing. When he turned 11 he received a small set of oil paints. This led to entries in local fairs and he was receiving awards for his work in no time. A few years later he made his first big sale which only led to more sales.
"That was really the boost for my career, so to speak. It was a while before I could get into it as far as supporting a family, but doing the art classes was the major income."
Watts started teaching classes after he was invited to a lady's luncheon in Miles City. He did a demonstration and spoke about his work. He was soon invited back to teach.
Word spread in the adult art education community, and he found himself travelling to surrounding counties not only in Montana, but in Wyoming as well. In the 35 years that he taught he estimates that he had close to 7,000 students. In that time he spent weekdays on the road and would return to his family on the weekends. He published a textbook complete with 28 full-color lessons.
Watts lived in Bismarck for a number of years, but upon retirement moved to the town of Forsyth, Montana, a small community of less than 2,000, 40 miles west of Miles City, to be closer to his aging father.
"I retired for two months. They say when you retire you're supposed to do what you really enjoy. My dad would tell you I retired when I was 14." In 2004 he bought the former JC Penney store and opened his own gallery. Upon moving to Forsyth his painting surfaces only got larger.
To say he painted the town would be an adequate statement. Since moving to Forsyth in 1997 he's painted nine murals on the sides of various buildings downtown, and he insists that there's many more to do.