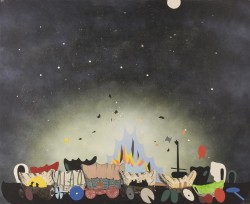 By Lauren Beek
"Call me Ishmael" are three words you've most likely encountered before. Whether you heard the phrase in an English class, an old movie or a contemporary play, this opening line is arguably one of the most well-known in literature.
Herman Melville's great American novel "Moby-Dick" has inspired many great works of art around the world. Since 1851, filmmakers, playwrights, musicians, painters, actors and authors have all paid tribute to the multilayered story of the great white whale.
This fall, the Plains Art Museum will also be paying homage to the novel by showcasing T.L Solien's body of work "Toward the Setting Sun." HPR sat down with Plains Art Museum Director and CEO Colleen Sheehy, Ph.D., and caught up with Fargo native and artist Solien to learn more about what this epic story means to them.
HPR: What drew you to the story of "Moby-Dick" as inspiration for this new body of work ("Toward the Setting Sun")?
Solien: Initially I was drawn to the character of Ahab, who, to me, had the solipsistic and relentless disposition of an artist's sensibility. I began to see myself in him. To understand myself as a deeply conflicted and, perhaps, pathologically "obsessive" person, who often has prioritized his own needs and desires ahead of those of others. This is a common state of being for artists. ... Even if one is not in the studio, one is making comparative analysis with the knowledge that this process will affect one's work in the studio. This process is what artists live for, and what they realize to have incalculable value.
HPR: Can you speak to the ties that you made between "Moby-Dick" and American expansion into the West?
Solien: Both narratives are about a restless unhappiness with the status quo. Ahab must find the white whale before his life has meaning – before he reaches a state of self-respect or satisfaction. Everyone in his path is a victim of this need. The American West is a story of individuals who were unhappy with what they already had in life and sought a better, or the most ideal life they could fathom. Successful people moved west with the hope of acquiring even more. There is an aspect of greed to this narrative, or perhaps, entitlement. Entitled to happiness with attendant riches. This narrative never dies, and this continuum into contemporary experience was important for me to suggest, as we become a more and more "feudal" culture.
HPR: Over the years, who or what have been your biggest inspirations?
Solien: Picasso has always been my primary influence. I love the manner in which his work is distilled from the life he lives, however "problematic" it might be. I also love the way he re-purposes history to speak to the timelessness of human concerns. I am drawn to the work of many, many other artists, but Pablo is always on top. I am inspired by the "strangeness" of Life – by its beauty, its tragedy, its irony, its "messiness." I'm inspired by those who I love and by everyday people doing heroic and unlikely things.
HPR: What would you say to someone wanting to fully pursue their own creative passion?
Solien: Be very aware of what it means to "fully pursue" your passions. Hobbies don't count in this regard – it's not the same thing. You must be willing to put your passions at the head of the table and be willing to live with the consequences of that decision. The chances of success are staggeringly minimal. You must also surround yourself with people who love you and understand your priorities. Otherwise, it is simply too cruel for everyone.
If you feel you can do this without a regretful look backward (this of course is impossible, but false stoicism is useful at times) then by all means plow ahead with abandon. The world needs more miraculous outcomes.
----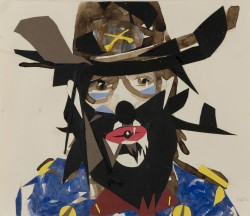 To say the least, "Toward the Setting Sun" seems to be one of these "miraculous outcomes." After 10 years of hard work and meditation on the themes of "Moby-Dick," the public will finally get to see Solien's body of work in one place.
After speaking with Sheehy, it's evident that the Plains Art Museum is honored to be hosting the largest exhibition of "Toward the Setting Sun" to date – a total of 58 mixed media works and paintings on display Sept. 22 through Jan. 12, 2014.
The opening of the show and related "Moby-Dick"-inspired events is the culmination of five years of planning. As curator, Sheehy worked closely with Solien to determine which works would best represent the story of "Moby-Dick" and even chose a few pieces that feature local scenery – Pelican Lake and Grafton, N.D.
Another great element of the show's programming is that no matter what your medium of choice, you can attend a variety of events that feature different artists' interpretations of this iconic novel.
The T.L. Solien Artist's Lecture on Thursday, Sept. 19, at MSUM will allow Solien to explain his artistic working methods and explore the complexity of how an artist creates work.
The opening reception will take place on Saturday, Sept. 21, from 7:30 p.m. to 10:30 p.m., where the public will get its first glimpse of "Toward the Setting Sun" and mingle with fellow art lovers.
"It'll be a really fun celebration for people to see this work. It's really stunning. Whenever I've had to go down into our art storage, as I'm thinking about the layout of the show or writing label copy, I just get drawn into it again. ... It's really beautiful." Sheehy said. She also sees this party as sort of a homecoming of a successful native son.
Hors d'oeuvres and a cash bar will be available, while Amanda Standalone and the Pastry Shop Girls serenade the crowd.
The following day, Sept. 22, will feature a 10-hour marathon read of "Moby-Dick" from noon to 10 p.m. in the museum's atrium. Sheehy said the Plains Art Museum worked with the three library districts to make a selection of key passages from the novel.
"Even though it's one of the great American novels, a lot of people don't read it anymore – it's kind of daunting, it's a long book, the language is not contemporary, but there are some fun elements in it. It's basically an adventure story and we wanted to give people an opportunity to hear the language of 'Moby-Dick' and get exposed to the characters and plot," Sheehy said.
Sixty people from the community will read for 10 minutes each, and Solien will start the reading. Admission is free and everyone is encouraged to drop in to enjoy the story and refreshments.
Other related events include a panel discussion on Thursday, Sept. 26; "Moby-Dick" the opera in October; The American West on Film at the Fargo Theatre; Kim Bromley's "Moby-Dick" installation at the Plains; and a visit from the author of "Ahab's Wife," Sena Jeter Naslund.
Sheehy sees all of these "Moby-Dick"-inspired events as a clear indicator of how influential the novel has been in our culture.
"I think it's just evidence of how 'Moby-Dick' has this ongoing impact. It seems to have an ongoing relevance. It's a story about the figure of Ahab – the rugged individual that we so prize in American culture taken to the extreme where he completely destroys society, which is basically the ship, because of his own desire for revenge. ... It embodies a lot of cultural traits. It resonates with people as kind of a cautionary tale."
And if you would like a memento of the show, the Plains Art Museum has created a catalogue of Solien's work. The catalogue features an artist chronology, images of every piece in the exhibition and four related essays: "From Sea to Shining Sea: T. L. Solien and the American Sublime," by 
Colleen J. Sheehy; "Moby-Dick, Ahab's Wife, and The All-Grasping Western World in T. L. Solien's Toward the Setting Sun," by Elizabeth A. Schultz; "T. L. Solien, the Re-Enactor," by 
Michael Duncan; and "Westward Perspectives: An Interview with T. L. Solien," by 
Erika Doss.
The catalogue will be available for purchase at the Plains Art Museum store for $29.95.
Whether you've read "Moby-Dick" before or you're only familiar with the first three words, you won't want to miss Solien's "Toward the Setting Sun" at the Plains Art Museum this fall. For more information about the show and related events, visit www.plainsart.org.
IF YOU GO:
WHAT: "Toward the Setting Sun" Opening Reception
WHERE: Plains Art Museum, 704 First Ave. N, Fargo
WHEN: Saturday, Sept. 21, 7:30–10:30 p.m.
INFO: Nonmember admission: $10; member admission: free
WHAT: Opening Day Marathon Read: "Moby-Dick"
WHERE: Plains Art Museum
WHEN: Sunday, Sept. 22, noon–10 p.m.
INFO: Free and open to the public
WHAT: T.L. Solien: Artist's Lecture
WHERE: King Hall 110, MSUM, 1104 Seventh Ave. S, Moorhead
WHEN: Thursday, Sept. 19, 5 p.m.
INFO: Free and open to the public
Questions and comments: lauren.suz.fischer@gmail.com