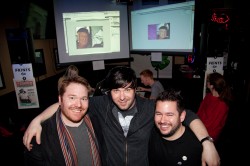 Cropped gets local graphic designers to compete for Photoshop glory
There's a new kind of competition in town – one that doesn't involve balls, food or money.
It's called Cropped. It's based off the Food Network television show "Chopped," but instead of food, contestants work with a "horrible" selection of computer stock images and fonts. And instead of cooking utensils, contestants worth with a computer, a mouse and Photoshop.
Next Thursday, Nov. 14, Cropped will host its fourth Fargo event, featuring graphic designers from Fargo Monthly magazine, Sundog and more.
The four contestants compete two at a time. There are two rounds. The key is to make the most creative or interesting design possible in 30 minutes. The crowd decides who the winner is.
Three local graphic designers, Jeff Knight, Eric "Fish" Ista and Matt Charpentier, came up with the idea over a year ago as a way to sport of spice up Fargo-Moorhead's art and design community.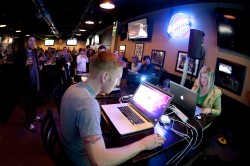 "We are trying to just create something where it's not like 'Hey, let's just get together and sit in our seats and listen to a speaker,'" Knight said. "It's not getting us to do anything."
An event like Cropped is certainly both active and engaging. No other event in town gives graphic artists such energetic and profound exposure.
"Actually seeing this is like a peek into somebody's mind," Ista said.
Enlightened viewers learn a thing or two about design, fellow designers can pick up a few new tricks and the "performing artist" not only gets exposure, but she also gets "practice."
"Most graphic designers we know have been in that situation where the client is in the meeting room," Ista said. "They are waiting and you have these changes you have to make and so you are under serious pressure."
But Cropped isn't like watching a pro golf game, where everyone must be quiet. Social engagement is encouraged. Two emcees will also be giving a play by play as the two artists compete.
"It's a pretty social atmosphere," said Knight. "You can be in the back and be a bar fly and just sort of watch the whole time. You can be front row center and ask questions and get really into it – bring a bunch of your friends and hang out.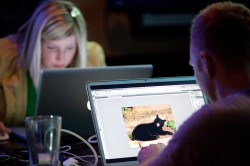 "The events that we put on hopefully try to get you involved – make you kind of bring more of that creative attitude to Fargo."
Stay tuned for more extensive coverage from the High Plains Reader on Cropped early next year. The guys are planning for Kickstarter campaign.
IF YOU GO:
WHAT: Cropped
WHERE: Bar Nine, 1405 Prairie Pkwy Suite 301, West Fargo
WHEN: Nov. 14, social @ 5:30, competition @ 6-8 p.m.
HOW MUCH: FREE
INFO: 21+