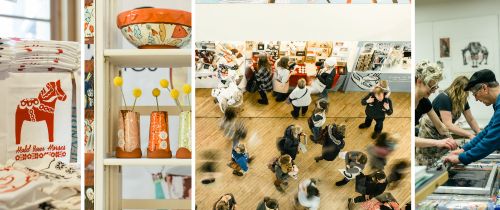 This weekend, the 10th Annual Unglued Craft Fest will be held at the Plains Art Museum, featuring over 70 local and regional artists selling handmade items. Though most are Fargo-Moorhead residents, artists from Minneapolis, Sioux Falls, Bismarck, Des Moines, and Carrington are also taking part.
Products sold will include practical items like pottery, scarves, dish towels, soaps, and bath bombs. For shoppers simply looking for decorative trinkets, there will be stickers, sculptures, candles, jewelry, embroidered pillows, and more. Multiple food and drink vendors will sell everything from baked goods and homemade jams to cocktail infusion jars and craft mustards.
The event begins Friday evening, with a Craft Preview Party that features a live DJ, a cash bar, craft workshops, and food provided by Maria's Homestyle Mexican, Deb's Corner Foods, and Milk Made. All who attend will be given $5 in Unglued cash to spend at a booth of their choice, along with a commemorative pin.
While the Craft Preview Party has a price of admission, admission on Saturday will be free. The first 100 people to attend the Unglued Craft Fest on Saturday are going to receive a swag bag full of samples, coupons, and Golden Tickets to spend at any booth of their choice. Family-friendly activities include a scavenger hunt, custom portraits and caricatures, and community craft pieces that anyone can contribute to. The Young Markers' Market will also take place, with five local artists aged fourteen or younger selling their handmade goods.
On Saturday the Fest will also feature the Craft Beer Garden, with beverages from The Junkyard Brewing Company, The Fargo Brewing Company, and Drekker Brewing Company available for purchase, along with free cotton candy. Mimosas will be available at the cash bar. At 3 PM, free cake will be served to commemorate ten years of the Unglued Craft Fest.
The first Fest took place in the American Legion building in Downtown Fargo with 35 vendors. The event proved successful, with lines of eager patrons wrapped around the block, waiting for the doors to open. The Plains has hosted the Fest every year since.
The event usually draws between 3,500 and 5,500 people every year. Since parking is often an issue for those who wish to attend, LinkFM bus will operate on extended hours for on Saturday. Attendees will be able to park at the Moorhead Center Mall and take a free shuttle ride to Orange Records, which is located half a block from the Plains.
IF YOU GO:
Unglued Craft Fest
February 21-22
Plains Art Museum, 704 1st Ave N, Fargo