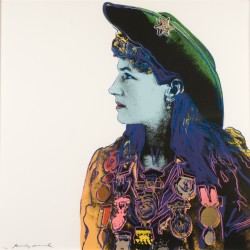 "Once you 'got' Pop, you could never see a sign the same way again. And once you thought Pop, you could never see America the same way again." - Andy Warhol ("Popism: The Warhol '60s")
Andy Warhol made an unparalleled impact on the culture of American art. Starting this Saturday, The Plains Art Museum will bring his legacy to us. "Andy Warhol: Creating Myth and Icon" will feature two galleries displaying up to 40 original works, making this the first major Warhol exhibition our area has ever seen.
Icon features can be a bold and elaborate task for any museum. And if not done right, such an exhibit can be wrongly interpreted, especially by a smaller community that may not identify with the artist. Plains Art curator Megan Johnston took the plunge anyway.
"My whole curatorial practice is about deepening the relationship of the museum with the community – so I don't always agree with blockbusters. But this was a little different," she says.
Johnston's vision for this exhibition was to make it relevant for any museum visitor. It would be more than just art on a wall – more than just a glorification of an already widely known artist. Rather, it would break down the components of Warhol's artistic method.
A pop art icon, Warhol was famous for reworking everyday, recognizable images, e.g., a soup can, a mugshot of Marilyn Monroe or a bruised banana.
The artist had an extraordinary ability to mass produce commercial-style art that tested people's perceptions of what fine art should be. By selecting certain colors, crops and images, he demonstrated art's powerful expressive abilities.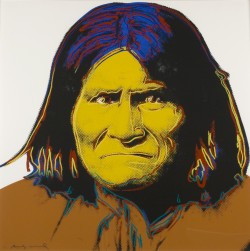 "A lot of people think he was kind of cheeky," Johnston says. "He was just kind of using or appropriating imagery, which is true. But he was also doing it in many cases to make a point; there was a critical lens that he employed when he selected the image."
"What would Warhol do?" was an initial concept the museum staff came up with for the exhibit, Johnston says. Because, to understand Warhol, we must understand his process – and that is precisely what this exhibition is setup to disclose.
While both the second and third floors of the museum will display Warhol originals, the second floor will have an activity guide, and a space where people can make their own Warhol-inspired art.
On the third floor, the museum has set up a Warhol social experience, specifically for the night of the reception. Upon entering from the elevator, a "security guard" will grant people all access to The Factory, which was the name of Warhol's New York City studio. It will have a hip club-feel with a DJ (DJ Econ), food and drinks.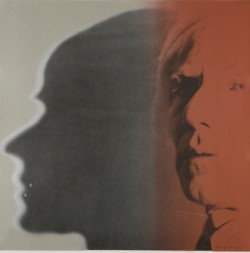 In addition, three local artists have been commissioned to create their own Warhol-inspired art. Printmaking expert John Volk will do a print of "icon" Mayor Dennis Walaker; Native American artist Joe Allen will be responding to Warhol's very last series, "Cowboys and Indians;" Heather Zinger, Artist-in-Residence at Roger Maris Cancer Center at Sanford Hospital, will do an unusual performance art piece during the public reception starting at 8 p.m.
Another untraditional action Johnston took as a curator was asking the exhibition's sponsor to play a big role in creating the brand, the look and the feel of the exhibition. Sundog, a marketing and technology company, has really helped the museum accomplish tasks they otherwise would not have been able to achieve on their own, Johnston says.
Perhaps the biggest reason the museum was able to make this show happen is Johnston's key connection with a couple of major art collectors. Before living and working in Fargo, she was the director of The La Grange Art Museum in La Grange, Georgia.
"It's an interesting little town," Johnston says. "It has, probably, per capita, more Warhols than almost any place in the country outside of New York and Pittsburg."
Wesley and Missy Cochran, two of the town's biggest art collectors, own an extraordinary collection of Warhol art. Thirty-six of the pieces displayed at the Plains Art Museum will come from their collection.
The two will be at the public reception and Johnston is really encouraging everyone to come, not only to see and experience the exhibit, but also to meet the Cochrans.
"I've been telling them how amazing Fargo is, they're really worried to come up – they are afraid of the cold, but I told them they'd be fine," Johnston says. "I want them to meet other collectors, other artists. I'm really struck – I've been traveling a little bit lately – by how many artists we have in the Fargo-Moorhead area. It's a great active community – and that changes everything.
IF YOU GO:
WHAT: Andy Warhol: Creating Myth and Icon
WHERE: Plains Art Museum, 704 First Ave. N., Fargo
WHEN: Public reception: Sat, Feb. 2, 8-10 p.m.; On display: Feb. 3-May 19
HOW MUCH: the reception is $10 for non-members; free for members
INFO: plainsart.org