Wolftree: ​MSUM students and alumni create local publication
Arts | May 23rd, 2013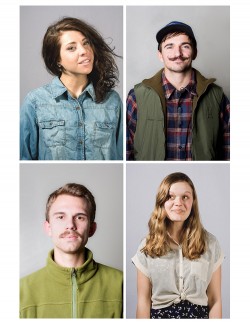 "Our greatest fear should not be of failure but of succeeding at things in life that don't really matter."-- Francis Chan/Wolftree's motto
A new quarterly magazine, Wolftree, will be publicly released at its launch party this weekend.
Wolftree is a small publication based out of Fargo, which aims to support aspiring artists, dreamers and adventurers of the Midwest by highlighting their talents and experiences.
The idea for this publication originated this past December as a joke among four friends:
Noah Kupcho, a recent Minnesota State University Moorhead graduate with a degree in art (photography emphasis), Brooke Kupcho, a senior at MSUM majoring in elementary and special education, Dustin Snyder, a recent MSUM graduate with a degree in geography and Sarah Strong, a senior at MSUM majoring in sustainability.
The four friends discussed how there wasn't an outlet in Fargo-Moorhead to highlight the creativity and passions of aspiring artists. They joked about how they would create their own publication and name it Wolftree.
On a New Year's road trip to Kansas City, the young adults began to talk more seriously about the idea. Because they believed in the importance of an outlet for people to share their talents and experiences, they decided they would work to turn their joke into reality.
They had been referring to their fake publication as Wolftree, without knowing the actual definition, which is a large tree that sucks the nutrients out of smaller trees around it. Because the group wants this publication to be about building up those around them rather than tearing them down, they decided to redefine the word for the context of their magazine.
A page on their official website redefines wolftree as, "a very small tree that has a narrow-spreading crown and promotes or advances the growth of larger trees around it."
The group is striving for Wolftree to publish wholesome, inoffensive and family-friendly content.
"If your kid grabbed it off the coffee table, it'd be okay," Noah Kupcho said.
They also want the content to be generally neutral in regards to politics and religion. At the same time, they want to be careful not to cover up certain aspects of contributors' personas in favor of celebrating other, more wholesome aspects.
In an attempt to prevent their magazine from fitting into a specific genre,Brooke Kupcho said they don't want contributors to tailor or mold their work to fit a certain type for the magazine. Rather, the idea is to highlight individuals' unique aspects.
"The creativity and focus is on others (not us)," Brooke Kupcho said.
The first publication is Fargo-area focused and content includes personal narratives, Q & A with artists, recipes and more. The magazine will be available in certain downtown stores in Fargo.
"We literally have no money, but we're going for this dream," Brooke Kupcho said. "If you're going to believe in something, believe in it all the way."
IF YOU GO:
WHAT: Wolftree Magazine Vol. 1 Launch Party
WHERE: Ecce Art Gallery
WHEN: Sat May 25, 7-9 p.m.
INFO: All ages welcome. No cover charge. Free food and beverages. Live music. Many of the aspiring artists, dreamers, and adventurers featured in Wolftree's first volume will be present.