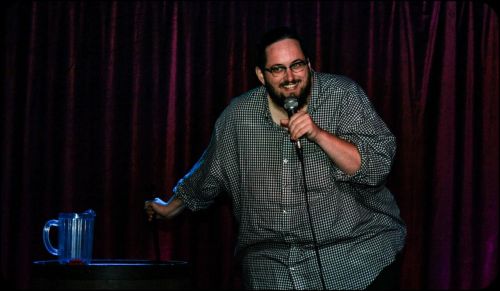 Not only does the Fargo-Moorhead area have a vibrant music scene, but a burgeoning comedy scene as well. I have had the pleasure of providing coverage for some exciting moments in the Fargo comedy world in the last few years and made some new friends along the way. One of the longer running developments in the Fargo comedy scene is the so-called "Forty Below Comedy Show," recently I had the privilege of interviewing three of the people involved: Nathan Fulsebakke, Joe Christianson, and Jenni Lou Russi.
The Forty Below Comedy Show brings quite a bit of local comic pedigree to the table: Fulsebakke has about 2.5 years under his belt, Christianson has 6, and a whopping 25 years from Russi. Jan Syverson is another regular in the tours with a lot of experience under his belt. It has also featured the talents of other local comics like Mitch Reierson, Kendall Kehres, and Chase Raeder. The "tour" has been going on for almost two years. Given that Fargo didn't necessarily have the well-established comedy scene of say, New York or Los Angeles, Fargo comics had to combine forces and make a splash in their own way.
"It started two years ago after I did a show in my hometown in western North Dakota," Fulsebakke said. "Bars in other small towns contacted me about doing comedy shows, and it snowballed from there. Now we do shows all through the Upper Midwest." He stated that the lack of a comedy club in Fargo at the time as well as the people involved having material ready led in this particular combination of comics joining forces, but Christianson has a different story.
"Prison, we all met in prison." Russi has another different take on their origins. "Desperation," she said. "Seriously. Why would these young, attractive comics spend their Friday and Saturday nights with a cranky old woman?" But in all seriously, she said, "Bottom line: we need more stage time." It's how they hone their craft.
The individual comics' starts in the Fargo comedy scene are almost as disparate as the reasons they claimed that they joined together in a supergroup of upper Midwestern comedy. Fulsebakke said, "I always wanted to give it a try, but I hated public speaking, so I never did it. I finally built up the nerve to try it, and loved it, so I've been doing it ever since."
Christianson cut his teeth at the comedy open mics at the Red Raven formerly hosted by other veteran of the Fargo comedy scene, William Spotted Bear. "The venue was packed to the gills, and twenty-five people were signed up to go on stage. I was impressed that that many people were willing to listen to just anyone coming off the street to tell jokes. I ended up going on stage about a month later, and I'm glad I don't have a tape of it."
Despite Christianson and Russi suggesting that Fulsebakke is the storyteller of the group, Russi's story is perhaps the longest and strangest. Prior to coming to Fargo she worked as an actress and singer in Alaska with Anchorage Opera, film and television, even filming an episode of "Real Stories of the Highway." She took a stand-up class from Clara "Fireball" King at Alaska Pacific University. "Everyone else dropped the class. As the lone survivor Clara to me to Pierce Street Annex Comedy Club for my first open mic—I never looked back. From there she moved down to the Lower 48 and been involved with acts such as the Cleveland Improv, Wiseguys Comedy Clubs in Utah, the Seattle Underground, and Laffs Comedy Club in Albuquerque.
For the most part audiences in both the large and small towns the tour have passed through have been very appreciative of the group's comedy stylings. "[They're] really grateful for the most part," Christianson said. There typically aren't a lot of acts coming anywhere close to some of these venues, so they tend to be really good hosts, both the audiences and the venue owners." He continued, "It's a really small world out there and everyone knows each other, so it's like performing in front of a big extended family. We have political and social views far to the left of our typical audience, but we tend to find a lot of common ground in comedy."
Compared to the high profile comedy clubs she has been to in the past, Russi said, "The Forty Below shows are MUCH more relaxed and personal… My set usually includes very personal premises. People often approach me and tell me that we share experiences, and that I helped them laugh about something they're going through."
"Forty Below" shows no signs of slowing down, with an early fall schedule that sees them heading to Dazey, Arnegard, Bottineau, Rolette, and Powers Lake in North Dakota, as well as Dent, Minnesota and Fairview, Montana.
YOU SHOULD KNOW: