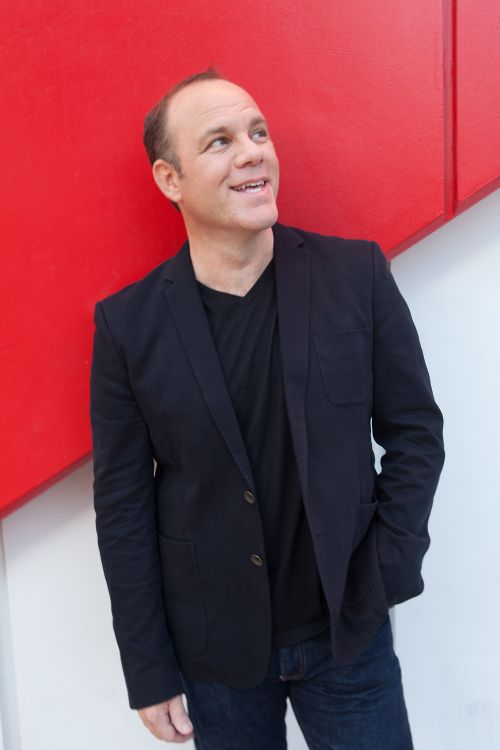 Stand-up comedy is traditionally a one-way exchange. Outside of the odd question addressed to a random audience member, the limit of the spectators' contribution to the conversation is their laughter at the comedy stylings being broadcast in their direction. A talented comedian, however, can seem conversational even within the traditional confines of the stand-up genre.
Take Tom Papa, for example. With an impish grin on his face and a mischievous lilt in his voice, Papa regales us, the audience, with his wry observations of life and family. We feel drawn in, as if Papa was sitting with us at a bar, an arm wrapped around our shoulder while he relates life stories and personal wisdom, an eyebrow cocked as if to suggest he's asking us, "Can you believe that" or "Am I right?"
It is this sort of innate charisma that has allowed Papa to succeed and thrive as a comedian since he started cutting his comedic teeth at New York City open mics in the mid-90s. From there, he would go on to tour with Jerry Seinfeld. In 2005 he released his debut comedy album "Calm, Cool, & Collected." He recorded three comedy specials for Comedy Central, including one directed by musician and film director Rob Zombie. He has made appearances on Leno, Letterman, and Conan. On top of that there have been numerous other film and television appearances, a show on Food Network, podcasts, radio shows, and consistent touring.
Papa's upcoming show at the Fargo Theatre marks his first visit to Fargo, North Dakota. The show will consist of material he has been working on for the last year and a half that he plans to polish into a new special. "I'm constantly touring and evolving," he said. "I'm never not on tour." His visit to Fargo, put on by local promoter Jade Presents, was originally slated for October 2018 but due to other projects he is now regaling us with his comedy stylings in the dead of winter. During our interview I half-jokingly, half-seriously suggested to him that he will definitely want to make sure that he bundles up, telling him about our recent sub-zero temperatures. He responded with a tinge of disbelief and chuckled as he told me he had almost considered not going out on a morning jog at his California home the other morning because it was only sixty degrees.
One of my first exposures to Papa's unique, hilarious brand of stand-up was through a comedy special I watched directed by none other than shock rocker turned film director Rob Zombie, who was so obviously impressed with Papa's powers as a comedian that not only did he direct one of Papa's comedy specials but cast him as the titular wisecracking, lecherous luchador protagonist in his raunchy animated feature "The Haunted World of El Superbeasto." I asked him how that meeting of the minds occurred, considering Papa's stand-up is (usually) pretty clean. "It happened organically through a mutual friend," said Papa. They greatly respected each other's talent and quickly forged a friendship with each other. "He gives me some street cred," chuckled Papa, contrasting his "wholesome comedy" with Zombie being a "bad ass rocker".
In fact, Papa has a small part in a new upcoming feature from Rob Zombie called "Three From Hell." "I always wanted to die in film," Papa chuckled. When he asked Zombie whether he would die in the new movie, Zombie told him, "It depends on whether or not you can live without a face."
On top of the upcoming project with Zombie and the touring, Papa has been keeping himself busy with "The Official Podcast", which grew out of his earlier Sirius Radio show "Come to Papa". He stated that he was absolutely thrilled with the success of the podcast and expressed amazement at how popular the format has become in recent history, which led us on to the subject matter of his current show.
A good portion of his new show revolves around the changes brought about in our collective lives by the ubiquitous advent of social media in daily life. He observed that social media has driven us to live maxed-out lives. Because of social media, he said, "We're all public figures."
"We've been putting so much pressure on ourselves to excel," he said, and forgetting that we're only human and that there is nothing wrong with taking a break occasionally. In fact, it's necessary. "We forget that we're in these funny, gassy bodies," he quipped, worrying about bills and work and always doing the best we can. "Sometimes we need a nap," he said, "while we're figuring it all out."
"We should be eating bread and not beating ourselves up," he said, referring to his strong love for bread, something that led him to landing the show "Baked" on Food Network. "I started baking sourdough bread a couple years ago," he said, and from there it evolved into a passion for visiting bakeries on his comedy tours and relating his adventures in baked goods on his podcast.
We can all benefit from Papa's advice about occasionally taking a load off, and what better way than to get your funny, gassy body to the Fargo Theatre and have a ton of laughs with an incredible comedian. Oh, and while you're there, make sure to tell him about local bakeries.
IF YOU GO:
Tom Papa with Paul Morrissey
Friday, March 8, 7 p.m.
Fargo Theatre, 314 N Broadway, Fargo