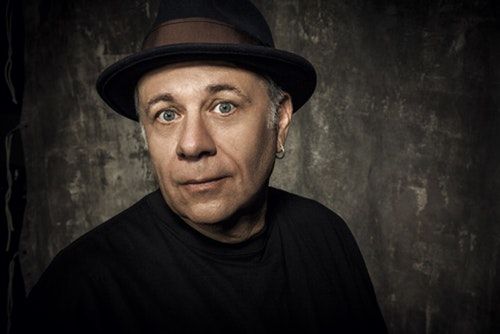 Those who have been reading my articles for a while may remember when I interviewed Zachary Tooker about the Level Two Comedy Club at the Radisson in Fargo. While the club may have unfortunately closed, Tooker has not ceased booking comedic talent for the city of Fargo. His latest contribution is bringing a personal favorite comedian of his to the Cellar at Front Street Taproom, Eddie Pepitone.
Pepitone is not only one of Tooker's personal favorites, but a "cult favorite" as well in the words of Huffington Post. The 59-year old comic is a staple of the LA comedy scene, and this will be his first time in Fargo, North Dakota. "I'm always excited doing a new place for the first time," said Pepitone. "It always opens my eyes to my preconceptions of a place, I'm always surprised by people."
Comedy has been a lifelong passion for Pepitone. "I started doing comedy basically out of the womb," he said. "The doctor slapped me and I said, 'Is that all you got?' I was always the class clown and dropped out of college and started acting lessons which led directly to stand-up, improv groups, and one-man shows. It took a long time to get good at stand-up. At this point I've performed all over the world." Among those performances have been regular appearances on the WTF with Marc Maron podcast, sketch appearances on Conan O'Brien, and TV shows like The Life & Times of Tim, The Sarah Silverman Program, and Nick Swardson's Pretend Time. And that's only the tip of the iceberg. Half this article could be devoted to guest appearances on television alone. Among his most recent work in that field is starring in the Adult Swim live-action comedy Your Pretty Face is Going to Hell as the tortured soul Eddie.
What drew Pepitone to the world of comedy? "It's always been in my bones and my salvation in a cold, cruel world (it's cold in ND, I hear). Also it's an incredible art form to master and it allows me to say anything about anything if I'm funny." Among his inspirations he counts Richard Pryor and George Carlin, but more personal influences as well. "I just try to stay open to the world as I see it. When I was younger my inspiration was my family, now I consider the world my family. Also, I like to attack stupidity and there's never a shortage of that!"
Those who attend the show will be able to purchase vinyl records of Pepitone's album "The Big Push" that he recorded at the Gotham Comedy Club in New York City. Also, they will be able to pick up DVDs of the 2012 documentary made about Pepitone called "The Bitter Buddha".
Before we finished up our interview, I asked Pepitone if he had any words of advice for aspiring comedians, which we all know there is no shortage of. "I tell them to perform as much as they can and dedicate themselves to it. Make sure it's a true calling."
IF YOU GO:
Comedy in the cellar: Eddie Pepitone
Front Street Taproom
October 19 and 20, 7pm
614 Main Avenue, Fargo