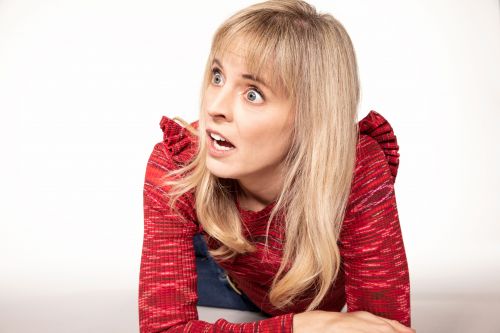 The first exposure I had to Maria Bamford's work was on Adult Swim's comedy sketch show "Tim and Eric's Awesome Show Great Job". She was informing the audience about how to properly remove cat hair from their clothes with a lint roller before collapsing into an emotional breakdown about her feelings of inadequacy.
"It turns out I'm very skilled at fake emotional breakdowns," Bamford said. She has a timid voice, is high-strung, yet bubbling with kindness.
In a career that has spanned over twenty years, Bamford has lent her voice to many animated projects like Nickelodeon's "CatDog," "American Dad!," "Ugly Americans," "Adventure Time," and "BoJack Horseman." There have been the live-action film and television credits like "Arrested Development" and "Louie," and of course the loosely autobiographical 2016 Netflix comedy series "Lady Dynamite." One would hardly think that someone with that extensive a resume would have been an incredibly shy teenager. "I don't like social interactions," Bamford said. But surprisingly enough, she said she likes to be in front of people, calling it "pleasant".
"I somehow keep doing it," she said. "Stand-up was the perfect job for me."
Bamford's comedy is often chock full of the things she knows best: her relationship with her dysfunctional family (including being married, "That's a hot topic!" she quipped), her struggles with mental illness, religion, and the occasional material about dogs. These comedic observations are accompanied by a surreal stream-of-consciousness and ample vocal impressions. "I think everybody can relate, how strange and wonderful a family can be," she said.
She referred to her family as a "never-ending vein of delightful comedic premises. "You just have to hit record with Mom, no editing," she laughed.
She noted that this particular stand-up tour has less of a focus on jokes regarding her mental illness, as her doctor has her on some good medication, something she noted with some relief. One of the things Bamford has been praised for in her comedy is her openness about the struggles of an individual with mental illness. In regards to those struggles, she wistfully said, "Everything is super funny in retrospect." It has been a give-and-take relationship: those struggles have provided fuel for her comedy and her comedy has served as a form of catharsis, a way to work through those issues that is simultaneously fun and distracting.
I opened up to her about my own struggles with depression and anxiety, my earlier editorial about stigmatization of mental health issues for High Plains Reader, and how I knew all too well how important a good distraction can be at times.
"It's crazy how hard it is to get the help sometimes," she said. However, we both agreed, in keeping with the spirit of her comedy and her willingness to confront the subject in a way both humorous and cathartic, that the conversation has certainly opened up in the last 10-15 years.
"It's much more open now. Yay team." She giggled.
Speaking of the value distractions and keeping oneself busy can have, Bamford related that she had a full docket of projects going on along with her current tour. The tour is serving as experience polishing a new comedy hour that she hopes to shoot later this year, but in addition to a potential upcoming album, she is still very involved in various animation and voice-over projects. Also, while not at liberty to discuss too many details, she stated how she is pitching a new reality show, based on her own personal love of transformative reality shows. "What if there could be an intervention on 'Say Yes to the Dress?'" she said dreamily. Her goal with the project, she said, is to make a "loving, gentle reality show." She is also working on an Audible book about how to write an hour of stand-up comedy. "I'm laughing just thinking about it," she said, barely able to contain her mirth about that particular project. She doesn't seem to find this amount of work daunting at all, saying, "You have to keep yourself occupied."
This tour is not the first time that Bamford has performed at the Fargo Theatre. Having grown up in Duluth, Minnesota, she is actually quite familiar with the area (in fact she said she had just been in this neck of the woods shortly before the interview. "It was a lovely experience so I presume it will be fun again.") Opening for her act is her close long-time friend Jackie Kashian, herself a very experienced comedian with experience on Conan, Comedy Central, and nationally syndicated radio show Bob and Tom. "I will also be selling merch after the show with my husband," said Bamford, "which is bound to be a secondary hilarious post-show by itself."
To wrap up our incredibly enjoyable interview, Bamford only felt the need to add that she is very happy to come, and that if current president Donald Trump happens to be in Fargo at the time not to come to the show.
IF YOU GO:
Maria Bamford with Jackie Kashian
Saturday, February 23, 7-11 p.m.
Fargo Theatre, 314 N Broadway, Fargo