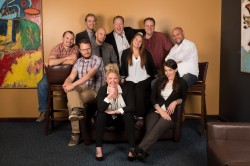 I'm going to admit something. I'm a transplant in Fargo, North Dakota, originally from Iowa. I didn't really know what to expect when I moved here.
Something that continues to surprise me about this city that most people only know from Coen Brothers movies is how much of a burgeoning comedy scene we have here. And perhaps the oldest members of that comedic community are the improvisational comedy troupe LineBenders.
At the very least they are the longest-running professional comedy troupe in North Dakota, having brought laughs for fifteen years. I had the pleasure of speaking with their artistic director, JJ Gordon about the troupe and their upcoming "pop-up" comedy show at the Moorhead Center Mall.
Linebenders got their start in 2001 under the watch of Marty Jonason of the 3rd Street Acting Studio, with a simple newspaper ad. They have only ever held auditions once, but are very open to new members.
Gordon suggests that it's best to come out to one of the rehearsal nights. Gordon himself got his start in 2003 after performing in the Donkey Hotey's at Fargo South, the longest-running high school comedy troupe in North Dakota. Word of mouth seems to have worked out rather well for the group, who at their largest had a roster of almost 40 members.
Gordon modestly states that the LineBenders are "pretty lucky," which is rather the understatement. The group has become a nationwide success and performed in settings as diverse as Long Island and on an aircraft carrier in Texas.
A lot of the hubbub about the group has been generated by their regular performances at various corporate events. "There isn't a banquet hall or conference room in North Dakota we haven't seen," says Gordon. This has allowed the group to build a brand for themselves.
The ever-growing world of social media has allowed the group to achieve even more recognition. A simple search on YouTube for "Doritos noodling" will return several uploads of a humorous commercial that the comedy troupe recorded as part of a video campaign for Doritos chips, that have tens of thousands of views between them.
Go ahead, you know you want to look it up.
The upcoming show at the Moorhead Center Mall celebrates the group's 15th anniversary. Gordon says that the event should be drawing together former members from all over the country, many of whom have gone on to be in other comedy troupes or started their own comedy careers. They should be able to jump back right into the swing of things, as Gordon says that improv comedy is "like riding a bike" and that all they might have to do is "shake off a little rust." The whole process is very organic.
If you are wondering who you can bring to this show, Gordon says that the troupe can perform for "literally any audience" but that he would give a typical show a PG-13 rating. As is the case with improvisational comedy, about 50% of it is the troupe and 50% is audience interaction, which allows talented improv comedians to tailor their shows on a whim to fit the audience they are performing for. Gordon is hoping that since the event is going to occur so shortly before the 2016 presidential election, that there will be "a fun political edge" to the proceedings, but that remains to be seen.
If you're interested in showing up, Gordon suggests ordering your tickets on their website at linebenders.com, as there is only seating for approximately 150 people in the abandoned store space that the show will take place in, and he would hate to turn anyone away. So whether you're an old fan of the group or just someone looking for a laugh, it wouldn't hurt to plan in advance.
But perhaps, like improvisational comedy itself, you are rather spontaneous and want to take your chances.
IF YOU GO
The LineBenders: 15th Anniversary Show Friday & Saturday
November 4 & 5, 8pm
Moorhead Center Mall, 510 Center Ave, Moorhead
www.linebenders.com