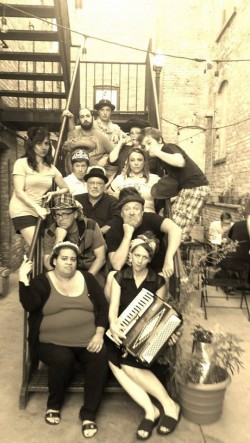 By Ben Haugmo

benhaugmo@yahoo.com
The Spot Panini and Wine in Fergus Falls will be hosting Aimee Klein and her sketch comedy troupe for a night of outrageous laughs and zany fun this coming Saturday.
The driving force that made the show a reality are the characters Klein has invented. The personalities occupying her thoughts have over time become voices that demand to be heard on stage.
"As far as creating the sketch comedy show," said Klein, "I guess you could say that the characters in my head just started getting louder, and they're like, 'Hey, give me a show! Come on! I've got jazz hands!' They just wouldn't shut up."
One such character is the Sandwich Whisperer, who, as one would expect, communicates with sandwiches on a very deep level. Another character is the Russian Natasha Vodkavitch, who Klein uses to incorporate a musical aspect to the show.
"She has her own special Russian national anthem that I make the audience participate in, or they'll be sent off to Siberia, naturally. I think music flows in very naturally to a sketch comedy show. With my first comedy show I had an interesting challenge of switching over the set; there was a set change that actually took kind of long. I turned it into like a really horrific 80's dance workout routine. We composed original music for that."
For Klein, it's the response from the audience that makes performing worthwhile.
"I really enjoy the whole creative process, but nothing beats that audience feedback. Getting that laugh, or maybe it's a 'Oh my God. Did they really say that?' reaction. It's nice to get some sort of feedback to your creation."
The troupe's background and experience provides them with the skills they need to recover if something goes amiss, and of course to make things just a little more interesting.
"I feel very comfortable in a situation of improv. If something goes horribly wrong on stage, I think there's enough trust in our troupe where we've got each other's back and we can all improvise for that situation. Although I do enjoy having a script, I think there's a good balance in our shows. It's a nice combination of improv, but mainly scripted."
Future shows will continue to incorporate music as Klein attempts to evolve sketch comedy in interesting--and often strange--new ways.
"Some of the shows may be more musically influenced. I always want to evolve what a sketch comedy show is, basically. The stranger the better, I guess!"
IF YOU GO
Aimee Klein & Co. Sketch Comedy Show
Saturday, November 19, 7:30pm
The Spot Panini and Wine
220 W Lincoln Ave, Fergus Falls, Minn.