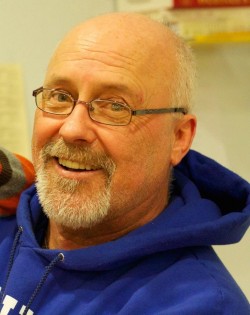 By Bill Lucas
You may wonder about the title. Whenever we hear someone's opinion I think it is important to know a little about them. We all are offended by many things that are due to our experiences in life. We may be able to sympathize with others, but we cannot empathize with them if we have not walked in their shoes.
Comedy from one person or group towards another is found funny by some and not others. There was a time when Lenny Bruce was vilified because his comedy was filled with "foul language." Yet as I grew older and watched more stand-up, I saw and heard just about every foul word being used and most of the audience, if not all of it, was laughing hysterically. I was one of them.
When Richard Pryor was in his prime he would use the F-word as almost every part of speech. He made fun of white people, black people, and just about everyone and anything else he could imagine. I listened to him tell jokes about his drug addiction and the problems he had with it.
I have heard racist jokes told by many comics. Sometimes they were about their own race and sometimes about another. I have heard homophobic jokes told by homosexual comics and heterosexual comics, religious jokes told by religious people and those who see themselves as agnostic or atheistic. I have watched a physically disabled person make fun of himself and others that are physically disabled. Damn, he is funny.
I think you get the picture. If you don't, then you are as dumb as any Norwegian. Did that offend you? I can guarantee some of you were. Some of you just smiled and let it go by.
Actually, I see comedians as some of the most important people on earth. Through comedy they are able to skewer both sides of an issue. Sometimes they are so good you don't even know what side they believe in. Comedians rant about politics, religion, sex, money. Hell, they can do stand up about why boy scouts shouldn't help little old ladies across the street and make it funny to some, but not all.
George Carlin was always one of my favorite comedians. You want to talk about a polarizing figure in stand up comedy. As he aged, I watched his comedy change. Not for the better and not for the worse. It just changed. He was still passionate and could make you laugh to tears one minute and be wondering about the meaning of your life on Earth the next.
Robin Williams is probably my favorite comedian of all time. I watched him do three different versions that describe the game of golf. It was for three different audiences. He adjusted what he said to the audience he knew was listening. (If you don't mind the F-word, I suggest you find it on YouTube—I guarantee you will laugh so hard you will be crying) So sometimes your comedy needs to be channeled through the type of audience.
I knew a comedian who told me once, "If I don't make some, if not most of the audience uncomfortable at some time during my show, then I feel like I didn't do my job." I am not sure I agree with that, but he has been a very successful comedian for many years.
So what makes good comedy and acceptable comedy in today's world? They do not have to be mutually exclusive. Again, this is my opinion, not the truth as to how every comedian should perform.
A comedian needs to be aware of the world and what is going on around us. Timing is everything in comedy. Not just the timing in a joke, but timing as to when a joke can be told. How often have you heard a joke about a recent tragedy and the audience goes totally silent. The comedian usually asks, "Too soon?" This relieves a lot of tension in the room and gives everyone the chance to try to get back to laughing during the show.
To sum up this way-too-long answer to what is acceptable in comedy, I have to answer that I don't know.
If you choose to do stand-up, I know one thing for sure. Many of your jokes will offend someone. You have to do what you do the best way you can, and let the chips fall where they may. If people don't like your brand of comedy then they shouldn't come see you. (People, if you know the kind of humor a certain comedian uses and you don't like it, don't go see his or her show and then complain—just don't go.)
As a comedian, if you don't get people coming to your shows, it doesn't mean you are a bad comedian (and then again, maybe you are). It just means your comedy isn't appreciated by a lot of people. This gives you a choice. Either change your type of material or keep doing what you do the way you do it.
It is your choice.