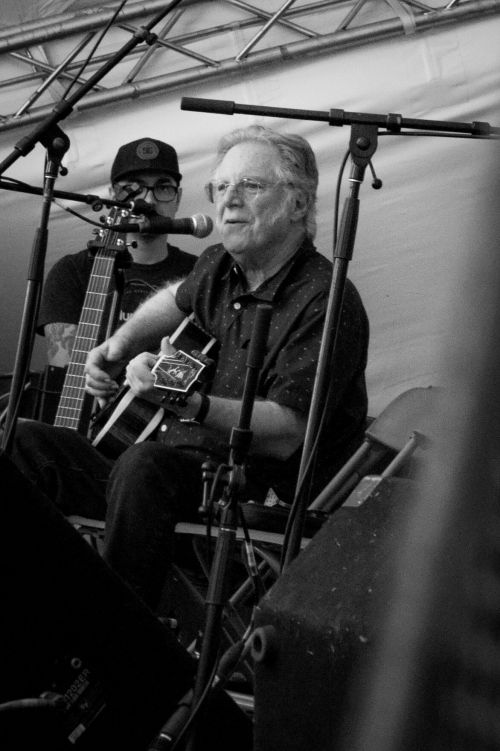 In celebration of the 50 year anniversary of Woodstock we thought we'd collect some stories from three men who were there on stage--whether they planned it or not. We spoke to Adolfo "Fito" de la Parra of Canned Heat prior to their performance at Blues Fest in 2016. We chatted with John Sebastian of the Lovin' Spoonful at the Winnipeg Folk Fest this year and we also had the opportunity to visit with David Crosby prior to his upcoming performance at the Fargo Theatre.
Adolfo "Fito" de la Parra of Canned Heat
High Plains Reader: What was the scene like backstage at Woodstock?
Fito: What was the scene like--(bursts out laughing).
You know most people ask me "what was your experience like at Woodstock?" Nobody has asked me what it was like backstage!
It was a mess out there in the back. We were all just somehow making it. Organizing, trying to play in order-it was really something. It was a lot of fun though. It was probably the biggest party we ever attended. It was very magical, it was like anarchy come true but with peace and love--you know? Upstage yes...backstage..MY GOD!
John Sebastian of The Lovin Spoonful
HPR: As Woodstock approaches its 50th anniversary, would you be willing to tell us a bit about your experience there?
John Sebastian: (Laughs)
HPR: You weren't expecting to play that day were you?
JS: No I was not, I really had come more or less as a member of the audience and it just so happened between one thing or another-- the one or another helicopters didn't show and it started to rain and they were having trouble with trying to wash water off the stage and that was the point of which I was just standing there with… I knew everybody even though I wasn't playing--at least I thought. I was there in a situation where I pretty much knew everybody so I was standing there. I think it was Chip Monck who said, we've got to get somebody who can hold with an acoustic guitar because we're not going to get an electric instrument on the stage because it's too wet. I'm just sitting there like..yeah yeah that would be the way to do it then I looked at him and realized he was looking at me! I said geez man, I didn't bring any instruments--I barely have a thumb pick, he said well, we have a few minutes to find one. So luckily Timmy Hardin who I'd often come across in the Village (Greenwich Village) so we knew each other well. He was backstage and I said, 'Timmy, can I borrow your guitar?' He says 'Yeah sure!' Actually it took me about two months to get that guitar back to him because he just handed the guitar off and split! Somewhere in this world there is a Harmony Sovereign that was on the stage at Woodstock, but unfortunately Timmy had some problems that caused him to sell things on unscheduled times, so I don't know exactly whatever happened to that instrument. It did real well.
HPR: What was Woodstock like? What was the climate--what was the energy like?
JS: Nothing that anybody will ever see again. It was marvelous, and inevitable because in order to do it you have to lose money and that's kind of antithetical to most Americans (laughs.)
David Crosby of Crosby, Stills, Nash & Young
HPR: Woodstock is approaching 50 years… how does that feel?
Davis Crosby: It's so weird. There's so much stuff about it...so ok, first of all everybody misunderstands. They think the significant thing was how big it was--and that's not what the significant thing was. The significant thing about Woodstock is probably about half a million people were nice to each other for three whole days. Now, check this out. There's never been a gathering that size where nobody murdered anybody where nobody robbed anybody where nobody raped anybody. ALL of them… even religious gatherings, that shit happens at. This time it didn't happen--something else happened… people were nice to each other for three whole days. If you had a sandwich and someone else was hungry you tore the sandwich in half. People helped each other, it was an astounding feeling and it's still stuck in all of our minds who were there. That's how we think it should be and it isn't.
HPR: What do you think it was… a reaction to the political climate, everybody just wanted to have a good time…
DC: We didn't know there were so many of us and all of a sudden there we all were… we were all hippies and we all felt love was better than war, we had this same kind of ethic going and we lived it. It was what we dreamed of when people were not trying to kill each other or rob each other or rape each other. We thought it was freakin' wonderful and we're still trying to get back there.