A 'Cold Front' Hits the FM Area
by HPR Contributor | .(JavaScript must be enabled to view this email address) | Music | October 24th, 2018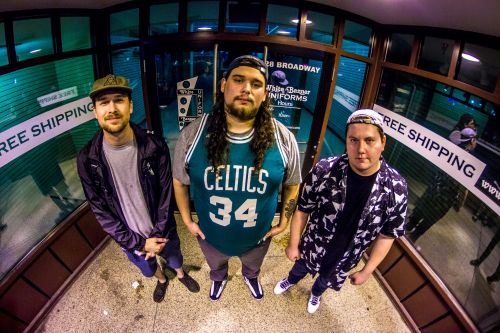 by Jacques Harvieux
jacquesthejock@gmail.com
A few steps above Dempsey's downtown Fargo is the place where locals go to pack themselves in like fish in a bowl. To swim about in an atmosphere, at least for as long as the show lasts, seems hedonistic in nature. Pleasured often by sounds that are a mix of new and old, exotic and local. You get your ticket to the left and get your drink to the right. The Aquarium floats above most, often including acts that are a mix of older prominent artists, and new and upcoming fresh blood. Cold Front is no exception, coming in hot and fresh the group expands on their style and local inclusivity. HPR was lucky enough to catch their last show last Friday, October 5th.
This was Cold Front's second show, ever. They were scheduled underneath the headliner Carnage the Executioner, this concert. A schedule that was made on purpose this time to ensure the crowd lasts for the whole show. Cold Front was the first opener for the Lil' Debbie concert back in August, on the 22nd, Cold Front was scheduled to be the first opener for the entire concert (understandably it was their first show), but the venue was unaware of the amount of mass support that had shown up specifically just for Cold Front. By the time Lil' Debbie came on stage, the majority of the crowd had left.
Raz-P (Luke), Jonesy (Ian), and Big Green (Cal) make up the trio. HPR met up with the Trio a couple days after the show to ask them how they feel about their new found local success.
HPR: So how did you guys get started?
Big Green (Cal): It kinda started from Vinyl Taco in 2015, I was working there and Ian had got a job there and he lived with Luke (Raz-P).
Raz-P (Luke) : We liked to make freestyles so we started making beats and hanging out.
Jonesy (Ian): So it was always kind of a hobby that we did for fun, it wasn't until Cal started coming over that we started recording some stuff, and from there it started to take off.
HPR: So you guys have garnished quite a bit of early success to the point you even upset Lil' Debbie (the headliner) at your first show, because most of the crowd left before she even came on stage. Can you elaborate?
Cal: We didn't try to do anything, we promoted the show quite heavily. We have a lot of support downtown and in the F-M area from working here and playing with other bands.
Ian: That's the biggest part, the friend base and support that we have is so deeply rooted in downtown Fargo.
Luke: Also, during that show we had twice the amount of people at our show opening then she had at her show closing. So I think she saw that and was kinda like, "what?" And even though she wasn't at our show, she probably heard about it.
Ian: That's more or less our friends just coming out to show love.
HPR: So besides music what else are you guys doing for work?
Luke: I bartend at Vinyl Taco still, hanging out with the homies, and you know just trying to stack up some money, bartending.
Ian: I mean we're all in the service industry, I'm at Rustica in Moorhead serving right now.
Cal: And I'm just at ye' old Brickhouse in West Fargo.
HPR: If you guys had a major influence for your music what would that be?
Luke: Definitely Rhymesayers, we've been going to soundset, I've been going myself since 2011.
Ian: I agree, Minneapolis hip-hop has been one of those things that has really inspired us, and made us go, "hey we can do this too."
Cal: Yeah for me, growing up I listened to Southern rap - like Atlanta style hip-hop, and then once I had moved up here, I obviously got into Rhymesayers and acts like that, that would come to influence my own rap.
HPR: So what do you each think your personal roles are within the group?
Luke: I rap, I write verses, I try to you know help where I can. But if it wasn't for Ian or Cal making the beats and getting us on any bill around town, because Cals been doing it for so long with his other bands, they both need all the credit, where I kinda come in and just layout a verse and have fun.
Ian: The man's too humble, Luke definitely holds it down, in more ways than one definitely not just the rapping. It goes back to the friendship thing, which is the dynamic between us three. Myself, I just make beats, come over with beats, find out what these guys like and we just kind of work it from there. I've been learning a lot about the mix-style process, and finalizing songs to make them sound right, especially on bigger systems. Besides that, I do most of the artwork for us as well.
Cal: Usually, I'll put out a hook, and then we normally go from there with the rest of the lyrics, between us three. I do a lot of the booking, finding venues, and making connections, to expand the Cold Front family, you know?
Cold Front is the prime example of close friends coming together to represent their community and make music. Luke and Ian met real young in grade school, while Cal would move to the area in 2008, from Illinois. All that was needed was Cal to come into the picture in 2015, with the Vinyl Taco as the catalyst and the group would be formed, making the rest history.
Cold Front didn't actually get its name until this last May, when they came out with their first song, "Spinning." Major success would come when they would release their first single, "Ope," which puts a lyrical spin on the common Northern phrase.
Their latest single, "That's Life," was released officially six days ago, and features prominent Grand Forks rapper Dakotah Faye. The trio surprised the Aquarium audience over a week ago, when they performed the new song and Dakotah Faye showed up to further surprise the audience and rap his verse.
The house in South Moorhead, where all of the boys live is more musically inclined than the average person would come to realize. Cal (Big Green) is currently associated with three acts; Cold Front, SuperCruiser, and Ripped 2 Piecez. SuperCruiser is a surf rock/punk band that has an upcoming cover show for Halloween on Wednesday the 31st at the Aquarium. Ripped 2 Piecez is a hardcore band, that Cal is a member with Don Gordon, who is another roommate and close friend of the trio.
Gordon is a member of three hardcore/metal bands, Ripped 2 Piecez, Pass the Flask, and the lead singer of Swing Low. Also, not mentioned is fifth roommate, Jacob Louks, who helps a lot with the planning and running of many of the groups events. He is known as the "peacekeeper," in the house, often deescalating much of the guys' shenanigans.
Currently, Cold Front has 15-20 recorded songs, they plan on releasing their first official album not an EP, in December. They plan on having a show to coincide with the album to celebrate its release. Be sure to pay attention to the upcoming local venues, because their show is sure to sell out!