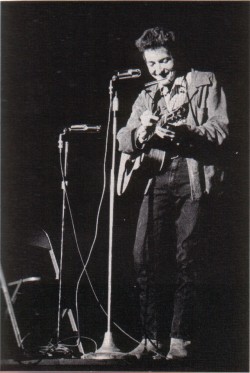 Bob Dylan, among hundreds of other things, was a prolific songwriter. Among the hundreds of things he was -- a singer, an activist, a harmonica player, a poet, a husband, a father, a guitar player -- he was most brilliant and artistically stunning at being a songwriter. In fact, Dylan is, without question, one of the most influential songwriters of the 20th century. From classic rockers to bluegrass musicians to indie rockers to pop stars and everything in between, Dylan has made an impact in many artist's creative lives.
This Sunday, August 19, Bob Dylan will perform in Fargo for the third time in the past decade, this time at the Fargo Civic Center.
There are hundreds of songs we could revisit to get pumped for the show this weekend. Here's a few of his best to get folks started:
:: "Mr. Tambourine Man" – Famous for its abstract, philosophical lyrics, this poetic tune also has an infectious chorus melody. Dylan's wailing voice on the word "Hey" is so distinctive to his sound, no one could ever capture his vocal character quite like the way he could.
:: "Just Like a Woman" – Here is one of Dylan's sincerest takes on a troubled woman. With lyrics sung over delicate guitar playing, Dylan's yearning to move forward is completely heart melting.
:: "It's All Over Now, Baby Blue" – Dylan proves his brilliance in writing creative melodies in this tune. The continuously descending melody line from the start of the verse to the end of chorus simultaneously goes with the words "It's all over now."
:: "I Want You" – Dylan gets a bit suave in this tune. His wailing voice gets a little deeper and almost corny sounding (Dylan's voice could never be perceived as sexy) perhaps to get the girl to fall for him.
:: "4th Time Around" – Quite possibly the instrumental influence for the song "Lorelai" by the amazing modern folk band the Fleet Foxes, this breakup song tells a vivid story accompanied by Dylan's gorgeously dreary vocals.
:: "Like a Rolling Stone" – Although this song earned him a lot of resentment from fans for "selling out" to make a rock hit, this six-minute powerhouse song is actually regarded the no. 1 "greatest song of all time" by Rolling Stone magazine. This gritty, emotionally charged song makes use of continuous, catchy rhymes that build up to the phrase "How does it feel?". It is so dynamic in its presentation, it digs into people's skin and stays there.
IF YOU GO:
WHAT: Bob Dylan
WHERE: Fargo Civic Center
WHEN: Sun., Aug 19, 7:30 p.m.
INFO: All Ages; http://tiny.cc/yuf1iw
How Much: $63.50 plus fees