​A little bit country, a little bit rock 'n' roll
by Sabrina Hornung | .(JavaScript must be enabled to view this email address) | Music | March 28th, 2018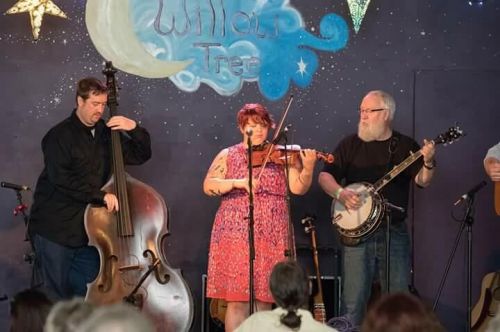 Knoxville, Tennessee-based violinist Evie Andrus has played the violin for most of her life, in fact she and her brother Wild Hands bassist Joe Andrus grew up playing in the family bluegrass band. She's currently part of a five-show midwest tour with classic rock legends Foreigner as part of the backing orchestra.
Fortunately, her band Holler Jake had a break in their touring schedule to meet up with Wild Hands for a wild night at Sidestreet this coming Saturday. Rumor has it that the Andrus family bluegrass band, called Family Ties, might reunite for a brief onstage reunion.
High Plains Reader: After following your social media posts, it looked like you had quite the adventure getting here!
Evie Andrus: When I found out I would be on the Foreigner tour and that my good buddy Paul was gonna be up in Montana playing, it just made sense to see if we could make something happen. I enjoy adventure and thought it would be fun to see how many different modes of transportation I could use! So far it has been Greyhound to Nashville, Uber to airport, fly to Bozeman, from there I went straight to Chico Hot Springs, with Paul Lee Kupfer and his awesome 1970 Mercedes 220D. I'm currently on the Amtrak to Chicago then I'll Greyhound over to Cedar Rapids where I will connect with the tour.
Social media is a fantastic way for me to let folks travel with me. I use it as a blog in ways, I guess you could say. Plus there is so much negativity on social media these days. If I can spread joy and love by posting silly photos and music, then I have done my job!
HPR: So you are playing violin with the orchestra backing Foreigner. How has that experience been?
EA: It is crazy to think about. I am a bluegrass kid that has been doing folk music and now I own a pair of fake leather leggings to use in a rock show! I am excited to be a part of something new. This is taking me back to my childhood playing in the Minot High School Orchestra.
HPR: How long has it been since you shared the stage with your brother Joe Andrus? Joe's a pal and has made mention of playing in a family bluegrass band growing up.
EA: About a year. My bluegrass band, Buffalo Fiasco, made a trip last summer to play at Cross Ranch State Park and my brother sat in with us for a set. I have also gone on tour with him and Wild Hands from North Dakota to Tennessee. It will be fun to share a stage with those boys!
HPR: That being said, what's your earliest music memory?
EA: Oh man, music has always been a part of my life. I remember being around six years old and I used to sit with the fiddle player in my father's bluegrass band. My parents asked me if I wanted to learn anything and I said fiddle and they put me in Suzuki lessons. The rest, as they say, is history. I fell in love with music and have been playing ever since.
HPR: Do your family events ever turn into jam sessions?
EA: All the time! (laughs) I actually thought it was odd the first time I went to someone else's family gathering and no jam happened. I didn't know what to do with myself!
HPR: How long have you been playing the fiddle and what about the fiddle captivated you?
EA: I have been playing for 26 years now! Wow, I feel old (laughs). I love the versatility of the fiddle, you can take it everywhere and play any style with it. So many of my favorite experiences revolve around my fiddle -- whose name is Dakota, by the way.
HPR: What can show-goers anticipate on Saturday?
EA: A musical experience like you have never heard! We have a bluegrass fiddler mixed with a classical cellist, a Cuban bassist and Dr. Beats on drums. Plus who knows what else! It is a blend of styles, but somehow flows together like you wouldn't believe! It will be a high-energy night. We like to have a party on stage whenever Holler Jake get together!
IF YOU GO
Holler Jake and Wild Hands
Saturday, March 21, 10pm
Sidestreet Grille & Pub, 404 4th Ave N