A true R&B 'old schooler'
by Diane Miller | .(JavaScript must be enabled to view this email address) | Music | August 22nd, 2013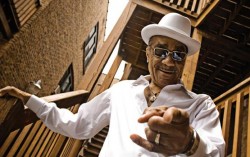 76-year-old Andre Williams to perform at The Aquarium
Andre Williams is sort of mysterious legend. The 76-year-old Chicago/Detroit R&B musician has written songs for Stevie Wonder, Ike Turner and even Parliament-Funkadelic. He's even had a few mega-hits – "Bacon Fat" and "Jail Bait" – among the hip R&B crowd in the 50s.
More than 50 years down the road, he still continues to record, perform and write. And believe or not, music fans and critics everywhere almost unanimously rave about how great he still is – about how much swagger and tasteful character he possess. After all, he is "The Black Godfather."
The High Plains Reader graciously interviewed with Williams over the phone to learn a bit more about him. He sure was jolly.
HPR: As a performer and songwriter who has lived through decades of great music, what, in your humble opinion, makes any piece of music great?
Andre Williams: It depends on two things. It depends on the rhythm, the rhythm of the body itself, and the story. If the story relates in someway to you … that's how you know you got a great piece of material. If it doesn't relate to you, then you have a good piece of pie dunk (laughs).
HPR: You have many wonderful, thoughtful, poignant and bold song titles. Do you come up with the song titles before you write the songs?
AW: Absolutely. I have to see something that relates to what the story would be about. And then I write around that.
HPR: "Blame it on Obama," is that song meant to sort of target people who blame the president or the government for all their problems?
AW: That's a good question. It's not blaming either party … We are in a situation and we got to find somebody to blame it on, and the perfect person to blame it on would be Obama (laughs). You can't blame it on your wife, you can't blame it on you children, so you have to blame it on somebody. So the next person would be Obama. (laughs) Who's ever in the office, you know, that's the highest power.
HPR: Throughout all your years as musician, songwriter and performer, have you found there is a difference between what the crowd loves about your music and what you love about your music?
AW: I have to find out what's going on in that area. Some of songs don't fit in certain areas. Some song songs fit perfectly in certain areas. So I have to do a little research before I get there on what kind of material I would present at the particular time.
It's not hard to please the Canadians … the Canadian people are a little more humble. You know, they'll say, "well the band tried." In America, they think, "Well whether they tried or not, it's just no good" (laughs).
HPR: You recently did an album with the Canadian roots-rock group The Sadies? What inspired that matchup?
AW: I don't know what put us together. It's been an amazing experience, anytime I get a chance to play with those guys. They are like my little brothers. We have a very, very good relationship and a good concept of each other.
They've got such a variety of instruments that the American people don't use. One of the brothers is using the fiddle, like a really country hillbilly fiddle, and the bass player plays upright. So their sound is different, their attitude is different. They have old instruments playing new songs.
HPR: How do you keep your mind so sharp at your age?
AW: I really don't know. I amazed with myself everyday. I'm blessed with the people I'm surrounded with and the people that enjoy me. There's just so many things that I enjoy.
IF YOU GO:
WHAT: Andre Williams
WHERE: The Aquarium, 226 Broadway
WHEN: Sat, Aug. 24, 9 p.m. doors, 9:30 show
HOW MUCH: $10, Orange Records & www.ticketweb.com
INFO: 21+