​Carolina Eye and Ear Candy
Music | June 26th, 2012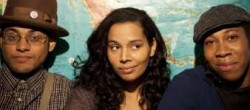 Carolina Chocolate Drops: A Winnipeg Folk Festival Highlight Artist
One of the best and brightest folk festivals is only three hours away from the Fargo-Moorhead area. Join Iron & Wine, Feist, Billy Bragg, K'naan, and HPR's two picks of exclusive, on-the-rise artists, The Carolina Chocolate Drops and Blitzen Trapper, as they take the stage on festival grounds in Winnipeg starting Wednesday, July 4 and ongoing till Sunday, July 8.
The Carolina Chocolate Drops (CCD) from North Carolina legitimately own the title spot as the staple African-American roots band. With one Grammy already under its belt, the band is continuing to shine among – and sometimes even out-perform – its contemporary artists who are predominantly white.
Since the band's formation in 2005, it has released three full-length albums, been praised by such publications as The New York Times and The Huffington Post, performed at the Grand Ole Opry and, of course, won a Grammy for the Best Traditional Folk Album.
"Genuine Negro Jig," the band's prized album of 2010 is certainly wonderful, though now in 2012, with its latest album, "Leaving Eden," the band has proved that they are not just another band with a banjo.
Once a trio, "We expanded our musical family quite a bit, and that was really exciting … We did a lot of things we were not able to do before," banjo player/fiddler/vocalist Rhiannon Giddens says in reference to recording the new album. The band now consists of five musicians rocking on guitar, fiddle, jug, banjo, bones, beatbox, snare drum, mandolin, kazoo, tambourine, harmonica, quills and cello.
There is something wonderful about modern players taking organic instruments, recording them in a modern studio, and yet sounding so authentically classic.
CCD develops and creates strong and vibrant songs, all impeccably executed. Whether performing traditional fiddle tunes, rag-timing swing tunes, bluegrassy call and response songs, or just recreating R&B jams from the early 2000's, this group of modern american folk heroes know how to do it right.
Especially unique is CCD's rhythm section, due to its use of bones and beat boxing. Bones are a percussion instrument placed between one's fingers and consist of two animal bones that make a "click-it-y" sound when struck together. Dom Flemons, one of the leading/founding members of the Chocolate Drops, is quite the bones master. In fact, one can tell he is good by simply using their eyes. It is like moving artwork. His strapping suspenders and buttoned-to-the-top plaid, collared shirts certainly add to the visuals as well.
CCD may be the only current old-time band that incorporates beatboxing in its music. Not since Ben Harper, who is only semi-rootsy, has beatboxing been around in folk music. More often, that type of vocal percussion is found accompanying a rapper, but surprisingly, it fits in gracefully CCD's sound.
Giddens dance moves are not something worth dismissing either. In the middle of the band's performances, she will often start doing the Charleston and other contra-type dances. The crowd hoots every time.
"I hung out at fiddle conventions for a while when I was starting out and there was a lot of dance teachers dancing on boards … I kind of messed around and saw what I could do," Giddens says. "We try to keep it in at least a little bit the show because people really like it ... It's nice to have a little bit of visual interest."
Whether they get their attraction from their instruments, voices or visuals, these musicians sure know how to keep it old school in a ridiculously stylish and proficient fashion.
"I think there's a small, yet growing, hopefully, backlash against pre-packaged pop that is sort of dominating the airwaves. I really feel like people are feeling like it's time to do something different – to go back to music that people used to make themselves and not producers," Rhiannon Giddens says.
Hear all of CCD's songs by visiting http://tiny.cc/coqhgw
IF YOU GO:
WHAT: Carolina Chocolate Drops at the Winnipeg Folk Festival
WHEN: Sat., July 7, 6 p.m.
WHERE: Winnipeg, Manitoba
INFO: http://tiny.cc/emqhgw