​Center of Attention
Music | August 7th, 2019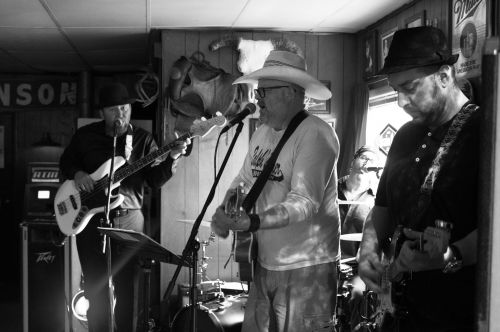 Center Fest 3 kicks off in Robinson, North Dakota this Friday and will run through Saturday night. What started as a discussion about the center of North America has taken on a life of its own and become an annual celebration.
Several years ago, Bill Bender, who owns Hanson's Bar in Robinson, discovered that the trademark for the Geographical Center of North America – previously held by Rugby – had run out, so he was able to get it and decided to label Robinson as such.
"We declared Robinson and the bar, actually, [the Geographical Center of North America]," Bender said. "On our end, it was a fun-hearted thing. We didn't mean any harm by it, but they didn't take it that way."
After some back-and-forth with Rugby, it was returned, but not before Center Fest was born.
"About a year and a half ago, we established the International Center for Determining Centers (ICDC) and that's based in Robinson," Bender said. "So, that's what Center Fest has become – a celebration of the ICDC, and its annual gathering."
This past June, the ICDC held a preliminary meeting to prepare for Center Fest and on Friday, they will hold an official meeting to establish board members and positions for the organization.
"Clay Jenkinson, a historian who does the Thomas Jefferson Hour every week and lives in Bismarck, wants to be on the board and is getting involved heavily," Bender said. "John Clemens from the USGS also wants to be on the board. It's coming together. It's taking shape slowly. It's kind of a side project for all of us. It's going to be fun. I think it's got a lot of potential."
That meeting will be held at 2 p.m. and will be the official kickoff to the two-day event which will be chock-full of music and fun.
"We have seven bands this year and all these bands play full sets," Bender said. "They do full shows, so it's unique that way. Most of the bands are from Minneapolis. We have a functioning trebuchet now, so we're going to be doing launches all weekend."
A trebuchet is a type of catapult with a swinging arm.
"The Miss Center Fest contest is going to happen during the weekend, probably on Saturday," Bender said. "Last year, it was its own event. We did it in June, but most of the girls that were in it were in college at the time. Now, they've all graduated and they're functioning adults and they can't take a whole weekend off just to be in a pageant. So, we're going to do it during Center Fest this year."
The bands will fire up in the late afternoon on Friday.
"The first band on Friday will be at about 5 o'clock," Bender said. "The second band, Ardo, a band out of St. Paul, at 7 p.m. At 9 p.m., Keegan Konsor. He's a singer-songwriter from Iowa. Then, at 11 p.m., it's Shocktrigger from Minneapolis. We also have a comedian named Tim Lechtenberg. He's going to do a set both nights."
The music cranks up at 4 p.m. on Saturday. The first band will be Lost Horses. They are an old-school country band out of Mandan who bring a little something extra to the show.
"They're going to do Chicken Sh*t Bingo," Bender said. "Dale Watson is a honkytonk legend out of Austin, Texas. He originated Chicken Sh*t Bingo down in Austin. Essentially, you have a big 4x8 sheet and it's got 54 numbered squares on it. People line up and buy a ticket with a number on it and that's your square. Then, we put the cage over the numbers, and we put a chicken in there. It walks around and wherever it takes a sh*t first, that number wins."
The event is special for Bender and the gang because it is a sanctioned event that was blessed by the inventor himself.
"I talked to Dale Watson last year and asked him if we could become the official North Dakota home of Dale Watson's Chicken Sh*t Bingo and he's like, "hell yeah, man, do it,'" Bender said. "So, we're doing that as an officially sanctioned Dale Watson's Chicken Sh*t Bingo event."
After Lost Horses wraps up, the music continues with Teenage Lobotomy and works its way into the night.
"Teenage Lobotomy was a punk band that was pretty big in the 80s and early 90s at NDSU," Bender said. "They played at Kirby's and Ralph's quite a bit. Last year, they did a reunion show and everybody loved it so much they're going to play again this year. That's at 7 p.m. Tim Lechtenberg will go on at 9 p.m. Right after him, a band out of Minneapolis that's getting quite a bit of airtime on The Current (KCMP) and is doing a lot of shows in Minneapolis-St. Paul, J Eastman and the Drunk Uncles. They'll play at about 10 p.m. I think Channing Minnema from The Knotties is going to be closing down Saturday night."
Besides music, comedy, and the lively game of bingo, there will also be a food truck, free camping and, of course, Hanson's bar. Bender said it will be a fun time and since everything happens in the center of town, it will be a safe time as well.
"It's a cool little town," Bender said. "Everything is going to happen right around the bar at the main intersection of town. There's no driving involved. You can just walk."
IF YOU GO:
Center Fest 3
Friday & Saturday, August 9 & 10
Hanson's Bar, Robinson, ND