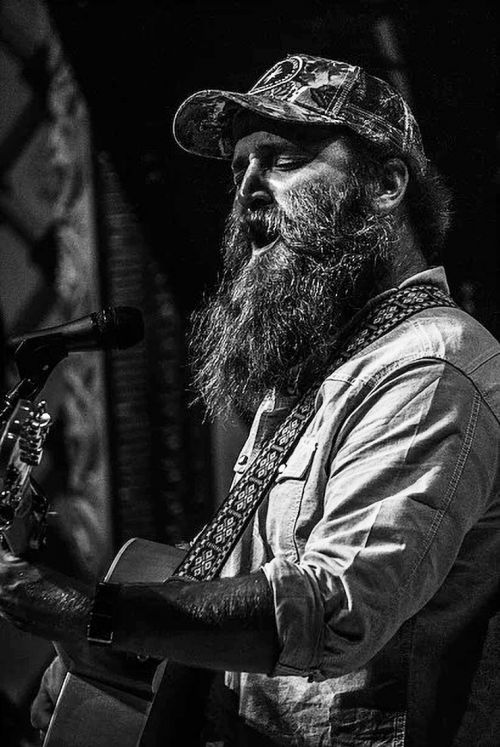 by Shannon Rae
loudmouthrockreviews@gmail.com
photo by Ryan Jacobson
When written from the heart, music takes on a different life. The listener can relate whether directly with the story being told or the emotion being expelled. David Allen is one of those musicians who pours his heart out in every song. He has a talent for portraying an experience in life and the exact way you would expect it to feel through his guitar. His music is simple, but layered in a manner that gives it a depth and takes a hold of the listener.
"Regrets and Retribution" is David Allen's sophomore album due out February 7th. It is full of easy going tunes that tell a new story in each song. David's husky vocals narrate these tales of life with a worn sort of smoothness. He doesn't branch out into extreme ranges, but keeps it comfortable with even tones. This makes for a genuine sound, one that is less about being flashy and showing off, but more about the passion of the songwriter.
It's not necessarily a wildly diverse collection, but this is often the case for this particular style of music. There is a slight fluctuation throughout, but it is done effortlessly and fluently keeping momentum within the album. If you are a country fan, or simply appreciate the heartfelt art of an earnest man and his guitar I would urge you to check out David's album when it releases!
David talked to us a bit about the upcoming release.
High Plains Reader: Thank you for chatting with us! How have the weeks leading up to your album release been treating you?
David Allen: It's been busy. Trying to do more of the marketing aspect of music. Getting things to reviewers and radio and trying to just get this new album out there. As well as setting up touring for after the release in February.
HPR: This is your second album, is there anything in particular that is new to your music that we will hear on it?
DA: This new album is more rock driven. "Lovers are Liars Gamblers, and Thieves" had more horns, violin and different styles of music throughout. "Regrets and Retribution" focuses more on the standard band format, guitar, drums, keyboards and vocals.
HPR: Was there any new experiences that you have had between this album and your first that may be topics of the new songs?
DA: In the time between albums my life has changed drastically. I started dating the woman who is now my wife, and stopped being so self destructive. As we began to start our lives together, my songs became less about myself and what I was going through, and they became more about what I notice in the people around me, the ups and downs of people living in small rural communities. Things like seeing relationships fall apart, young people afraid to leave and see what else is out in the world, and people being judged more on their past behavior rather than who they are presently.
HPR: For someone who hasn't heard you before, how would you describe your music?
DA: The easiest way to describe it would be to say that it's alternative country, with a little bit of rock to it. It's not what people think of country, as today but more reminiscent of the outlaw country era.
HPR: What has inspired you to go the direction you have with it?
DA: Since I was in high school I have always listened to more independent music, nothing you would ever hear on the radio, and in that music I've always been more drawn to the country rock bands. I like songs that have a good story and make you thinkA little bit about what is being said. Not just something that is pandering to a group of people or is just something to dance to.
HPR: How long has music been your goal? What drove you to start writing and playing gigs?
DA: Being a musician is something that I have wanted to do since I was in elementary school. I thought that being in a band was the coolest thing anyone could ever do. When I got to jr. high/high school and my friend and I where teaching ourselves guitar, we would try to write songs. Around this same time my older brother was writing and playing a lot of live shows with his band, Western Fifth, in Minneapolis. Listening to his music and seeing him perform made me really want to try harder and put more effort into songwriting. It would be quite a few years later that I would get the courage to actually get up and perform my songs in front of people.
HPR: If you could collaborate with any other artist, past or present, who would it be?
DA: That is a really tough question, but some one Artist I've been listening to a lot lately, and think is an amazing songwriter is Tyler Childers.
HPR: What would your dream 2020 look like in regards to your music career?
DA: I'd like to be able to continue to play as many shows as I can, and get my music out to as many people as possible.
David will be hosting a release February 7th at The Aquarium, with Home State and Burlap Wolf King.
[Editor's note: Shannon Rae is the mind and eye behind Loud Mouth-Rock Reviews follow her on facebook and instagram or dig her website https://www.loudmouthrockreviews.com/]