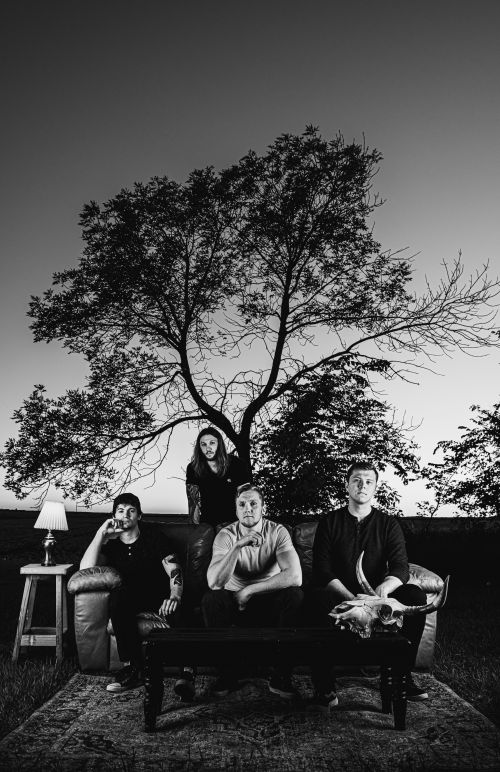 By Gary Ussery
usseryg@gmail.com
There is something inherently mystical about musicians. We are talking about individuals or a group of individuals who are like you and I, but dream big. They know that pursuing their dream is a one in a million shot, yet they do it anyway. They know that it will be a task filled with turmoil, defeat, depression, and the most back breaking work they have ever attempted, but that will not stop them.
Musicians live in a special kind of hell. They give up free time, family time, the pursuit of the American dream (house, car, 2.5 kids, you know, the "dream"). They don't get health insurance, vision, or dental. They rarely earn any respect until they "make it". Imagine not respecting a plumber. You know. Unless he or she was famous.
On the 31st of this month, local metal band Dearly Departed will be releasing their first album, Extinction. This may be the first you have heard of these local power houses often compared to As I Lay Dying and Nothing More, but rest assured, this group of lifelong friends have been grinding for years to bring you this amazing first album.
To be completely transparent, I consider these four men some of my best friends. I will attempt to be completely unbiased, however, you may be able to see me gushing a little bit over their accomplishments. I asked them to take me through the story of how Dearly Departed started, all the way to the release of their first album.
It may come as little surprise to find out that half of the Dearly Departed crew started as childhood friends. Deven Jason (guitars) and Jesse Pabody (vocals) tried to start several music projects in the past.
Nothing ever came from these early attempts.
That is, until Jesse introduced Jordan Rasmussen (drums) to Deven in 2017. Thus, we have assembled two thirds of Dearly Departed. They would spend most of their time jamming out, and playing cover songs. Jordan and Deven went to work together on a song from before Jordan's arrival, My Vendetta, a song from Jesse's previous band, Artifice. The first original piece, and the birth of the Dearly Departed sound came from Living Dead.
In the summer of 2017, the trio began to take notice of the popularity of metal in Fargo, which seemed to bring in big acts despite its modest size. This inspired the trio. They began working on original setlists. Jam sessions became practice sessions. Their minds started working towards a goal that many young men and women strive for.
They wanted to be rock stars.
Dearly Departed became a four piece for the first time when Jacob Melhouse was brought in to play bass. The practices got longer, and the dreams got bigger. Deven and Jordan would often find themselves downtown after practice, talking the night away about music. I can assume that this is where the roots for this epic dream started to flourish.
The first major investment the group made in themselves was booking studio time with Jeremy Schaeffer of All Poetic Audio in Scotland, SD. This studio time gave them the professional, polished sound that the band was looking for.
Up to this point, the boys had not agreed on a name. Imagine naming a pet with your significant other, and you can't agree on a name. Eventually you just start spitballing names to get under their skin.
Multiply that by two and you have four grown men trying to come up with a name for what they consider the biggest project in their lives.
The name Dearly Departed wasn't exactly agreed upon. Still not having a name, even up to this point, the troup began spitballing names. Jesse, being the unapologetic person that he is hit with a "f*** it, Dearly Departed" and the name stuck, surviving multiple renaming attempts.
While recording their first two singles, My Vendetta and Living Dead, the crew booked it to SD after Thanksgiving of 2017. They quickly realized how incredibly underprepared they were. However, Jeremy was the perfect person for the job and lead them through everything they needed to get the job done. This, despite Jordan's first impression of the man being "Jeremy kills his clients,get out!!" Etched into the bottom bunk of the recording studio's apartment.
One of the first blows to the newly formed band was releasing their first single, Living Dead to little fan fair. Working as hard as they did, spending as much as they had to, and the pay-off was minimal. In an effort to recoup some face, the band hastily released My Vendetta. They also began to research how to start a successful band. This undertaking quickly went from art to business, and that business undertone has stuck with the band since.
In February of 2018, Jacob decided to leave the band. Needing to concentrate on school and personal life, the decision was not made lightly. Shortly after, Hunter Bring (bass) joined the band, and this is the Dearly Departed we know now.
Hunter was, and still is the stern, unwavering logic that the band needed. After the original trio of Jordan, Jesse and Deven played their entire set list for Hunter the very first time, they waited for praise and elation.
Instead, Hunter, whom had only purchased his bass the week before being hit up by the band, thoughtfully critiqued the music, and all of the elements of the band. Taken aback at first, the band came to love the honesty that their new bassist afforded.
The very first show that Dearly Departed played was at the now shuttered Garage Bar in Moorhead. They were tired of trying to jump on another show with different bands, so they decided to book their own. The supporting acts were Grime, Baranaby Jones, and Know Signal.
This was the very first time I witnessed them play. It was amazing to see these young men just shred the stage.This is also where our friendship began to form. I originally met the guys because Deven was looking for locations to do a photo shoot. He was iffy about hiring another photographer because of a previous debacle (seriously, it was not great). At that time, I was just starting my own project, Fargo.Live. I've been shooting their pictures ever since.
The band had booked more studio time with Jeremy out at All Poetic Audio, a great signifier that Jeremy does not, in fact, kill his clients. In this time, they played another show at the Strawberry Bar in Mandan ND, cementing their friendship with Grime, and meeting new friends in the form of Opposition Out,Frosthelm, Finest Line Divides, and Grizzly Horse. This was also the debut of their first set of DIY merch in the form of acid washed tye-dye shirts. Immediately sold out.
This group of talented musicians are devoted to their craft, and to the success of Dearly Departed. Jordan bought a house in Glyndon, MN with the intention to turn the basement into an amazing practice space. Three quarters of the band reside there, now. You would think so much proximity would destroy a friendship. From what I can observe, it has only made it stronger.
The band spent the entire month of November recording their demos in preparation for their studio time with Jeremy in December. They agree that this may have been the most trying time of the band's life, so far. Hunter, a senior at the time was also their primary recording tech. The guys were tired, and this was the easy part, as they learned from their last studio visit.
This is where I can start to make my own personal observations. This was the first major sacrifice I made for the band. A band that I am not a member of. I missed my wife's 31st birthday (with her blessing) in order to tag along with the guys for their studio session. This was where we got to know each other, and where our friendship was cemented.
I don't want to be too opinionated, here, so I will limit my personal views to one major observation; these guys have an insanely loving friendship. You would think that a week stuck in a small apartment, five of us sharing two rooms, would breed contempt. But it just never happened. We prepped meals for each other, hung out, played games, and told so many stories that by the time we packed up, we were exhausted, we were excited, a little sad, and it felt like I had known them forever. Never once did these guys fight with each other.
Since then, I have worked closely with the band. We have done scores of promotional shoots, and I have been to every one of their shows, camera always at the ready. Because of them, I have met amazing people like the gentlemen of WILDVIEW out of Bemidji, MN, who are also going to be on this album release show.
This year, haunted by extreme lows, followed by some extreme highs. Dearly Departed was nearly no more. Heartbreak can bring the strongest man to his knees, and your favorite musicians are not immune. Through break ups, financial uncertainty, new jobs, and turmoil of friendship, the group nearly split.
This is what they tell me, but I can tell you, from the outside looking in, I never saw their friendship falter. I saw anger and sadness, but the support that had existed from the beginning was always there, somewhere.
The band came to a complete reignition when they were directly asked by The Suit, Fargo breakouts, to open for their show on October 5th at Fargo Brewing. They have been working non-stop since this new development with an upgraded merch line, increased production of their live performance, and of course, being the biggest cheerleaders for each other.
If you think that just because the album is set to be released soon, that these young men have started to relax and let loose, you would be wrong. Already planning shows months in advance, getting their music played locally on Q101.5 Rocks, and in the Twin Cities on 93X, working on new merchandise, a new website, new music, new friends, and the greatest of plans, I doubt we will see these friends resting anytime soon.
[Editor's note: Gary Ussery is the mind and the eye behind Fargo.live]
IF YOU GO:
Dearly Departed CD Release w/ High Hopes, WILDVIEW, and Cascades
August 31st, 7 p.m.
TAK Music Venue, Dilworth, MN
$10 Advanced Tickets
$12 at the door.
DearlyDepartedband.com
Instagram: @officialdearlydeparted
Facebook: @DearlyDepartedOfficial