​'Driving a blues train'
Music | July 24th, 2019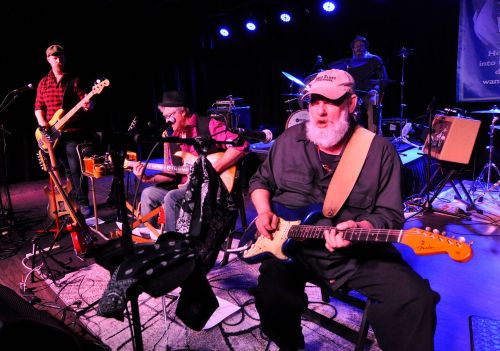 One of Minnesota's best-kept musical secrets is the Blue Wailers. How deep into the blues do you want to go? I struggle to describe them in words. They are fundamental, defying belief, disturbing.
HPR: What can you tell me about yourselves?
Tim Jorgensen, bass: I started on guitar around1989 and switched to bass shortly after in order to make music with my friends and later band mates, the Keller Brothers. Chicago and Texas Blues are my favorite regional Blues genres.
Randy Schrenk, guitar, vocals: I wanted to be a NASA or JPL engineer but I got myself tangled up in a drum set when I was 14. It's been an incredible journey since then. No regrets! The friends I met along the way, you can't buy that for any price. Music has a funny way of balancing things out like that. Especially the Blues.
Bob Waters, harmonica: I grew up on Long Island, New York back in the 60s. When I was in my teenage years I would go to clubs where there were blues bands playing and was especially moved by the soulful feeling of the harmonica. I also liked the intimacy of the small clubs I went to and wanted to play in similar settings, so I picked up some harps and learned how to express my soul.
Marty Olson (Onecord Marty), guitar, vocals: I play the Stratocaster and I fish.
Kari Steen, keyboards: I come from Edina MN, but moved to the FM area originally in 2002 to attend Concordia College. I graduated with a BA Music degree and have been a singer/songwriter since college, although I have been focused on the piano since the third grade. I have been singing since as long as I can remember and look forward to adding vocals to the Blue Wailers in the near future.
Mike Carbone, drums: I was born to be a drummer, and I love drumming with this band. Driving a Blues Train is a big responsibility and when the train is a powerful as this one you've got to take that responsibility seriously, but most importantly, you've got to love the ride. No, seriously, this is a great group of musicians I play with who really listen and it makes playing a real joy. It makes the metaphor I used work.
HPR: Tell me about the Blue Wailers. When/how did you get your start? Etc.
Marty: The band started before dirt.
Mike: Yeah, it was before dirt. I was in a duet with Dave Kline called Erzats Jazz, and Dave moved to Saginaw, MI so I approached Randy to see if he wanted to do a project. It didn't take long to figure out we needed Marty.
Randy: We started in 2004, just me Marty and Mike. Looking for a name and our friend, Nita Velo, said to us, "try the Blue Wailers". And there you have it. You can't argue with progress I guess. We just expanded after that. Adding harp which opened up a whole new door for me. We still played acoustic a lot, but we started using amps and as everyone knows one things leads to another in a very satisfying way.
Tim: I joined about ten years ago after spending time with Marty at Blues jams at Fargo's previous Sidestreet location.
Bob: I don't remember the exact year I joined the Blue Wailers, but it was when Randy, Marty and Mike were doing trios in small clubs. It was totally acoustic. I got to know the guys and asked if I could sit in with them on some songs and after a while the asked me to play whenever they did.
HPR: How would you describe your music?
Tim: The music is largely traditional Blues with some originals that include some modern lyrical content.
Randy: The better question would be, describe the feeling playing the Blues. We have a great time in this band. But the bottom line is the music itself. No matter if it's Led Zeppelin or Muddy Waters, it all comes from the same river.
Marty: Blues that kick ass.
Kari: Soulful Blues. The Blue Wailers play music that gets a groove going with lyrics that speak about the strife of life as well as the silly things. We run that gamut of encompassing all emotions and are capable of playing a hot beat as well as slowing the tempo down to a slow jam improv. But when all engines are "go" this band can really wail away and crush some tasty tunes, which is probably where we get the name from.
Mike: And its interactive with the audience. We know if we are having fun they will too.
HPR: Have you released any albums? What labels?
Randy: The Blue Wailers have not made a record but that's about to change. We have some very exciting songs we want to record and make a CD as soon as possible.
Mike: Randy is too modest. He has written a collection of songs that taken together will make a big impact on the Blues world. Stay tuned.
HPR: What would you say stands out about your performances?
Tim: If anything about me stands out, I suppose it's the sound of my flat-wound strings and an effort to do more with less. I try to be traditional and have no interest in a 5-string bass or playing more bored than necessary. When the bands gets busy, I lay back.
Randy: We've been playing together for a long time now and even though we always stick with the Blues the songs change all the time. What I've discovered is that the Blues is like riding a bike. It's something you never forget how to do--the groove is still there. When there's good people behind you, you can do no wrong. We just have fun playing. And for some reason of nature, that transfers to people in that audience as well.
Bob: What is most interesting about playing with the Blue Wailers is there is always an opportunity to improvise. I love playing in that type of musical environment because I play it by ear, and I am never quite sure how al it's going to come out. But it almost always fits in well with what the guys are doing. I feel blessed that the band members are ok with that.
IF YOU GO:
The Jimmys with The Blue Wailers at TAK Music Venue
Friday, July 26, 9:30 p.m.
TAK Music Venue, 1710 Center Ave, Dilworth