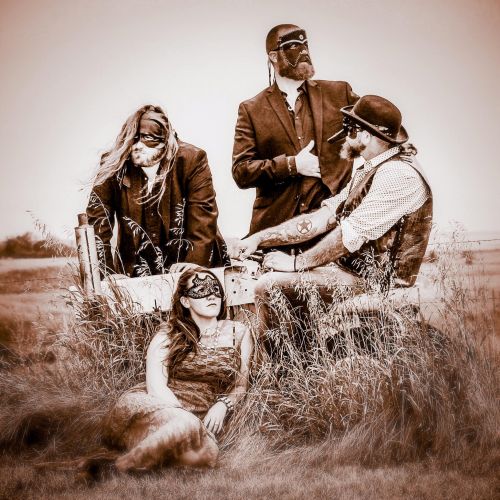 We had a chance to connect with El Gato del Rio, a mysterious masked quartet from the wilds of Western North Dakota--Stark County to be exact. It's hard to pin them to a genre. Dark cabaret? Country Gothic? Labels are irrelevant at this point, not only are the fine folks of El Gato del Rio skilled musicians, they're gifted storytellers with a taste for theatrics. We had a chance to chat with band member Ripley Crow about the band, the masks and what's next for El Gato del Rio.
High Plains Reader: On an aesthetic level the first thing that people may notice about El Gato del Rio are your masks. Can you tell us a bit about them?
Ripley Crow: Our masks are designed and crafted in our small leather shop in Taylor, North Dakota. We design and build each one of them by hand.
When this project began, we decided straight away that writing songs and stories from a strictly personal perspective was extremely limiting. When you forget your identity, you are free to tell anyone's story that you choose. The masks sort of gave us license, in our own minds at least, to expand the scope of our stories.
HPR: How would you describe your sound?
RC: It feels silly (and honestly, a bit predictable) to say out loud, but I don't think we really fit in anywhere. We've been called Dark Southern Americana. Of course, being from as North as North gets, that doesn't really work. I don't think there is a genre that we can call allegiance to, really. Sometimes, it's just folk. Other times, it's raunchy acoustic roots rock. Every song ends up having a little different flavor to it, but they are all distinctly "El Gato".
(El Gato means cat in Spanish).
HPR: Your latest song is a cover of "Psycho Killer" it's quite unlike your others in terms of instrumentation. Do you foresee El Gato del Rio plugging in more?
RC: Oh, definitely. We don't like to restrict ourselves at all when it comes to instrumentation. Sometimes a Les Paul is the right tool for the job and other times it's a Francini accordion. Anything goes, really.
HPR: Tell us your origin story...
RC: It all started out as a whiskey fueled, crazy rant of an idea during a blizzard a few years back. Verdugo, la Musa, and
I had been getting together for a whiskey social every Friday night for months on end. Every so often, the acoustic instruments would come out and we'd plink around on a few cover songs, maybe bust out some original tunes that each of us had been working on. Eventually, on a night where all of us had had far too much to drink, we decided that we ought to just go ahead and start a band. And not just a band, but the entire thing you see today. We had the name, the idea for the masks, the plan for videos... It all was decided there on the spot. Of course, we didn't have any of the equipment we needed to do any of these things. The next day, recording equipment was ordered, and shortly there after, the videography stuff. Within a week, we were out in the workshop shop cutting and stitching together strips of leather and crafting our new identities. We just went ahead and did it. Too often these kinds of conversations are had, no action is taken, and ideas die on the vine without ever being fleshed out and acted upon. For some reason, we decided that this just sounded too damn fulfilling to forget about.
HPR: In your videos, photos as well as within your social media posts, there's a clear SW ND pride. How does Stark county inspire El Gato del Rio?
RC: Well, it's a strange thing. People here are proud of how terrible the winters are. And I guess that's probably not just a Stark County thing, but a North Dakota thing. We embrace hardships and wear them like badges of honor. And that's crazy, but it's also sort of beautiful. After a major storm tears through a town, every person you talk to will be comparing the size of their hail stones. I suppose we sort of wear that attitude on our sleeves. Our songs are rarely the type of celebratory, happy-go-lucky anthems that you might hear on the radio, but we do like to raise a glass to the things that others would probably rather leave unsaid.
HPR: What's next for El Gato del Rio?
RC: There will be a few singles and videos coming out in the next few months and we've been writing and recording music in preparation for our fourth album. We don't have a title or a release date yet, but I'd expect it to be out by the end of the year or very early in 2020. There are about ten songs completed so far and they definitely explore some areas that we haven't tapped into yet on our previous albums. And really, we'll be around forever. We couldn't stop this wagon now if we wanted to. There are too many stories left to tell and that's what we love to do more than anything.
YOU SHOULD KNOW: