El Supremo reigns supreme
Music | June 12th, 2019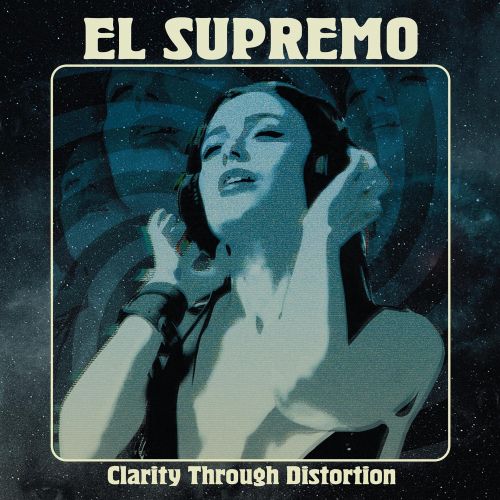 El Supremo started out as a one man band for Chad Heille, drummer of the iconic Fargo stoner rock band Egypt. Once the project started rolling it started to snowball. With the addition of Egypt guitarist Neal Stein, Cam Dewald of Gorgatron and Chris Gould on keys their latest album "Clarity through distortion" is a psychedelic force to be reckoned with.
HPR: The first El Supremo demo was recorded in 2008, how did El Supremo come to be?
Chad Heille: It was really out of a lack of like minded people to jam with. I thought I would just do it myself. That simple, really.
HPR: Tell us the origin story of El Supremo..
Chad: Must have been early 2001 or 2002 when I started writing the material for the demo. I bought a drum kit and some recording gear and put it on the back burner. Egypt got up and running and felt pretty good at the time and I knew I could always find time for El Supremo when I had some downtime. It's funny, it started as my own thing, but now with all these good musicians getting involved it really is better than ever. Really stoked.
HPR: What's it like shifting from having a front man to going full on instrumental?
Neal Stein: I think it makes us look at songwriting and composition differently. Instead of verses and choruses, we're working with themes and motifs and developing them. Even with vocals we had long instrumental sections, so it feels natural to just jam on an idea and to leave space for some improvisation.
HPR: What's your songwriting process? Is Chad still the primary songwriter or has it expanded as a collective effort?
Neal: For this new record, Chad and I worked out the songs together. One of us would have a riff or an idea and we'd just jam on it and try stuff with different dynamics, key changes, effects, etc. A lot of the initial writing was real spontaneous and over time we refined things into what ended up on the record. Sometimes accidents would happen and it would end up being cool and we'd just go with it.
When we got Chris Gould to come in and contribute keys to the record, we gave him some real vague direction as to what we were looking for and he was somehow able to translate that into something musical. That dude is a hell of a musician. Now that we have Cameron Dewald on bass filling out the lineup I'm hoping to keep writing and make it even more collaborative on the next batch of songs.
HPR: Who or what was the main influence in starting a one man project?
Chad: Sometimes you just need to agonize over it and do it yourself to realise how goddammed magical the collaborative process really is.
HPR: What kind of recording equipment did you use? Are you analog or digital guys?
Neal: The recording and mixing was digital. I love the idea of using tape and a cool console, but I don't have a good tape machine or a cool console. Using a computer allowed us to track at the studio and take it home to listen to takes and work on the mix. As far as the actual recording techniques used, it was fairly old school with room mics on the drums and using tube amps and stuff.
HPR: Neal joined forces with Egypt in 2011, and the initial El Supremo project started in 2008--How did you two connect?
Neal: I met Chad sometime in the early 2000s, before Egypt existed. We were friends and shared similar tastes in music and we jammed a couple times, but nothing serious.
HPR: Can you tell us a bit about the album art?
Neal: Chad started putting stuff together with some help from Anna Hinsverk. We came up with some more ideas and threw it to our man Matt Howl out in Portland. He was able to run with it and flesh it out and really made the whole thing come together.
HPR: What happens after your gig at the Aquarium? Are you hitting the road, any summer tours?
Neal: We're looking forward to playing as much as we can, but we're just getting going with this thing, so we don't know what the future holds yet.
IF YOU GO:
El Supremo at the Aquarium
Monday, June 17, 8 p.m.
The Aquarium, 226 N Broadway, Fargo