​Experiments in hip-hop
Music | April 24th, 2014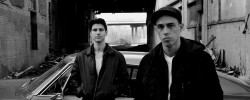 Kill the Vultures to twist beats at The Aquarium
Alexei Moon Casselle is a born and bred Minneapolis rapper. He's been a hype man for Twin-Cities legends Atmosphere and Eyedea & Abilities, an acoustic guitarist for the indie group Roma Di Luna and an emcee for the hip-hop party group Odd Jobs. Nowadays he spends time "killing vultures," so to speak, with experimental beats, rhymes and poetry.
This Saturday, April 26, Casselle's hip-hop group Kill the Vultures will perform its very first headlining gig in Fargo at The Aquarium with Big Zach, Kipp G, Kid Neptune and Cheesaw.
This top-notch, against-the-grain hip-hop duo, lead by Casselle and backed by DJ/producer Stephen Lewis (a.k.a. Anatomy), is in its 10th year of performing and making music, including one EP, three LPs and a brand new 15-track record, "Carnelian," soon to be released.
It's been about five years since Kill the Vultures has released an album, so "Carnelian" will be its most anticipated album to date. But more significantly, Casselle says the record will be the group's best-produced, best-written and most valuable album to date.
"It took us 10 years of experience of making experimental music and experimenting with these sounds – it took us 10 years to make the exact record that we want to make," Casselle says to HPR.
Kill The Vultures' emphasis on artistry, creativity and quality contributes to the time it has taken the group to put out a new record.
"For this, we just wanted to make a record that was so undeniably well-crafted and just sounds so good that you just wouldn't be able to deny the fact that we put a lot of time and effort and care into this record," Casselle says.
While no teasers for are available for "Carnelian" just yet, listeners and concertgoers can more than likely expect a continuation of Kill the Vultures' already thick, fierce and at times primitive sound that blends hip-hop sophistication with glimpses of jazz, indie rock and soul.
It's just that now, the group is on a whole other level with its sound.
Listeners will especially appreciate Casselle's fervently imaginative lyrics like "Fire painted on your eyelids instead of your dreams/well it's nothing that the Congress Hotel aint seen" or "Put your best foot forward when you walk across the water/either came cause voices told you to or because you flipped the quarter."
The rapper says he treats his lyrics with utmost importance in order to provoke and reward the listener.
"I think there's so much music that gets pumped out into the world that I don't want to contribute anything else to it that has no nutritional value," Casselle says.
He also admits that making abstract, experimental hip-hop has its many challenges. When Casselle and Lewis transitioned from Odd Jobs to Kill the Vultures, their music wasn't well received.
"I know that we are a challenging group, but I just thought it was interesting that we basically scared off whatever fans we had left over and just had to start from scratch all over again. It was hard at times, it was frustrating," Casselle says.
"But it also felt like every fan that we did get, and every good show that we did have – everything we got we earned it. It just felt so pure and genuine."
And perhaps that's part of what makes Kill the Vultures such a remarkable band – its pure realness, its bare-boned rawness, its honest-to-god sincerity, and its musical ingenuity.
"In general, my philosophy is I want to try to change somebody's life," Casselle says. "I know I am not going to achieve that every time I touch the microphone, but that's kind of what I'm swinging for."
IF YOU GO:
WHAT: Kill the Vultures w/ Big Zach, Kipp G, Kid Neptune and Cheesaw
WHERE: The Aquarium, 226 Broadway, Fargo
WHEN: Sat., April 26, 9 p.m.
HOW MUCH: $5 at Orange Records, $10 at the door