​Fiddling around with Gaelynn Lea
by Sabrina Hornung | .(JavaScript must be enabled to view this email address) | Music | July 18th, 2018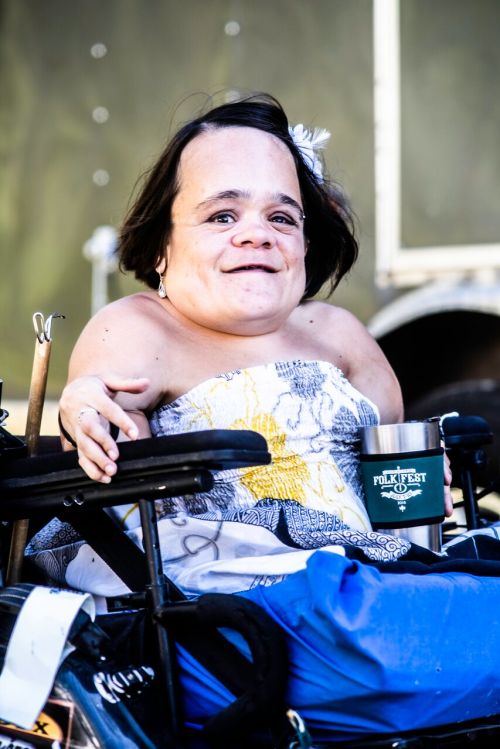 We had a chance to chat with Duluth native Gaelynn Lea at Winnipeg Folk Festival. Not only did she tell us how she developed her sound she told us about her experience winning the NPR Tiny Desk Concert and the trials and tribulations of touring life with a disability.
Gaelynn Lea: I've been playing violin for 24 years. I started in fifth grade. An orchestra came to my school and I remember really liking it and thinking... next year I need to join up with orchestra. This is awesome. I had a cool teacher who was really creative and helped adapt the way that I play so I play upright like a cello. Because of my disability I'm pretty small and I couldn't hold it the regular way but that was just the beginning. I played classical all the way through high school and then in college I got into fiddle music--like celtic fiddle and folk. In 2011 I met Alan Sparhawk of Low the band from Duluth.
We formed a project together and he introduced me to the looping pedal. That was a really big shift for me. It allowed me to layer up live with a bunch of different tracks and you're able to sing on top of it. I do a lot of experimental takes on fiddle tunes and I also sing my own songs. I started writing basically when I met Alan kind of out of the blue.I've been performing solo for a few years then in 2016 I won NPR Music Tiny Desk contest and that's when things really changed. I started touring with my husband. We quit our jobs, bought a van, sold our house and started touring full time. It's a big change but I figured it would be something I'd regret if I didn't.
HPR: How did it feel to win the Tiny Desk contest?
GL: It was really surreal. I entered because a few students and friends told me about it. I didn't expect to win obviously. I recorded it on my phone. They called a month and a half after I submitted it. I thought maybe I was a finalist when they called and I was excited about that. We did five cities with them and it kind of gave us a taste of the idea of touring. You learn later on that public radio is super posh compared to DIY underground stuff. I'm really grateful for that opportunity because it definitely changed a lot of things.
HPR: How is touring life?
GL: Touring is fun but really hard work. We've done 42 states and six countries. You basically wake up drive for a few hours, load in, do your show and then leave. It's not like a vacation, however it's fun to play every night and it's cool that Paul and I are doing it together. My husband drives and sets up merch and helps me set up my gear. We're together a lot and that has its own pitfalls. It's kind of intense to be around someone that much. We're barely home but it's fun to have those experiences together.
The only other thing is with the disability, accessibility does make it a little bit harder. That's something that can change though. That's one of the reasons I do public speaking about disabilities as well--not during my shows because I don't really want to be pigeonholed into only talking about disabilities because music is obviously my primary interest. Especially when I record and play.
I went on tour with another artist at the very beginning for two weeks and she talked to me after and she said, "man, I thought touring was hard but you really have to do a lot more." A lot of venues aren't set up for performers with disabilities even if they are set up for customers with disabilities they don't necessarily about the fact that somebody with a disability might come. We have to lift my chair onstage which I really don't like. We'd like to send a message that if you want a performer with disabilities to come you can't expect them to not have the things they need to perform. It's hard because it limits where you can do stuff in general. There's a lot of different issues with accessibility that I hope will get better. I want little kids with disabilities to see what I do and to feel like they could do it too and not have a huge rude awakening when they try and feel really frustrated. First and foremost it's about the music but I think it's important to use your voice for positive change.
[Editor's note: Gaelynn Lea sung WFF's praises on their level of accessibility for performers with disabilities.]