A babbler in your ear
by Diane Miller | .(JavaScript must be enabled to view this email address) | Music | September 19th, 2013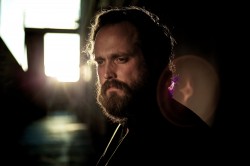 HPR chats with Sam Beam of Iron & Wine
In 2004, Sam Beam released what would become one of the most influential folk albums of the 21st century to date.
That special album is Iron and Wine's "Our Endless Numbered Days." It features gritty primitive tracks like "Teeth in the Grass," genuine and gentle acoustic numbers like "Sunset Soon Forgotten" and pleasant, reminiscent numbers like "Sodom, South Georgia." All 12 songs on this album are in fact perfect in their own right.
Any longtime Iron and Wine fan knows about "Our Endless Numbered Days." It is how many of us were introduced to Sam Beam.
What diehard Iron and Wine fans might not know is that recording "In the Reins," the 2005 split/EP Beam did with Calexico, was one of the most influential experiences of his career.
"To be honest, I probably learned more that year than I have in the previous 20 years of making music by myself," Seam said in a phone interview with the High Plains Reader.
"I think it's affected all the records that I have put out since then, really. No so much as trying to reproduce the sound, but as far as learning to collaborate with people, to create something together. All my records have since been about that."
"In the Reins" is a brilliant take on Americana music. Listeners get a fulfilling dose of cheerful horns lines, twang, mama-papa lyrics and wholesome melodies. It was essentially Beam's transition point from DIY folk to untested folk.
Before "In the Reins," Beam's music was mostly minimalistic and quiet – though extremely hearty. Today, it's more textured, layered and abstract.
We got our first dose of that with Iron and Wine's 2007 album "The Shepherd's Dog." Beam introduced new instrumentation, a fuller sound and more experimental song structures.
Still, as more of a somewhat abstract musician now, Beam remains highly intuitive and true to himself. It's perhaps why his music is so captivating and memorable.
Beam just sees his albums as himself through different periods time: "They are all different sides of the same personality, you know. Different shades of the same person but on different days."
That's also how he approaches writing lyrics. Beam is extraordinarily poetic and broad-minded with words. Lines such as "the desert put a babbler in your ear" or "Jesus the Mexican boy, born in a truck on the Fourth of July" stir our curiosity, rouse our imagination and make room for newer, bigger ideas.
Beam said he doesn't usually try to interpret his lyrics. If he likes how a lyric sounds or flows, he keeps it and moves on.
"It is interesting though cause as a working touring musician you end up having to revisit a lot of your old material and you can't help but go, 'Where did that come from?' or 'That's interesting, that line,'" Beam said.
Iron and Wine's most recent album, "Ghost on Ghost," will certainly be fun for Beam to revisit years later, and, of course, it's something we all can enjoy now. Perhaps something special was happening in his life when he wrote the album. His harmonies are richer and his melodies are brighter and more glorious, especially in tracks like "The Desert Babbler" and "Grace For Saints And Ramblers." Though the album has its fair share of tension and melancholy too in tracks like "Grass Widows" and "Winter Prayers."
Beam said the album is about a young couple, hence the cover art, which displays the two embracing. Though the viewer can only see them from their midsections. The interesting part about the cover is the contrast between the photo and the frame.
"Because you don't see their faces it's kind of abstract," Beam said. "It's got some sass to it because it has the cigarette and stuff like that. And so I thought it would be fun to enshrine these two people in one of these period frames that you usually see around fine artwork from the 17th, 18th century."
Perhaps this idea came from his artsy film professor brain. He went to school for art and he specialized in painting. Then, before he became a full-time musician, he taught film and cinematography at the University of Miami and Miami International University of Art & Design.
We asked if he has ever considered scoring his own film: "Yeah I've thought about it. I've had a few people ask me. It just didn't really work out schedule-wise. I'm definitely interested. To be honest I'm more interested in making a movie than I am scoring one."
Beam also recalled what it was like to leave his job as a professor: "I definitely remember thinking the step off the cliff was when I left my job and I had gigs in between (my job) – you know, it was a leap of faith."
"Touring is a lot of fun but at the same it is work. But at the same time approaching creating music and making records and writing lyrics – that feels like a job but I have really fun doing it … I can't wait to get back to my guitar and come up with something."
This Saturday will be Iron and Wine's very first show in Fargo. And all 12 band members will be there.
IF YOU GO:
What: Iron & Wine with Widowspeak
Where: Fargo Theatre, 314 Broadway
When: Tues, Sept. 24, 8 p.m. (doors @ 7 p.m.)
How Much: SOLD OUT