​Following Macy Gray's 'Way'
by Troy Jackson | .(JavaScript must be enabled to view this email address) | Music | September 18th, 2014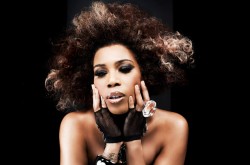 HPR talks with Gray about music, performing and living bipolar disease
On Sept. 25, 45-year-old Grammy Award Winning artist Macy Gray will promote her new record, "The Way," in the F-M area with a concert.
When the musical soul diva, renowned for the hit single "I Try," shares her distinctive raspy voice to the blend of guitars, percussion, bass and drums, faithful fans will vibe with her ability to blanket rock 'n' roll with soulful blues and pop.
Here's is our exclusive interview with the artist:
High Plains Reader: Can you shed light on your career trajectory from the being tabbed as Generation X's version of Billie Holiday to forming an established musical niche with fans?
Macy Gray: I didn't know what that really means … but yeah, we all will have a lot of ups and downs. I think being an artist kinda sets yourself for jumping upward or jumping straight down in the aims of being successful. At the end of the day most of it can make for some great inspiration. It depends on how one looks at it, but I totally know that I grow everyday.
HPR: Fargo-Moorhead is considered more a college town than a musical mecca. You've been blessed with experience in both realms. Explain the nostalgia and nightmares of college life and being a musician.
MG: (Laughs) Nope I've never been there before … Sorry about that. Is that the Fargo they been talking about? Oh, well. In college, it's way different than life in the real world. College is a wonderful world. I tell kids to stay in college as long as humanly possible! If you get a Bachelor's Degree, find out what else they have to offer.
But stay in school! Once you get outta school, it is a whole another world, you know, that doesn't allow you to stay young. Telling yourself you want something and making such dreams come true is a big, big deal. With coming out of college it takes a while to gain traction, cause now you're really not a kid anymore. The folks can't send you off to school any longer. I mean you move back into your parent's house and bam! You're a loser (laughs).
Yeah and that's when after that six-month defer period is over you're like, "I think I'm going to try my chances with grad school."
HPR: Now that you are about to dive deep into a 36-concert tour across America, what are some expectations you and "The Way" production team have on such a journey?
MG: Actually, the production crew and myself leave tomorrow. Our first show is in San Diego. We don't have an omen or nothing like that -- it'll be sincere. Ultimately the show is going to be crazy! We're expecting this to be the best tour I've done so far. I'm at the point in my career that I know what I am doing. (Yawns) I haven't had no sleep. I'm sorry, it's not you … It sucks.
HPR: October 7 is around the corner from the release of your eighth album. What will fans and first time listeners' ears and souls will digest from your product?
MG: You're in the ballpark. This is my sixth solo album and I covered two other albums (one including Stevie Wonder's album "Talking Book"). It's something no one is doing right now. Musically and lyrically, it's organic. It was interesting to me how I wrapped myself in an album that became really magical, inspiring, well-molded, well-crafted material. I like it a lot ... I am very involved with my records but I definitely have some great producers and writers that mold this with me.
HPR: I peeped out the saucy single "Bang Bang" that you put out into a sexy music video pertaining to gambling, deception and the sybaritic LA lifestyle. Tell me your side about this music video?
MG: I was involved in an awesome cocktail mixture of a party and a performance!
HPR: Use three words to describe life now for you.
MG: Um, right now? Right this second? Hot! In LA -- it's 104 degrees right now. Hot! Crazy … What's the other one? How can I say what I am feeling right now? Inspired! Very inspired. I can scribble a thousand song right now.
HPR: Use four characteristics to describe your live performances.
MG: (She takes a moment to answer before replying) My live performances are unforgettable, unique, lots of glitter and fulfilling.
HPR: Like any state in America, North Dakota carries a dark shadow with alcoholism and a high rate of mental diseases. Can you share your plight with bipolar disorder with us?
MG: It's about learning to live with things ... You're gonna figure out the things that challenge you, as long as you can recognize those then you can deal with them, build off that, manipulate them into something positive -- into who you are wanting to be.
HPR: And I assume music, acting and motherhood ('motherhood' is inked on her left forearm) are your weapons to cope with BP?
MG: Oh yeah. But actually the next best thing that soothes my soul is video games! … My mind really calms down between all that.
IF YOU GO:
Macy Gray
Thurs, Sept 25, 8 p.m.
Fargo Theatre, 314 Broadway
all ages, jadepresents.com