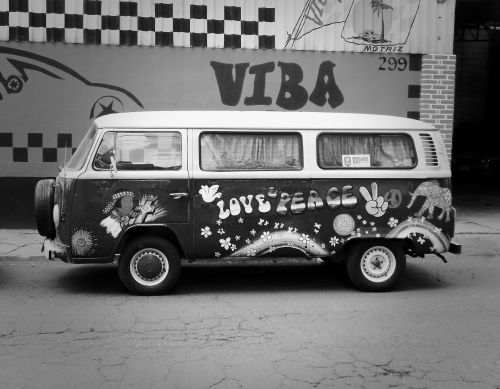 Fifty years ago a music festival took place. Held at Max Yasgur's 600-acre dairy farm near White Lake in Bethel, New York, approximately 400,000 people gathered for "An Aquarian Exposition: 3 Days of Peace & Music," alternatively referred to as the "Bethel Rock Festival." Thirty-two acts performed despite the less than ideal weather conditions, without realizing that they were taking place in what would come to be considered a linchpin of American counterculture, and eventually, a pivotal moment in the history of American pop music history.
Of course, the festival in question would come to be better known by the name "Woodstock," due to its location 43 miles southwest of Woodstock, New York. Though most of us only know of this piece of American music history secondhand, through the score of books, documentaries, and more that followed in its wake, a number of Fargoans saw fit to try to recapture some of the magic of that rainy weekend in 1969 on its 50th anniversary. Spearheaded by Merrill Piepkorn (who I interviewed around this time last year about his preparations for the event, which were already in motion), "50th Anniversary of Peace and Music" is set to take place over two days at the Bluestem Amphitheatre in Moorhead. A number of North Dakota and Minnesota musicians will be covering the bands and sets that made history at Woodstock with their own loving renditions.
"We older music lovers will never forget the meaning of that moment in time," said Richard Torrance, a "first generation hippie" whose vast resume includes recording albums with Shelter Records as Richard Torrance and Eureka as well as with Capitol Records and will be performing in the groups covering Crosby, Stills, and Nash, Carlos Santa, and Jefferson Airplane.
"We knew history was being made. We saw the dramatic performances," Torrance said. "These bands were young, rebellious, and standing up for their strong feeling against the Vietnam War, the politics, the establishment. We were saying it's time for a change and we want it now! We, as a society, celebrate some of the silliest moments in history under the name of 'honoring our heritage'. So, to celebrate how we felt back then, to remember our feelings of freedom and equality, yes, it is right to remember the greatest music festival that ever was."
Gregg "Smokey" Temple recalled the festival with a strong feeling of nostalgia as well, albeit tinged with a slight bit of realism.
"It remains as a singular encapsulation of an amazing time of upheaval in American youth culture as young people dealt with the Vietnam War, the Civil Rights Movement, resisting the 'establishment', with a huge dose of optimism fueled by remarkable music, the sexual revolution, and of course, drugs," Temple said. "It was also a disaster of epic proportions," pointing out that despite helping launch the careers of several artists and cementing itself in American cultural history many of the artists involved spoke of it as one of the worst performances of their career.
A long-time friend and musical collaborator with Piepkorn, Temple started the band Skunk Hollow with him in the Twin Cities after college, and 13 years ago they started a Western band called "The Radio Stars" that has appeared on A Prairie Home Companion. At this festival, Temple will be responsible for coordinating the artists and stage gear and assisting with stage management, as well as performing in several of the tribute sets: The Paul Butterfield Blues Band, the John Sebastian solo acoustic set, a song from Ten years after, Crosby, Stills and Nash, and accompany the winner of the Prairie Public Joe Cocker contest.
Although the original Woodstock festival was undoubtedly more geared towards adults, "50th Anniversary of Peace and Music" will be open to all ages, from children to those who may have actually been at the original. There will be vendors selling merchandise and food. And of course, just like the original, the show will go on regardless of rain or shine. For those of us born too late to make it to Woodstock, "50th Anniversary of Peace and Music" presents the perfect opportunity, both for the musicians and the audience, to capture a piece of Americana, and for those who lived through it, it offers a chance to wholeheartedly embrace their nostalgia.