​Go Murphy brings it home with Dakota
by Sabrina Hornung | .(JavaScript must be enabled to view this email address) | Music | February 27th, 2019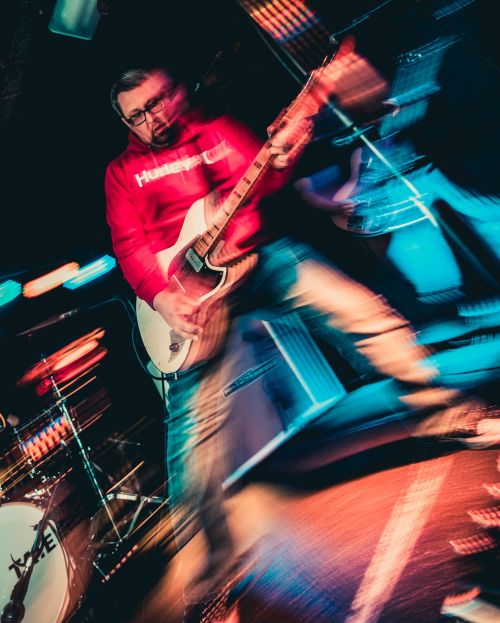 "The band started out for the most part as a way for me to get back into music," Marcus Rondesvedt, guitarist and vocalist for the band Go Murphy on the eve of their fourth album release "Dakota," said.
"I hadn't played in an organized band in several years since the days of Blue Collar Hero back in the mid-2000s. I reached out to Ryan Dahl as we are lifelong friends to see if he had any interest and the rest is history. We are coming up on eight years as a band this May."
"This was really fun for me because of the venue-we recorded the drums at the Lisbon opera house," Tom Hill, the drummer, said. "It was cool because that was where we had our CD release show for 'Buildings'-so it was kinda like coming home to record the next album."
Go Murphy is: Marcus Rondesvedt on guitar and vocals, Ryan Dahl on bass and vocals, Jason Forthun on guitar, and Tom Hill on drums. HPR had a chance to chat with the local four-piece indie band about their latest album "Dakota."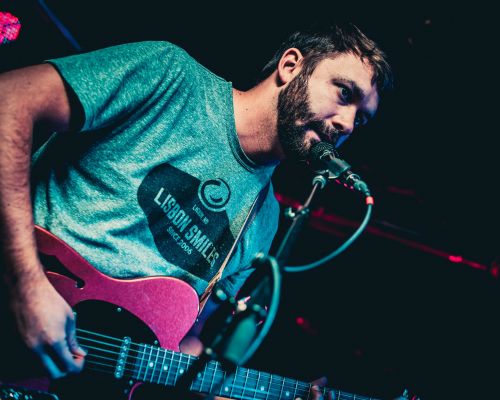 High Plains Reader: How long has "Dakota" been in the works?
Marcus Rondesvedt: For quite some time. The older we get the harder it gets to dedicate time to writing free from outside distractions. We have actually had the album completed for several months but due to an illness and passing of my dad, we've delayed the release quite some time. It's probably been a solid two years in the making but the songs have been around for a while.
HPR: I thought that it was interesting that the album opened and closed with the same melody, "I want to be the greatest man..." Can you tell us a little bit about the idea behind that, or maybe where that melody came from?
Marcus Rondesvedt: This song started as a random thing I used to play in my living room with an acoustic. The opening track "Manic" and closing track "Fierce" are directly related. I've had people ask if it's about me and it's not although I can relate to a lot of the feelings I wrote the lyrics about. The intro is about someone going through a manic phase. Someone that wants to conquer the world with a hint that things aren't great and Fierce is when it all comes crashing down. I think it relates to a lot of people in the Midwest struggling with their own demons especially during winters like the one we are wrapped up in right now.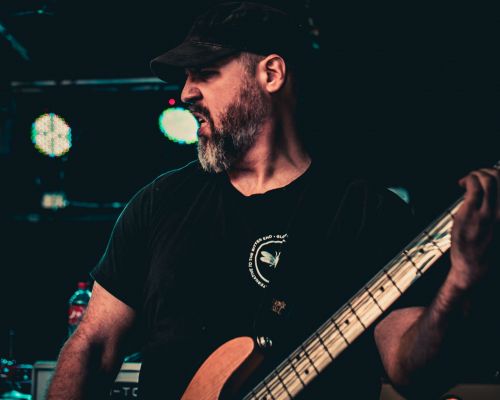 HPR: What inspired Dakota?
Marcus Rondesvedt: The title track "Dakota" was one of the first tracks we finished and it just energized us I think. While we are far from a concept writing band, I think each of our releases speaks to a time in our lives. "Dakota" is about coming home and being proud of who we are, where we are. The song itself is about how Nodak is a home base. How many people do you know that have moved away only to come back to the area because they missed it? They missed their friends, their family and whatever else they love about the Midwest. It always seems to pull people back. Seemed like a natural fit for the album name. Ryan did the artwork and absolutely knocked it out of the park.
HPR: I also really liked the overall design of the album. How did you settle upon choosing the Nekoma pyramid site for your album cover?
Marcus Rondesvedt: Well...it's one of those things that when you think of North Dakota, the Nekoma missile site probably isn't at the top of the list, but it's definitely the most interesting. Also, maybe a bit of it was being stuck on what to do, so I kind of borrowed from the theme of our previous album "Buildings" - which was the skyline of downtown Fargo. I guess I thought there's a bit of anonymity there unless you really know your home and kind of look around you. It's North Dakota, but not hotdish North Dakota.
HPR: It warmed my heart to see you had a song called "Nestor" on Dakota. I think the first time I ever saw you Go Murphy play was at the Nestor. What did the Nestor mean to you guys--and can you tell us a bit about that track? Marcus Rondesvedt: Our very first show was actually at the Nestor. There are many adjectives you could use to describe the place but we kind of wrote the song about not just the place but the people that would frequent the Nestor. So many bands got started playing there and so for that, we are forever grateful.
Tom Hill: Nestor for me is nostalgic but also with an air of sadness. I saw some of my favorite shows there but have also seen some really terrible situations, and the song itself seems happy but there are some themes of losing it all that flow through the song.
HPR: As I was perusing an interview we did a few years ago, I saw that you guys played a music fest as part of the Red Gorilla music fest at SXSW in 2014? Is that right? Can you tell us a bit about that experience?
Marcus Rondesvedt: Yeah, that was supposed to be the beginning of our breakout (laughs). Still one of my favorite memories. We played a packed bar on 6th street with a half hour set and tried to connect with as many people as we could. I actually moved to Austin out of college so for me personally it felt like a closure to that chapter where I was chasing a dream. We made a short tour out of it playing Sioux Falls and Omaha on the way down and KC on the way back.
IF YOU GO:
Go Murphy: CD release party
Saturday, March 2, 7-10 p.m.
Red Raven Espresso Parlor, 916 Main Ave, Fargo