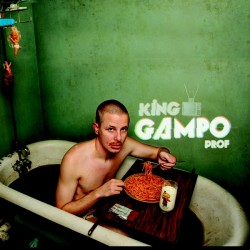 with his Highness, "King Gampo"

With all the nonsense that comes out of Prof's mouth, how can one listen to his music and take him seriously—"You can find me stiff/like a samurai/on a llama ride/down a water-slide/getting sodomized."? Strangely enough, his nonsense is his beauty—it's all apart of the Prof package. He's not afraid of doing or saying anything—"I'm pooping on rappers/not only pooping but poop scooping/and vacuuming those bastards."
There is a reason Prof gets away with writing and producing lines that in many cases could get a person booed off stage with one wrong move. Prof's mastery is all in the way he delivers his words, and truthfully, Prof is an expert. His skill in rapping is exceptional and that is why, instead of boo's and grotesque reactions from crowds (especially women), he's producing an ever-growing fan base that comes running to his shows, shouting all the racy words so wildly in sync with him… it's crazy!
Prof is a pure showman. He writes edgy lyrics, not mainly to offend, but instead, to entertain. The most entertaining aspect of his lyrics is that they are completely uncensored. Prof tells HPR, "My goal is just to be myself and to feel the music as much as I can." His method of rapping—playful approaches to rhythm, vocal inflection, voluminous character, and an emphasis on clever, humorous rhymes—is at the core of his creative abilities. "I like to wow people. It's why I'm an entertainer."
Prof's talent has got his confidence soaring so high, he will shamelessly write lyrics like "Find an MC better than me right now/I will personally deliver a gift-wrapped f**kin' flyin' pig/with a diamond f**kin' bow on top, b***h." In response to a question HPR posed about his extreme confidence, Prof emphasized that his success comes from his self-belief—"How does anybody ever get into a position of real success if they don't believe in themselves?" he said with conviction. "I think it's a super common thing for rappers everywhere to think they are the best rappers and I don't mind that at all. I think it's one of those things that takes them where they want to go and gives them the drive to move forward."
Prof, having gone through though times growing up, has found music as a channel to move forward with the life presented to him. "My therapy is my imagination and my comedy," he says. Prof certainly proves that having a wild imagination can lead to good things.
His show coming up at the Aquarium on February 16 is in support of his latest album —"King Gampo"—that released last August. You can download it for free on his Bandcamp website: http://tiny.cc/uv6nm. If you like "King Gampo," why not just download all of his albums? Every song he's ever recorded in a studio is available to download for free at http://profstophouse.bandcamp.com/. He encourages it! And, from what I gathered watching some of his YouTube videos, it works to his advantage—virtually every concert-goer seems to know all the words to his songs! That is impressive to say the least—memorizing rap songs is not an easy task. But in Prof's case, his words are so shocking and lewd that it's hard for them not to reside in a person's memory.
King Gampo's album cover explains a lot about what's inside—the cover is a picture of him eating spaghetti in a bathtub of brown water. Prof's face has sauce all over it and his eyes are on the camera with look of "what the hell are you staring at?" on his face. Given that type of artwork, it would be safe to assume the album is filled with not-your-everyday-type-of rap music. From shocking lyrical content to hilarious one-liners to impressive melodic singing and musical talent, "King Gampo" has earned its popularity due to the fact that it pours every part of his soul into his work.
Questions and comments: diane@hpr1.com
IF YOU GO:
WHAT: Prof with Special Guests Big Zach and Kipp G and Tony the Butcher
WHERE: The Aquarium
WHEN: Feb. 16, 9:30 p.m.
INFO: $8 tickets, 21+