​HBO finds Amanda Standalone
Music | March 13th, 2014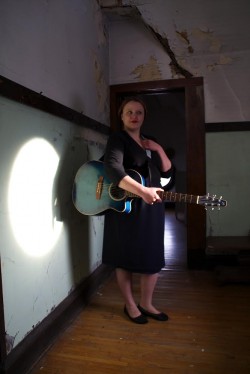 Apparently not all serious musicians have to be really good at "putting themselves out there." Local folk singer Amanda Nygard (Standalone) admits she's terrible at it and yet here she is, receiving paychecks from rich and revered women like Maria Shriver and signing contracts from people she's never met from cities she never visits.
Indeed, this March 17 (St. Patty's Day), Nygard's music will debut on HBO in its brand new documentary: "Paycheck to Paycheck: The Life & Times of Katrina Gilbert." Her song "Bird Flew Hard," performed with The Pastry Shop Girls (Minda Ringdahl and Abby Swegarden) and Haley Rydell on fiddle, will accompany the film's 30-second-long opening credits.
In fact, anyone can watch this documentary, about a struggling single mother from Tennessee, for free for one full week starting March 17 on HBO.com, Shriverreport.org and YouTube.com/HBODocs.
So how did these people find Nygard's music? This thought completely overwhelmed the Fargo singer/songwriter. For a while, she thought it could be somebody scamming her because she was first contacted by someone through her band's Facebook page.
"For three to four months I didn't tell anybody," Nygard recalled. Instead she spent her time researching the company the man was from and looking up music-related scams while working her temp job, ironically working "paycheck to paycheck."
"I asked the guy, 'How did you find me?' His answer was, 'I don't know, I am not the producer. I am only the music licenser. They just told me to find you.'"
Her first big "this is real" breakthrough was finding out the guy she was communicating with, Gerry Gershman, is also the music licenser for one of her favorite documentaries, "Style Wars." She basically quizzed him on the show and he answered without flinching.
Finally, Nygard emailed the women who found her song, Shari Cookson, who also the producer of the show. Cookson said she found "Bird Flew Hard" on iTunes by typing words relating to themes in the documentary.
"The woman in the movie has a bird tattoo on her back," Nygard said. "There is a lot of bird imagery. Whenever I think of birds flying around I think of freedom and that feeling that you want."
Then of course came the paychecks, which had Maria Shriver's name on them. Shriver, the show's executive producer, former wife of Arnold Schwarzenegger, six-time New York Times bestselling author and NBC News Special Anchor, is a huge advocate for spreading awareness on America's most pressing issues, especially those surrounding women.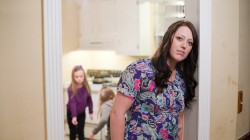 In "Paycheck to Paycheck," we watch the female protagonist singlehandedly try to escape economic turmoil in a system that makes it near impossible for her to do so.
"We all know Katrina Gilbert -- she's our friend, our sister, our daughter, struggling to make her way in the world," Shriver said in a press release. "Understanding what challenges she faces, and seeing how optimistic she is in the face of such challenges, is the key to building woman's economic empowerment."
Nygard, too, see's a bit of herself in Gilbert. The musician may not be a mother, but she does describe herself as a woman who's dealt with poverty.
She wrote "Bird Flew Hard" as she was pushing through a tremendously tough and financially unstable time in her life.
"I was at the bottom … That's the kind of repeating thing is 'I'll never fly that low again,' Nygard said. "It's kind of that learning curve that you get when it's like, 'I can't do this anymore.'"
The singer said she obviously feels very grateful and happy to have her music featured on this show. It's helped her overcome a number of self-doubts. Though now she's deeply wondering what else this opportunity has the potential to do.
"Where do you put yourself so you can like maximize upon it?" Nygard said. "The only thing I can think of is make yourself accessible."
Currently, Nygard is working on a website. Also, anyone can buy her music online at CD Baby, iTunes or Amazon by typing Amanda Standalone and The Pastry Shop Girls. Her next move is to record more music, though not first without writing and finalizing pieces with a true message and meaning.
"(Music) is such a powerful way to communicate with people," Nygard said "And I don't' think people are using it. I want to try to get somewhere with it."
WHEN/HOW TO WATCH:
Paycheck to Paycheck: The Life & Times of Katrina Gilbert
Premieres March 17, 8 p.m. on HBO
View for free on HBO.com, ShriverReport.org or YouTube.com/HBODocs
IF YOU GO:
WHAT: Amanda Standalone in Concert
WHERE: Red Raven, 916 Main Ave, Fargo
WHEN: Fri, March, 7 p.m.
INFO: http://tiny.cc/v5elcx