Heartless Bastards show no mercy
Music | July 25th, 2013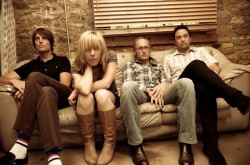 As far as we know Erika Wennerstrom isn't a Heartless Bastard. Perhaps it just reflects in her singing in split-second increments. Her voice is incredibly dynamic.
Truly, Wennerstrom's voice is one of the Heartless Bastard's most enthralling features. Often times it's clear and easy to follow, other times it loops, looms, floats and blooms. She sounds like a girlish Marc Bolan (T. Rex) or a boyish Zooey Deschanel.
Wennerstrom said her vocal style derives from her influences – everything from spaghetti western music to classic country songwriters to punk rock.
"I wouldn't say we are strictly a rock band, but we're definitely rooted in rock music," she said to the High Plains Reader.
The band is originally based out of Cincinnati, where they garnered the attention of drummer Patrick Carney (The Black Keys), got signed to a label and then recorded two albums.
Wennerstrom said she relocated to Austin in 2007 to "sort of start over." Since moving there, she acquired new band members and released two more albums, "The Mountain" (2009) and "Arrow" (2012).
"Arrow" is by far the group's most roots-rocking album. It also includes some of most the sultry, memorable and distinguished instrument/vocals combinations the group has ever came up with.
"It's all just been a learning process," Wennerstrom said. "I mean, I think with each album there is new challenges and it's just a different situation. But you can also take what you've learned from the previous one and try to build on that."
She says she has been writing new material for a new album, but she wants to work the songs out more before she brings them to the band.
"Usually I have an idea of where I want songs to head, but it can take awhile to get that together," she said. "And I feel like if bring it in when I still haven't figured out, it can go in a different direction that I wasn't planning on."
The band performed here last summer and they are back again for show at The Aquarium this Wednesday, July 31. Wennerstrom said one of most rewarding things about being an active songwriter and musician is being able to perform live.
"It really adds this energy that you can't get in the recording studio," she said. "When we are playing in front of an audience and some people are singing along to the lyrics and really identifying with the song, it's a really good feeling."
IF YOU GO:
WHAT: Heartless Bastards with The Hustle
WHERE: The Aquarium, 226 Broadway
WHEN: Wed, July 31, doors @ 8 p.m.; show @ 9 p.m.HOW MUCH: $15, available at jadepresents.com