Heatbox does more than Beatbox
by Sabrina Hornung | .(JavaScript must be enabled to view this email address) | Music | October 31st, 2018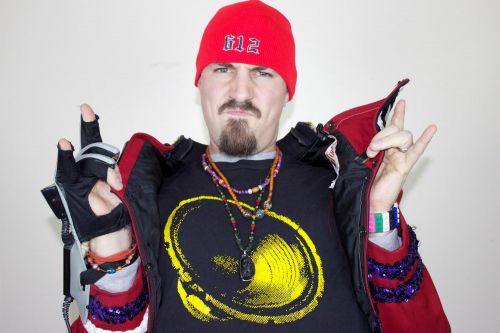 When asked if Aaron "Heatbox" Heaton was ever formally trained to play an instrument he admitted to playing the tuba for seven years. Though during his senior year in high school he found his calling and it wasn't the tuba. When asked when he realized he could use his mouth as an instrument he said, "I performed at the high school pep rally and everyone went crazy about it and it was the best. So I thought huh… maybe I should do that more."
Heaton aka "Heatbox" is a Minneapolis based beatboxer meaning he's a one man acapella act armed with a loop pedal and a ukulele. HPR had the opportunity to chat with Heatbox prior to his appearance at the Aquarium.
High Plains Reader: How did you get involved in the Minneapolis music community?
Heatbox: I was in a band called Root City Band for a long time. The lead singer I've known since High School and I was the hype man for seven or eight years and that's how I got my footing around the Minneapolis area. Then I started doing hippie music festivals and that's when things really started to take off for my solo career.
HPR: How has it been working as a solo artist rather than with a band?
Heatbox: On one hand it's awesome because it's easy and the travel is easy and I don't have to argue with anyone else about what songs to do or whatever. If anything goes wrong it's totally my fault. If I'm not having a fun night or don't feel like performing -- there's nobody else to back you up or get you pumped up. You have to do it all yourself.
HPR: When you load into a venue, what kind of equipment do you have with you?
Heatbox: I have one duffle bag full of computery toys and pedals and then I have one ukulele. That's it. I can pretty much carry it onto a plane if I need to.
HPR: How did you get into the ukulele?
Heatbox: My wife took some classes. She came home and I asked her to show me what she learned, so she showed me some chords… and then I got really obsessed and bought my own ukulele and she was like hey… that was kinda gonna be my thing. So I (laughs) said sorry… I got obsessed.
HPR: Since you've gotten involved in the Minneapolis music community, how have you seen it evolve?
Heatbox: When I first started, there weren't a lot of people doing a one man show and now DJs got really huge. So DJs are pretty much always a one man show. There's a lot of that and there's a lot more people who have started to loop and do stuff like I do. In this economy I can't blame them.
HPR: Along with beatboxing -- you design and program video games?
Heatbox: Yes! I actually have a new project right now called soul-players.com. It's this really cool video game/game show that we stream live and people that watch it can type in the chat. It's kind of this crazy "Mario Party" meets charades thing that I've been working up in my basement to one day hopefully take out and raise charity money for.
HPR: How did you get into designing video games?
Heatbox: I've always wanted to ever since I was three years old and my uncle gave us his old Commodore 64 computer. He showed me how to put games in there and play them and I became obsessed with games. I've told people before that I'm pretty sure I'm a computer programmer who accidentally became a musician.
HPR: You know, that doesn't sound like too bad of a mix!
Heatbox: No, it's actually a really good mix. Especially in the modern era where everything's computers anyway. I feel like I've got a big leg up from my uncle there.
IF YOU GO:
Heatbox with The Dank and TRebellion
Friday, November 9, 9pm-howling
The Aquarium, 226 N Broadway, Fargo