​Help fund Amanda Standalone's new album
Music | March 18th, 2015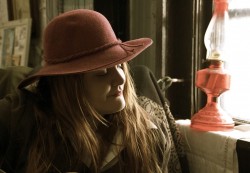 Folk singer will release "Trouble" on March 28 at Ecce
Beloved local folk singer Amanda Standalone is on a mission to become a full-time musician. As a community we have an amazing opportunity to help her make that happen.
The songwriter has launched an IndieGoGo campaign to help fund her latest solo album, "Trouble." So far, she's raised nearly a third of her $3,000 goal through this online crowdsourcing platform. People can donate any amount before the campaign ends on Friday, March 27. Proceeds will go toward album costs, including printing, packaging, artwork, promotional materials, release party expenses and more.
There are numerous perks available for campaign contributors, including digital downloads, music lessons, house concerts, CD release entry tickets and even a one-hour long massage. It all depends on how much folks donate.
The release party for "Trouble" is on March 28 at Ecce Art Gallery. Musical guests include The Pastry Shop Girls, Dave Vernala and Dorthy Fix. We especially suggest attendees donate to her campaign in order to receive an exclusive entry-plus-CD deal.
Many of us know Amanda Standalone for her beautiful warm voice, multi-instrumental talents and skilled folk/Americana songwriting abilities. Perhaps you've seen her perform with her groups The Pastry Shop Girls or Alien Brain the Jugular Vein. Or maybe you've seen her perform "Stand By Me" on the washtub bass at some random talent show. Thousands of Americans heard Amanda's song "Bird Flew Hard" on the opening credits of HBO's documentary "Paycheck to Paycheck: The Life and Times of Katrina Gilbert."
Really, there are numerous ways to appreciate Amanda's music. Fans can look forward to her new release, which is expected to be her best work yet.
"What I think is especially cool about ("Trouble") is that it's been done in very rural places in the middle of nowhere, and it's kind of cool to see that there's a lot that's possible even if you're not in a big city in a production studio," she said to HPR. "I think it's important for those options to exist as time goes on. And I think it's cool for people to support these kinds of projects, because it kind of promotes the idea that we can be independent artists and we can guide our own path and we don't have to have anybody make decisions for us.
IF YOU GO:
Amanda Standalone CD release party
7 p.m. Sat, March 28
Ecce Art Gallery (2nd Floor), 216 Broadway, Fargo
www.amandastandalone.com
INDIEGOGO LINK: