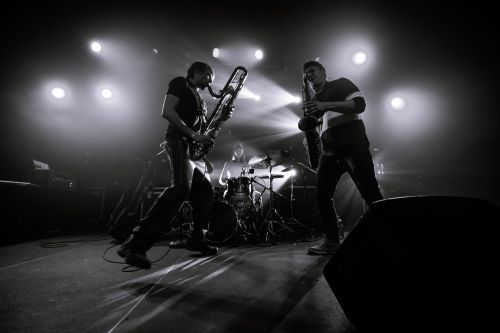 By Michael Str!ke
michaelstrike.solo@gmail.com
"Every moment is a special moment… if you pay attention to it." Wenzl McGowen stated over the tinny speaker of a cell phone, and as one of the three members of Moon Hooch they certainly know about the power of capturing attention. Wenzl, along with fellow saxophonist Mike Wilbur and drummer James Muschler, have been capturing the attention of folks worldwide pioneering the sounds of brass house and new jazz as well as sharing an ethos of conscious living.
Moon Hooch started as an idea almost a decade ago on the street corners and in the subways of Brooklyn, New York. The three banded together, two saxophones and one drummer, despite the disbelief of friends and fellow musicians in the city. Almost instantly; they blew up. As they played intricate and compelling techno style beats with frenzied but exact horn melodies and harmonies; they began an awakening among the sea of bucket drummers and one relentless Polish multi instrumentalist. Asked to play parties, events, shows, and more; Moon Hooch started a horn resurgence that now floods the city of New York and beyond. Closely followed by similarly constructed acts like Too Many Zoos and more.
There is a recognition from the band that in this day and age especially; attention is the most precious resource humans have. Being distracted by our consumer style culture has necessitated being able to blur out the world, and it has certainly narrowed the interaction and the participation of culture, including busking musicians on the streets. "there are advertisements on both sides of the seats screaming at us, and our telephones popping up with messages, and expectations of what we have to do." So now it has really elevated the challenges of the street performer to find out how to be an important enough moment and be enough of a spectacle to gain the attention of folks moving about their day.
Not only does Moon Hooch dissect, expand, and explode moments of sound in their music; they praise the practice of doing so in every moment of life. Wenzl himself takes notes from the Greek philosopher, Epictetus; and the acceptance of what is is what it is. Instead of offering up resistance to how a person wishes a situation could be, it's a lot easier to accept a situation for what it is, and work from that understanding instead. It's an aggressive 'go with the flow' mentality that plants the seeds of a calm rationality that almost any of us could benefit from.
Moon Hooch has been touring for years now, sharing their music and ideas with the world. They've done festivals, TedTalks, and even charity works that far exceed what could be expected of artists performing and living as much as they do. And while they still find time to break out of the ordinary, like Wenzle placing a traffic cone in the bell of his saxophone and then honking spastically in coffee shops and beyond, they also find time to take and appreciate each moment of this harried and hectic lifestyle.
Moon Hooch is coming back to Fargo this Sunday, October 27th at The Aquarium above Dempsey's Public House at 226 Broadway N and it's definitely a night you'll want to give your attention to.
IF YOU GO:
Moon Hooch at the Aquarium
Sunday, October 27, 8 p.m.
The Aquarium above Dempsey's, 226 N Broadway