​How do you Dü?
by Sabrina Hornung | .(JavaScript must be enabled to view this email address) | Music | March 27th, 2019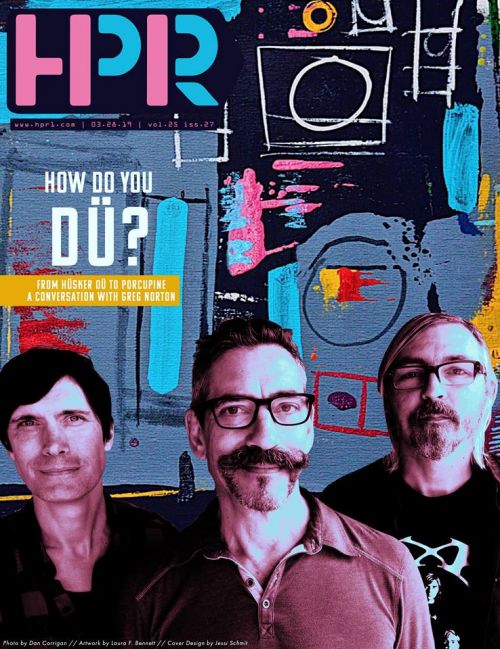 The Lacrosse, Wisconsin based indie rock three-piece Porcupine came up on former bassist of Twin Cities based hardcore punk trio Hüsker Dü, Greg Norton's radar one night in 2009 as they opened for the Meat Puppets. Norton met the band after the show and made fast friends with guitarist Casey Virock and managed to stay in touch via social media.
Fast forward to 2016. Norton's project Conqueso disbanded and serendipitously Virock's bass player didn't work out either. "Casey called asking--are you still playing your bass? I was like, I'd like to be playing it a lot more than I do. He asked do you want to play with us? And I said, I thought you'd never ask...and the rest is history."
Porcupine will be playing the Aquarium in Fargo on April 5 and will be opening for the Bob Mould Band, Mould being the former Hüsker Dü vocalist/guitarist on March 30 and 31 at the Palace Theatre in St. Paul. The Palace dates mark 40 years of Hüsker Dü, a milestone in the careers of both Mould and Norton.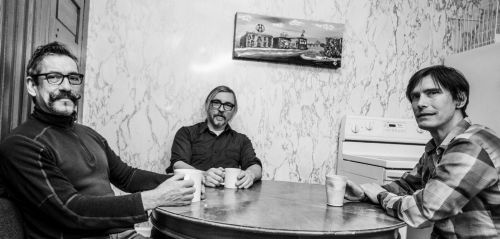 HPR had a chance to talk to Norton about Hüsker Dü's first gigs, punk in the midwest, and the similarities between working as a musician and working in a kitchen.
High Plains Reader: So Porcupine will be opening for Bob Mould on March 30 and 31 on the 40th anniversary of Husker Du's first gig, can you tell us about that first gig?
Greg Norton: I know that Bob, in his press release said that we were "Buddy and the Returnables," but when we first started rehearsing for that show… that's kind of the reason that the band got together.
Charlie Pine, the keyboard player was the manager of the record store Grant (Hart former Husker Du drummer) and I had worked at and he's like--hey Grant we have to put this show together because I just said I've got a band and I said we're called "Buddy and the Returnables." So Grant's like, I know this guy who goes to Macalester College...he's got a flying V guitar and a black leather jacket and Greg plays bass.
We started rehearsing and we played three sets of cover tunes on those two nights. We didn't play any original music because we hadn't written any yet. Before that, I suggested that we call ourselves Hüsker Dü because Bob, Grant and myself didn't like the idea of being the "Returnables" to Charlie Pine's "Buddy."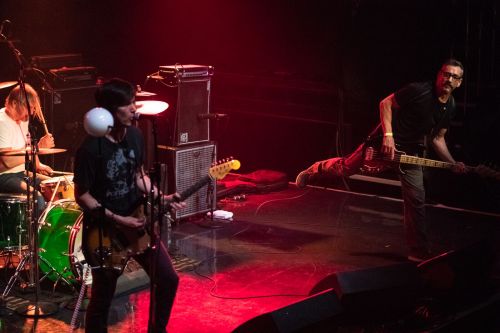 We actually played those two shows as Hüsker Dü, Grant made a flyer for that show that said, "Hüsker Dü--First time in the United States." Which was true, it was the first time we played in the United States! That was March 30 and 31 1979. Bob, Grant, and myself thought--hey--this is a lot of fun. Let's keep playing together, but we weren't really feeling the vibe of Charlie playing the keyboard. He was like three years older than us and had already graduated from college, so he was the "old guy," right?
So, the three of us started rehearsing at a different record store that I was working at called Northern Lights. We started writing original tunes and three weeks after our "world debut" Charlie called and said--hey we have another show. It was April 20 at Macalester College for their Springfest. So we went played our set of covers and then they were like--hey, you still have 15 minutes if ya wanna keep playing. So the three of us jumped up to start playing our original Hüsker tunes.
That's when Charlie was like--hey, what's going on? I don't recognize this… and that's the point where a friend of Grant's, who was in the audience, yanked the cord out of the back of the Farfisa organ, and in Hüsker folklore that's the point where Charlie Pine was basically fired on stage and Hüsker Dü was born in earnest as a three-piece original punk rock band.
HPR: How did you cut your musical teeth, did you grow up playing?
Greg Norton: I did not. Through junior high and high school I had a lot of friends that were very musical and they all had bands. I got my bass when I was 14 but never really did anything with it until Hüsker got together and actually, that's one of the best ways to get your shit together and learn your instrument. Go out and book yourself a show and it's like...oh, I garound anduess I'll have to learn to play this thing before then.
Grant was very musical. He inherited his drum kit from his older brother who was killed in an accident when Grant was pretty young. Grant inherited not only the drumkit but this incredible collection of 45s. Grant's self-taught but he could also play the piano and sing. Bob also taught himself how to play. Bob was from upstate New York and his dad ran a grocery store but he had something to do with jukeboxes, so he would go aroundand change out the 45s of the jukeboxes in the area. The stuff he would trade out, he'd bring home, so Bob had all the records to listen to.
HPR: What was the punk scene like in the Twin Cities in the 80s and how would you describe it now?
Greg Norton: There was one main club in Minneapolis called The Longhorn, that was pretty much the ground zero for punk rock in Minneapolis. The scene at the time was definitely very Minneapolis centric of course. We were from St. Paul so we weren't necessarily the "cool kids." Minneapolis being the "cool" town versus St. Paul being the "square" town.
At the time there was a local fanzine called "Incest" and we always felt that was pretty truthful about the scene itself, that it was pretty incestual because if you weren't a part of it you had to break into it through persistence. You keep hammering away at it. You break through that barrier. Then it started to open up. I think it did get much better and more inclusive. We certainly helped push that along with Reflex Records, trying to put out records of local bands we liked.
In the early 80s, when you hit the road you just looked for places that had a scene, that had a club willing to book a band. We got a lot of early help from some Canadian bands DOA and The Subhumans--both out of Vancouver. Those guys were really helpful in helping us get gigs. Once we made it out to the west coast and met Jello Biafra of The Dead Kennedys--those guys were really helpful.
Minneapolis still has a really great music scene but it's almost like it's more splintered now--like there's certain pockets of things. It doesn't seem like there's as much crossover as there used to be. Plus there's a lot more venues as well. It seems like certain venues have their thing or their sound and they get their crowd. Back in the early days it was the Longhorn, then there was the 7th street entry and First Ave, and a couple of other bars. It seemed like everybody would go to see what's coming through now people are like--well, I'm not into that, I'm into this type of thing.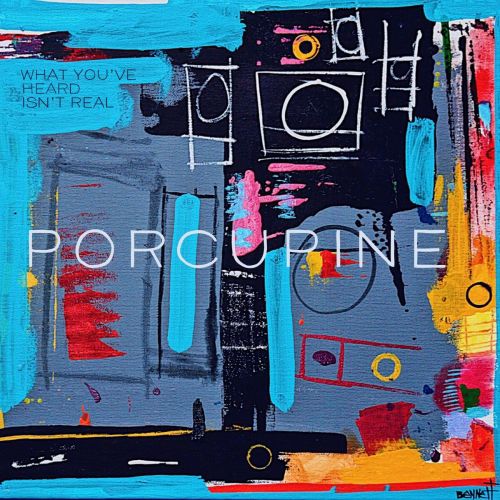 HPR: Since the breakup of Hüsker Dü, you've played in a few bands and even worked as a chef. Can you tell us a bit about that?
Greg Norton: Right after Hüsker Dü broke up, I had a band called Grey Area--we were also a three-piece. We tried to put together a recording and did a little bit of touring and the band essentially fizzled out.
A friend of mine who was a chef in Minneapolis needed some help at his restaurant and asked if I wanted to come in and help him out so I went in and started out as a dishwasher, then he started teaching me how to do prep, he pretty much said you have some pretty good aptitude for this, let's start taking you through the stations of the kitchen. The old joke was sure, I used to wash dishes. Now I'm washing lettuce!
It was a great way to start and get way into it and to learn everything that goes on in the back of the house. It turned into a 16-year career as a chef, GM--that's where I basically got my education for wine. Actually, kitchens and rock n' roll, there's a lot of similarities. The hours are close to the same--late nights. In a restaurant the menu is like your setlist, you just don't know how many times you have to play a certain song in a night, and you basically get that instant feedback from the guests on how your performance was. So the transition to restaurants from rock n' roll was pretty easy. You see a lot of people who play music, that's also what they do… their other job is working in restaurants. It's pretty symbiotic.
IF YOU GO:
Bob Mould Band with Porcupine
Saturday, March 30, 7:30 p.m.
Palace Theater, 17 7th PI W St. Paul
IF YOU GO:
Porcupine with PKEW PKEW PKEW, Lutheran Heat and more
Friday, April 5, 8 p.m.
The Aquarium, 226 N Broadway, Fargo