HPR at SXSW
Music | March 20th, 2014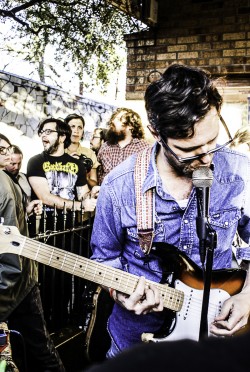 For six years in a row, I've travelled to Austin, Texas for the SXSW Music Conference and Festival, which has become the biggest, most talked about spectacle in the music industry. The conference is most well known for its music portion, but this year I had the opportunity to cover the music and interactive sides of it as well.
What started as a music conference in 1987 to break new bands has grown into something much, much larger. Established musical acts that don't need any exposure, like Coldplay, Lady Gaga, Jay-Z and Kanye West, have decided to become a part of the music industry's biggest gathering of labels, bands, managers and, most importantly, press.
The film side of the festival started as a way to break new indie films but has seen more and more appearances from larger stars and bigger studio films including the debut of Seth Rogen's new film "Neighbors" this year. And with the growth of social media and new technologies, the interactive portion has seen the largest increase in registered attendees to the festival, compromising more than half of the overall 73,000 registered in 2013. But with tons of free shows and unofficial major acts, it's easy to see how the music festival still brings the most people to town, registered or not.
The growth of the festival has brought challenges, however. What makes SXSW different is that people see more than 2,100 official music acts performing in smaller venues than they are used to playing, with the largest holding a few thousand to the smallest being a few hundred. Most festivals only feature three to ten stages at most.
When an act becomes one of the most buzzed about of the festival, it becomes a challenge to even get to its show. And frequently people are turned away, even folks with the most festival access. Also, with more large arena size acts coming to do small shows and get in front of the music press, it brings out way more people than can get into these venues and becomes less about breaking a new artist than getting into the event.
This year was marred by tragedy on the festival's first day when a drunk driver drove through a barricade of a blocked off street full of festival goers near a venue, The Mohawk, which I was at several times during the week. The driver Rashad Owens killed three people and injured 22 more and has been charged with one count of capital murder. This event shook the festival as everyone, including myself, woke up to texts and phone calls from family and friends wondering if they were OK. I would probably have been at The Mohawk and walked that same block to see X perform that same night had I not won tickets to see Jay-Z and Kanye West.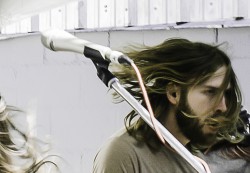 The tragic crash inevitably led to questions about whether the festival is getting too big and if any changes need to be made to make things safe. It's worth noting the event happens during spring break for many colleges across the country, including the University of Texas at Austin. That always leads to more drunken crowds on the blocked off streets of the city.
But is the growth of the festival to blame? I don't think directly, but the two issues combining definitely had some wondering if they even wanted to continue watching shows. While the two venues near the accident had to cancel two day parties, for the most part, everything went on as planned, even after some soul searching. But that soul searching is going to linger in the months ahead even if this was the first incident of its kind in 28 years of the festival.
Do the appearances of the larger bands and movie stars take away energy and attention from the overall goal to break new and up and coming acts? Perhaps to some extent, but there are always up-and-coming acts who break through it all and come out of playing 12 shows in a week with way more buzz than they came in. I always balance seeing some things I can't see anywhere else, including some of the larger ones I'd especially never see in Fargo. For me it's about watching live music from early afternoon to late night. Which can be quite exhausting on your feet walking through blocks and blocks of downtown Austin for several days.
The challenge moving forward for the festival is to make sure all the corporate sponsors bringing in larger acts don't make it so difficult for the new-and-upcoming acts to shine. Is it too big for what it's trying to accomplish? Many are starting to say yes. But a lot of that is determined by who the desired audience is (music industry professionals or everyday fans) and what the goals are (breaking new acts or sponsors bringing someone who generates the most press). And even with stated goals and audience reach, some of it you can't stop with more and more outside people attending and parties happening outside the festival. It is what you make it, if you don't take time to see smaller unheard of acts that may surprise you or go to the sometimes way funner unofficial parties, it's your loss.
----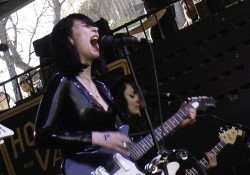 Here are some of the highlights for us. One of the biggest events of the entire festival was the first U.S. address (via satellite video from Russia) of NSA whistleblower Edward Snowden who spoke about privacy and security and a lot about his own case, which he said he had no regrets.
"When I came public, it wasn't to single-handedly change the government. I wanted to inform the public so they could make their own decision," Snowden said. "I took an oath to support and defend the Constitution. And I saw the Constitution was being violated on a massive scale," Snowden said to applause from conference goers.
He decided to speak to the conference because he felt many in the room attending the interactive portion of the conference could help fix the erosion of privacy rights for innocent individual Americans in the modern era with technological advances. He also mentioned how he feels individuals need be more proactive about protecting their own privacy in using tools while they are online. He also called for more public oversight of the spy programs even someone to watch Congress to protect privacy. Regardless of your thoughts about Snowden or his methods of exposing government spying on average Americans, the opportunity to hear someone of historical significance at the center of an American debate on the subject was fascinating.
Another highlight of the interactive portion was an appearance by Chelsea Clinton who spoke about using technological advances for social good and helping people across the world especially in third world countries. "A lot has changed in the way we engaged in the world around us, but there's still areas in the development space where technology is just beginning to push disruption and innovation," said Clinton.
I was impressed by her intelligence, and while she said she hasn't decided whether she'd run for public office, it was clear it would be something she would excel at should she want to.
Music legend Neil Young spoke to both the music and interactive crowds about his new high quality digital audio player Pono, which he started a Kickstarter at the festival because he had been unable to find support from major financial backers despite widespread support from major musicians for the project. Young feels the quality of music is going backwards with MP3s and CDs, unlike the explosion of Blu-Ray technology in the film industry. He wants people to hear music the way it was made in the studio and feels that currently is not happening.
"The digital age was fraught with errors, errors of judgment," Young said. "What can people hear? What can people not hear? They forgot about what people can feel," Young doubled his Kickstarter goals in 24 hours with the announcement, its slated for an October release at a price of $399.
The festival's film portion showcased director Wes Anderson's "The Grand Budapest Hotel," followed by a Q and A with Anderson and lead actor Jason Schwartzman, moderated by fellow director Richard Linklater.
"Budapest" centered around a fictional hotel in a fictional country is typical, quirky Anderson fare filled with an amazing cast, visually stunning cinematography and delightful dialogue. But it has the feel of being a movie and story you never want to end. If you are at all a fan of his work, it is a must see.
This was Anderson's first SXSW screening since 1996's "Bottle Rocket," and at that time, only nine people showed up. This time was quite different, of course, and Anderson spoke of his inspiration for the film, which came from Austrian novelist Stefan Zweig and German filmmaker Ernst Lubitsch.
"With the Lubitsch stuff, I'm just stealing from him without particularly trying to make an homage," Anderson said. "It probably wasn't even a preconceived notion. When we got to the '30s part of the story, it just sort of went that way. I would have thought the movie would have been slower and sadder, but it didn't come out that way. It came out fast-paced and eventful."
One of the best films we saw was "Animals." Set in Chicago, the film is about the story of two middle class homeless heroin addicts who fall into a life of crime by continually feeding their habit. It was one of eight of 13,000 films submitted to be up for the narrative feature award. It was directed by first-time director Collin Schiffl and features production design work from Caity Birmingham, who went to Minnesota State University Moorhead, and previously worked at the Fargo Theatre and was a part of the beginning of the Fargo Film Festival.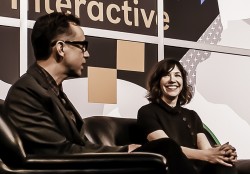 The film portion also provided opportunities to sit in on fascinating discussions from actors and directors such as Jon Favreau, Nicolas Cage or Fred Armisen. People could also see up-and-coming films, including another from a first time director Leah Meyerhoff called "I Believe In Unicorns" about a teenage girl who runs away from home with an older punk rock boy but it doesn't turn out quite as she hoped.
Three standouts from the music festival, where you can literally see acts from Noon until 2 a.m. were Destruction Unit, loud abrasive punk from Arizona featuring an ex bandmate of Jay Reatard's, togetherPANGEA, fun California-based garage punk and Diarrhea Planet, Tennessee rollicking rock and rollers who even got Melissa Etheridge to sing a song with them at the festival.
Another aspect of the festival is special guest appearances to make your act standout. We caught a set from Damon Albarn, Blur and Gorillaz frontman, promoting his forthcoming mellow debut solo album at the Fader Fort, following Wiz Khalifa. The solo work almost seemed a bit tepid for the crowd following some high energy hip hop but Albarn stepped things up a notch when he brought out De La Soul, Del the Funkee Homosapien, Dan the Automator and Snoop Dogg to guest on two Gorillaz songs.
The festival is also a great opportunity for myself to catch a lot of acts I want to see in one place around new album releases and tours. There's only so many times you can afford to go to larger cities so it was nice to be able to catch some of my favorite acts like the Black Lips, Real Estate, OFF!, Cloud Nothings and Warpaint all in one week. We also caught not quite as well known acts such as Bad Sports, Protomartyr, the reformed Coachwhips, Angel Olsen, Cate LeBon and the Orwells all of whom put on fantastic performances and are sure to follow the SXSW tradition of becoming much more well known after a week of performances in front of ton of press at the festival.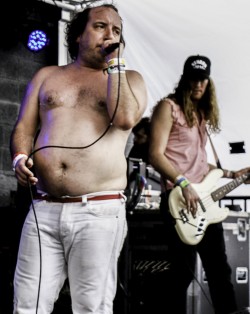 Har Mar Superstar known well to Fargo audiences put on his usual entertaining show for a party put on by food guru Rachel Ray sandwiched between Blondie and Cee Lo. Not quite as well known as those acts, Har Mar introduced himself in his usual charming fashion, getting the crowd dancing in no time.
Two local acts Go Murphy and Tiny Moving Parts made the trek to SXSW and both played unofficial shows. Both said they'd do it again.
"The trip to Austin was amazing. We were fortunate enough to play to a full crowd and it seemed like it went over great. We will definitely make the trip back next year if we get another shot," said Go Murphy frontman Marcus Rondestvedt.
"Best time ever! Friends galore, free shows, free party rocking! What else is there to ask for in this world?" said Dylan Mattheisen of Tiny Moving Parts.
The biggest musical event of the week we witnessed, however, had to be the dual performance of Jay-Z and Kanye West brought in by corporate sponsor Samsung for a last minute performance. I won a ticket lottery to get in and waited more than two hours in line and was one of the last 50 to enter after the fire marshall demanded a capacity check. The venue, Austin Music Hall, holds around 3,000 people but reportedly several thousand extra wristbands were handed out for the performance.
Once inside, Kanye and Jay-Z delivered a near two hour performance alternating several of their own songs as well doing collaborations from their "Watch The Throne" album. It featured a stunning laser, light and video show that was better suited for an arena, not one near the size of the Venue at the Hub. Having never seen either of them, to catch both in one night on the same stage so close was quite a treat. The show made it worth it for all it took to get in but it would've been very disappointing night had we been one of the ones stuck outside wasting several hours of our night in line while you could've been watching other acts.
The rise of corporate sponsorship at the festival with companies such as Doritos sponsoring the appearances of acts like this year's keynoter Lady Gaga is everywhere and making many wonder whether it's all about the music or more about selling snack chips or cell phones.
I wanted to barf when I saw SXSW everywhere written in the fashion of the Subway logo. That sponsorship is how these larger acts are able to play the festival with the sponsors shelling out the dough for their appearance at smaller than normal rooms. However, perhaps it can be done without things such as a 50-foot tall Doritos vending machine stage where the acts perform where the chips come out.
Lady Gaga even had the gall to say in her keynote "The truth is, without sponsorships, without these companies coming together to help us, we won't have any more artists in Austin. We won't have any festivals, because record labels don't have any money."
I think there are plenty of artists in Austin and elsewhere surviving without sponsorships.
All in all SXSW is an amazing, exhausting experience. It's a lot of work to see all you want to see and can easily wear you out in a few days. But as long as you are up for the challenge of disappointment of not getting into every show you want, waiting in line for hours each day and walking for miles around downtown Austin, you can find good times in the rough realizing you are outdoors watching music and experiencing things you just won't see anywhere else. The question of whether it's getting too big, has too many sponsors or is losing its purpose will be debated many times over the coming months as everyone decides whether or not they will participate in this ever growing spectacle once again. And most of the time for all the detractors, they all end up back again in some fashion or another. But hopefully some changes are made to return things to the original purpose, scale it back and focus on newer, smaller acts and not make corporate shilling such a big part of things.