John C. Reilly: Two-Step Brother
Music | June 7th, 2012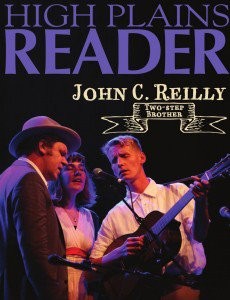 He's best known as a funnyman in film, but over the past two decades, John C. Reilly has established himself as one of the more versatile entertainers of his generation. Next weekend, he comes to the Red River Valley – not to play opposite Will Ferrell, film another Oscar nominated dramatic performance or work on his Cartoon Network spinoff – but rather to perform roots music. It's music, as Reilly's explained, "conceived and sung around lonesome campfires, rain-soaked ships decks, whispering mountain pines or dusty barren farmland."
Joined by a talented lineup of artists, including Willie Watson of the Old Crow Medicine Show and Grand Forks-native Tom Brosseau, Reilly will bring his roots revue to cozy venues in Fargo and Grand Forks over two nights. On Tuesday, the Grammy nominated singer called the High Plains Reader from his Los Angeles haunts to talk about his musical development and pursuits.
High Plains Reader: You've joked about calling your group the Eternal Magic Preservation Society, I'm wondering what that means and why it's important to keep the music you're playing alive?
John C. Reilly: I guess the reason we thought of that name when we were tossing around band names is because we sing a lot of harmony in the band – there's a lot of close harmony between the various duets that we do and it just feels like a magical thing when two voices become a third voice that wasn't there before. I think that's the closest thing human beings can do to actually create magic. And there's something that's just really eternal and timeless about the songs that we do. A lot of the music that we choose is roots music for lack of a better term and I think there's a reason those songs last as long as they do, you know. There's been a lot of music written over the course of human history and certain songs stay with us ... The way that they survive is that they're passed on. Not just with recordings and through people listening to them at home but through these group experiences, these communal experiences where people come together and actually perform the music live and have an experience with it – in the flesh and with other people. And that seems to be what happens at our shows. There seems to be a sense of community and being connected with one another.
HPR: That's a laudable goal, keeping that music alive, but I'm wondering there are many actors who have gone into the music realm during their acting career, and I was wondering if you've faced any criticism and how you've dealt with it?
JR: Not really, to be honest. I had my own doubts about whether people would be able to accept this, but I think it's really clear when you come to the show that it's not about making myself any more well known ... it's about sharing this music and having a great experience together and spending time with my friends. If there were some ulterior motives then people might criticize it. But in fact it's just nothing but good vibes when people come to the shows. It can be a little odd at first. A lot of times people come to the show and they don't quite know what to expect. All they know is my film work. Then we come out and do what we do and it quickly becomes clear to people – "Wow, this is kind of special thing" – and it almost becomes a side note that I also happen to be an actor or that I've appeared in films ... It's about keeping the flame of song alive. With popular culture being in the state it's in, a little bit of sincerity goes a long way with people right now and being able to hear this music played live is a really special thing.
HPR: How did the group get together?
JR: Just over time I got to know people. I've been playing a lot of shows over the years at a place called Largo here in L.A. and that's where I met a lot of the people in the band … Then working on various music-movie projects I met a larger group of musicians including Tom Brosseau and Becky Stark and we realized that we like a lot of the same music. So we started singing together and our voices blended well together, and, at a certain point, I said "we should just put this all together into kind of a revue and we'll go out on the road and share this as a whole show."
HPR: You brought up "Walk Hard." Last week I was at my grandma's house and got her randomly watching Dewey Cox. Can you go into a little more detail about how that role helped prepare you to get out on stage as a musician?
JR: Pretty much the way it's been for me is it's been a cumulative effect through my whole life. I started out doing musicals when I was a little kid. Then I started to learn to play the guitar in college. Then I was with a blues band for awhile. Then I started sitting in with different musicians that I knew … Then movie roles started to come my way that included music.
One of the bigger ones actually was "The Prairie Home Companion" movie where I played a singing cowboy. Then when "Walk Hard" came along, it was like everything I'd done up to that point prepared me to pull it off 'cause I did my own playing and my own singing in it. So it came about just because Judd Apatow and Jake Kasdan had a great idea for kind of a satirical look at this musical biopic ... so they were looking for someone who could do it. And it was this cumulative effect, you know, of all the musical experiences of my life I guess I was uniquely prepared to pull it off.
HPR: Up here, we're in Prairie Home Companion figure, but I am wondering what it was like to work with Garrison Keillor?
JR: We shot the movie right there in St. Paul at the Fitzgerald Theater and, you know, Garrison had us over to his house a few times for barbecues and stuff. The way the movie was filmed, we were all there all the time so it was very much a community kind of feeling there. I think Garrison is just creative and what's fascinating about that show is, once I started to work on the movie, I thought "oh, I'm finally going to get to see who creates all this stuff. Who is it who behind Garrison Keillor. Who writes all that stuff. Who writes the Lake Wobegon monologue?" And the more I looked, the more I realized that's it – it's him … I can tell you from being backstage at those shows that the place where that material is coming from is from him.
He's generating those skits and the writing and he's curating the songs and choosing the performers. There's a little bit of help in terms of facilitating but in terms of the decision making and the creation of what's on the show – that's all him and to me, that's really something ... When you're around Garrison – of course he would be horrified to be compared to someone like this – but it's like being in the presence of Mark Twain. An actual American hero. Someone who has all the ideals that Americans hold dear and he really does walk the walk.
HPR: Have you ever made it up to Fargo before?
JR: I've never made it to North Dakota, actually. The farthest west I've ever been is Minnesota. I grew up in Chicago and have been through all of Wisconsin and Minnesota. My father was really into fishing so we kind of stayed close to either Lake Michigan or the lakes of Minnesota and did not get out towards your way. And that's why I'm excited that Tom Brosseau suggested this tour – I get to see a part of the country that I've never been to before. I've read a lot about it, but I've never been out there.
HPR: So are your perceptions of this area shaped by a 90s Coen Brothers film?
JR: My perception of it is really shaped by the people I know there and Tom Brosseau's really one of the only people I know from there. The Coen Brothers movie – I love that movie, it's a great film – I just don't know that it speaks to the place or even to the people. I think that movie's an allegory in a way and it could have taken place in Tallahassee, Florida just as easily as it takes place in Fargo. It's a story about bad decisions and they used Dakota as the backdrop. When I think of North Dakota, I don't think of people involved in that story.
HPR: So how far do you planning on going with music?
JR: Well, we're going to keep doing it until it feels like a job, then we'll do something more fun. Really, it's this great amalgamation of people and personalities. The main thing that drives it is a love of music and love of each other. We just want to keep doing it as long as people will have us – as long as people are open to receiving the gift we're offering. We're going to try to make a record at some point. And we just had a great experience up in the Pacific Northwest, we played Portland, Vancouver and a really great festival called Sasquatch out of Seattle – an amazingly positive experience there, we had the biggest crowd at our stage for the whole festival. So it's paying off … At this point in the state of the county and how strange the movie business is right now, I'd rather be doing this with my time than to be taking a job just to take a job doing I something I don't believe in. This is something that I really believe in and I get a lot out of. I'll keep doing it as long as it feels like that.
HPR: Will the playing affect the pace you've kept over the past few decades of film and more recently, some TV?
JR: What I usually do is look at if I have a chunk of time open, I just fill that time with music and playing and if a job comes that I think is worth doing that's not music, I'll go and do that and take some time off. Everyone in the band has other pursuits, they have other bands and other people that they play with. I don't think it should have too big an impact. I'll just keep doing what I love to do regardless what that is.
IF YOU GO:
WHAT: John C Reilly and Friends with Diane Miller
WHEN: Fri. June 15, 8 p.m. (doors)
WHERE: The Fargo Theatre
INFO: Advance tickets: $18 (tickets300.com)
WHAT: John C Reilly and Friends
WHEN: Sat., June 16, 8 p.m. (doors)WHERE: Empire Arts Center
INFO: Advance tickets: $21 (tickets300.com)