Kottonmouth Kings, Cannabis, and Concerts
by John Showalter | .(JavaScript must be enabled to view this email address) | Music | June 5th, 2019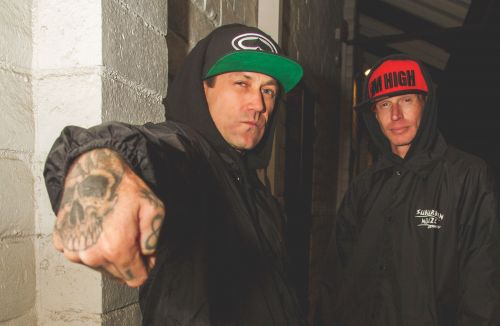 If one were to compile a list of hot button issues in American news, the legalization of marijuana would certainly find its way on there. Though there is a growing acceptance of its usage for both medicinal and recreational purposes among the general population and the list of states that have legalized it grows longer as time goes on it still struggles to receive its blessing from the federal government to be legal in all fifty. Dustin Miller, AKA D-Loc of the hip hop (or as he likes to call it, 'rip-hop' group Kottonmouth Kings, likes to think of their group as making their own contribution to the long-fought battle for marijuana legalization.
"Marijuana is a plant that grows from Mother Earth," D-Loc said, stressing its medicinal properties and what he sees as the absurdity of the stigma that remains against it. The acceptance and legalization of marijuana is not just a passion for the band, but 'God's own sweet leaf' is also a muse for the Kottonmouth Kings, with a number of their album titles referencing the reefer and some even being released on the good old 20th of April.
Originally formed in 1996 in Placentia, Orange County, California, Kottonmouth Kings formed a unique blend of genres in their music, which they have referred to as "psychedelic hip-hop punk rock."
"We grew up on Sublime and Cypress Hill," D-Loc said.
If he had to describe a message behind their music, D-Loc said it would be, "Smoke weed, drink beer, and have a good time. We make positive music, punk rock music, hip-hop music, reggae, campfire acoustic music… lots of different elements."
Throughout all the different phases and different members of the band over the years that message has remained the same.
Kottonmouth Kings are touring again after a hiatus of approximately two years that started in 2016.
"A previous member did something funny," D-Loc said.
After taking some time for the group to get their bearings, they reunited with a new sense of purpose and a positive direction in 2018.
"We're back strong, and we're back with what everybody is familiar with," said D-Loc. "We're looking forward to it, connection with all the old and new kings and queens of the nation."
Not only is a long-overdue tour on the docket for Kottonmouth Kings, but they also have a new album that they will be releasing this fall, titled "Kingdom Come" which they are releasing with long-time collaborators Suburban Noize Records. The album is essentially a rerelease of a record that D-Loc did separately during the group's hiatus, complete with extra tracks and a Kottonmouth Kings sound. They will also be returning to perform at Huntington Beach's SRH Fest for the first time in three years, along with fellow artists Long Beach Dub Allstars. The festival is sponsored by Suburban Noize and supports extreme sports athletes.
"We'd like to thank all the hardcore fans," D-Loc said. "We're stoked to announce we're back to build and make new memories." And for Fargo fans of the Kottonmouth Kings, June 9th at the Sanctuary Events Center is the perfect opportunity to take part in that.
IF YOU GO:
Kottonmouth Kings w/ Smile Empty Soul, Flaw, and Boondox.
Sunday, June 9, 6:30-11 p.m.
Sanctuary Events Center, 670 4th Ave. N, Fargo