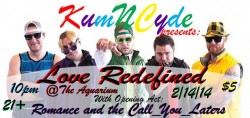 Chazz, K(r)ISS, Deriq, AJ and CJ are back. Boy, if you thought Halloween was crazy, get ready for V-Day and expect all things to be badder, ballsier, bigger, better and bunchier.
That's right, the Fargo boys of KumNcyde are redefining love as we speak. Y'all better be ready at The Aquarium.
High Plains Reader: Last Halloween, with your sweaty dance moves, mucho-suave matching outfits and pristine voices, you boys stole all our hearts at The Aquarium. What do you guys have in store for our hearts on Valentine's Day?
KumNcyde: Fireworks, open flames, merchandise (t-shirts, thongs, etc.) and bareback acrobatics (AKA BareBackrobatics). We've also got an opening band this time around called 'Romance and the Call-You-Laters,' and they're going to be getting things nice and nasty with some love songs from the '50s and '60s.
The theme of this show is 'Love Redefined,' and we really aim to challenge and redefine everything you thought you knew about L-O-V-E.
So if you're down to open up your Valentine's evening with some Otis Redding, Del Shannon and Temptations, move onto some N*Sync, Backstreet Boys and Boyz II Men, and then finish your night with a sweaty dance party featuring filthy dance songs hand-picked by the KumNcyde boys, then the Aquarium will be the place for you.
HPR: KumNcyde (pronounced "come inside") looks and sounds like a sexy name for a fungus or pesticide spray. How did you come up with it for a band name?
KNCYD: Honestly, it was the very first idea that we (Deriq a.k.a The Big Brother) came up with, and we just went with it …
As for fungus sprays, we can't testify to their efficacy, but we can testify that treatments of some kind will likely be necessary after this show.
Disclaimer: We, the members of KumNcyde, will not be held responsible for love-related infections or "new worsts" that come about as a result of our performance.
HPR: What do you say to naysayers that think you guys are just a bunch of karaoke-singing, headset-wearing, BSB wannabees?
KNCYD: I would say that those naysayers are pretty astute observers. I don't know that we could have explained ourselves any better than that. Can we use that wording in our press materials?
HPR: Justin Timberlake will be in town on Feb. 7. Perhaps you guys can convince him to stick around to watch KumNcyde's show? Or you all must be preparing in some way for his presence …
KNCYD: We're definitely excited that our boy JT is going to be in town. We haven't kicked it with Lil J (that's what he likes us to call him) in a minute, and that cat is always a lot of fun. Last time he was in town, we all went out and hit up the OB and The Northern, and we had a blast. I think Lil J even got himself a new worst that night.
We'll be sure to post some pics of us hanging out with him. Look for those on our Facebook page soon!
HPR: When can we expect your first album to drop? And can you give us a preview of some of the song titles?
KNCYD: We do have some new songs in the works, including 'Who's Your Worst?', 'Overnight Pillowfight,' and 'What's Your Girlfriend's Name?'
Rumor has it that CJ (The Class Clown) is working on a solo album, tentatively titled 'Taco, Taco, Taco.' For some reason, Chazz (The Bad Boy) doesn't like that title, but he won't say why.
I can tell you this much for sure: Our fans (Kummybears, as we lovingly call them) can look forward to our next joint, 'KumNcyde Presents: Who's Your Worst?,' coming Summer 2014. And you can expect that to be an even bigger, crazier party than Valentine's Day will be.
If all our Kummybears keep coming out to the shows, we'll keep bringing it—bigger, better, badder—every time.
IF YOU GO:
WHAT: KumNcyde w/ Romance and the Call-You-Laters
WHERE: The Aquarium, 226 Broadway
WHEN: Fri, Feb. 14, 10 p.m.
HOW MUCH: $5
INFO: 21+