Later, G
by Diane Miller | .(JavaScript must be enabled to view this email address) | Music | November 12th, 2014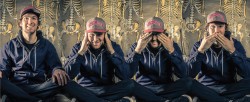 *Adult language advisory

Where would ND hip hop be without Kipp G? We'll soon find out.
This Saturday, Nov. 15, North Dakota rapper/promoter Kipp G will put on his last show ever.
This "big deal" event at The Aquarium will include a Love Connection game and performances by local rappers and Minneapolis-based group The Crest. It will be one big last hurrah for the well-connected, well-versed (pun intended) Kipp G.
"It's bittersweet for me for sure," he said to HPR. "And I am really looking forward to having all the people that believe in the party that we've led for the last decade."
That's right, if you truly know ND hip hop, you at the very least know Bismarck-native/Fargo-resident Kipp G, who's been putting on indie rap shows since the late '90s. He's responsible for bringing in acts like Doomtree, Mac Lethal, Heiruspecs, Eyedea, Aesop Rock, Dessa, POS, Kanser, Grieves, Astronautalis and dozens of other underground hip-hop acts through the area -- including a young Macklemore.
Kipp also loves giving hugs, a.k.a. hugz. At shows, perhaps you've even received a free PBR pounder from him or one of his former emcee partners, Tony the Butcher and Jem P (Meandyoucrew); or maybe you've been randomly selected as a one-measure-long subject in one of Kipp G's freestyle raps. Maybe you waved your hands in air and screamed per request of the emcee.
Although he will no longer be doing shows, Kipp G has no doubt set a standard and left a deep imprint on local rap and hip hop. So, in celebration of Kipp's feats, HPR mediated an interview consisting of questions from some of Kipp's heroes.
Mac Lethal and DJ Abilities ask Why are you doing your last show ever?
Kipp Gabriel: I grew up freestyling. When I threw my first show I was a big fan of people like Eyedea and this guy that is in The Crest named Jack Cracker, my big brother Zach (of Kanser), who's not my real big brother but he is now pretty much. I was a big fan of all these dudes and I saw myself beneath them, basically. And there's a saying in hip-hop: play your position, man …
So I grew up being like, what is my position? And my position was like, those dudes actually had talent that was unique and original and I was just a big fan of theirs, learning off of them. There's been shit like that throughout hip-hop forever, some dude who's been learning off rappers before them, and in some ways they come out and have originality. I don't feel like I found my originality. I feel like my originality hasn't been with rap, it's just been with who I am as a person, my personality from what other people tell me that's kind of the only thing that I can take away as originality.
So when I started I was big fan of all these dudes and I was like I want to meet these dudes, I want to help them, I want to play my position in this game and advocate bringing culture to North Dakota. That was mixed with the fact … a lot of people growing up are like "Man, this state sucks. There's nothing to do." Everyone who's grown up in North Dakota has heard that at some point and I was like "fuck that shit, we can make something to do" …
I met 'em all (my heroes) and they all became my friends … and then I met all these other people too and it was so incredible it was so in my nature and I just kept going and throwing shows because it's all I knew and that's what my identity was.
Recently I've been just feeling like I did all I could for the scene. I tried my best to enrich North Dakota and give a good time to everybody. And then I've been at shows lately and now that I've made these friends … dang, I just want to hang out and kick it, I don't want to stress about (promoting).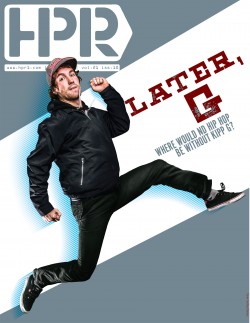 POS asks What's the best and worst advice, if any, you've ever received. How often do you think about it?
KG: The best and worst and advice is combined, because I had been hanging out with this dude named Raashan Ahmad from Oakland, California, where the word cuddy is slang for cousin. A week later I'd done some shows with POS and Eyedea … Eyedea was a funny, goofy dude and I kept calling him cuddy and him and I were laughing about it and POS pulled me to the side kind of privately and out of respect and he was like, "Kipp, you gotta stop calling Eyedea cuddy." And I was like "I don't get it, what's the problem?" …
What I didn't understand was apparently Oakland slang for cuddy means cousin and Minneapolis slang for cuddy is vagina, and I didn't know that. So I was calling Eyedea vagina all night and he thought it was funny because he's got a pretty good sense of humor and literally almost every time I walk into the Aquarium basement, I think of that shit -- I am forced to think of that shit.
Wes Eisenhauer (of Soulcrate Music) asks What was one of the most memorable shows you've ever played in your career in music?
KG: My first ever sold-out show in Fargo was at the VFW basement. I had to pay for sound and the whole nine and it was one of my favorite shows of all time.
There's video online on this Kanser documentary where you can see the crowd, it was so crazy that the VFW people told me that if I let another person in, they were going to call the fire marshal. The line was around the block over to Toscana. That was probably my biggest craziest show I ever threw and it was my first ever show … with Kanser, The Crest, Dessa, Silent Army and me and this hip hop group called Green Hand.
Prof asks List off five rappers who would not hug you.
KG: The only rapper who didn't hug me was from the Boot Camp Click …
Most every rapper I've met was super funny – just by hugging, like, I made this weird mark on these dudes where every time a new rapper would come to town they would preface me, like, "Yo, this dude Kipp is going to be here and he's going to want a hug so give him a hug, he's really nice … All these dudes have told me my hugs are super genuine with them, "You're my hero, it's super nice to meet you." That releases any tension that I have as their fan for me. It's a weird thing … with rappers that I'm big fans of I want to know that they're comfortable to be comfortable with me.
Alexei Moon Casselle (of Kill the Vultures) asks You've worked tirelessly over the years to bring quality hip-hop acts over to your homelands that would have otherwise never been tour stops for some of the most important acts in underground hip-hop. What do you think the long-term effect of that will be or what do you hope it will be?
KG: I do hope that, whether this was understood or not, I really did always try to put myself second or third and put musicians first. I've made little to no money off of rap in my whole entire life and there are times when I could've walked away with thousands of dollars easily ... I was like, give it all to career musicians. I'm just here to have fun and blah blah blah. The one time I made a bunch of money, I took a bunch of people to a movie and shit. It was tight.
I never wanted money and I always wanted to feel like hip hop was alive – that sounds so cliché but it's how I felt.
HPR/D Mills asks So you don't think you're going to miss it?
KG: I don't know. I don't think I have the answer. But I don't think I will because I think I am still going to continue to rap but do it on my own time 100 percent … just in my bedroom all alone, maybe at a house party and somebody throws a beat on.
IF YOU GO:
Kipp G's last show ever with The Crest and friends
Sat, Nov. 15, 9 p.m.
The Aquarium, 226 Broadway
21+, $8 advance at Orange Records