​Let's get folked up
Music | August 7th, 2019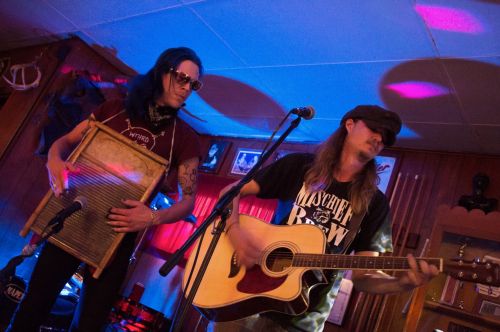 When you think about the genres of folk and punk, the genres may seem quite different at first glance, though both were built on the spirit of DIY. I mean, what's more punk rock than Woody Guthrie's guitar painted with the words "This machine kills fascists?" Combine the genres and there's a force to be reckoned with. We had a chance to check in with Will Burns, Mr. Meaner percussionist and Bindle Fest co-organizer on the two day festival featuring 20 acts from across the US and Winnipeg.
High Plains Reader: Tell us the origin story of Bindle Fest.
Will Burns: Logan Hanson and Ethan Rooney set up the original Bindle Fest back in May 26th 2016 and it was originally a one day event. I joined their forces in February of this year to release Bindle Fest II as a two day, electric and acoustic Folk/Punk festival.
HPR: There are two venues, MB Johnson Park for the acoustic sets and The Aquarium for when you plug in. Great idea talk about the best of both worlds. Can you tell us a bit about why you chose the two locations?
WB: The original Bindle Fest was at MB Johnson Park in Moorhead so we thought we would keep the tradition and have the acoustic day there. The electric night is a new addition to the festival and of course we had to reach out to The Aquarium. We might even branch out a third day in the upcoming years.
HPR: Upon seeing Run Rabbit Run on the bill, I see that there will be a bit of a reunion with the great Austin Miller. Can attendees anticipate the Dusty Boys reuniting onstage?
WB: We will only know when the dust settles...
HPR: What did you learn most from Bindle Fest 1? Can you tell us a bit about the first year.
WB: The original Bindle Fest was a testing of the waters, of what we wanted when putting on a festival. We realized we wanted to expand upon the idea of a two day festival so that was why we were pushing for that this year. We had such a good time seeing all of our out of town friends in Fargo that we decided to reintroduce the idea of a folk type of festival in Fargo/Moorhead.
HPR: So a bindle is in reference to a rucksack or clothing bundle in hobo culture. Would you like to elaborate a bit on that?
WB: Well I don't think anyone is hitching a ride on a train to catch Bindle Fest this year anyway (laughs). That's kind of the ideology behind it, multiple acts from different places in North America traveling the best way they can to our area to play some great music.
HPR: Mr. Meaner has gone through a few changes since the last time HPR touched base. Would you be willing to talk about that a little?
WB: Yes absolutely, Mr. Meaner has since added a horn section including Michael Scotch on Saxophone and Jeremy Smith on Trombone. We released a demo two years ago titled "Dropped Charges" and we have also been recording a split with Run Rabbit Run due to be released this September.
HPR: What's next for those Dusty Boys?
WB: Finishing up recording the split and going on tour with Run Rabbit Run September 3rd-16th. We will be venturing down to Texas and back.
IF YOU GO:
Bindle Fest II
Friday, August 9, 8 p.m.
The Aquarium, 226 N Broadway, Fargo
Saturday, August 10, 12-9 p.m.
MB Johnson Park, Moorhead