​'Like a moth seduced by a lamp…'
by Sabrina Hornung | .(JavaScript must be enabled to view this email address) | Music | February 13th, 2019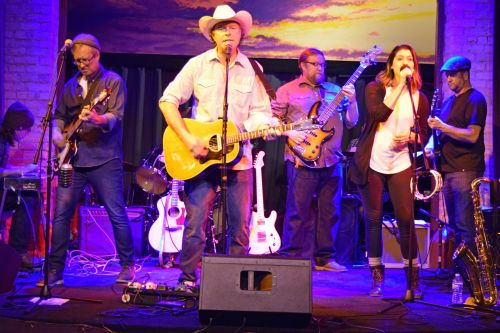 When asked what brought the members of the Minneapolis based alt-country band Ghost Wagon together, during a collective email interview they replied, "Most of us met through the music in one way or another. Ghost Wagon is a collective of like-minded musicians who want to create great music and like a moth seduced by a lamp are drawn to the light."
The band consists of JC Collins, Matt Dittmar, Marc Dockter, Neil Johnson, John Mack, Chuck Nelson, AJ Swenson, and a revolving cast of fiddlers and steel players. Marc Dockter and Chuck Nelson are both veterans of the Fargo music scene.
Marc played in a band called Quadrophonic in the early 2000s with Steve Wallevand, John Shea and Justin Fox. He's played in a number of groups in Minneapolis since then and joined Ghost Wagon midway through 2017. Chuck played in Ugly Stick in the nineties in Fargo. He then went on to play in Vantage, Canada, Jack Gandydancer, Gaslighter's Union, and now Ghost Wagon
Ghost Wagon is making their way back to Fargo to promote their second album "Lost." "Lost" has been a year in the making. When asked what the biggest lesson they learned while recording they replied, "patience."
The album is full of heartbreaking vocal harmonies and peppered with steel guitar and a dose of fiddle in addition to skillful acoustic guitar melodies. Their sound could be comparable to that of the Jayhawks or Whiskeytown. The lyrics have a poetic sincerity to them--like a well-written heart to heart conversation. I had the chance to check out their outdoor set last August at Center Fest, on a cool summer evening under the stars while sipping whiskey in good company. With that being said, I can't think of a more fitting scenario to experience Ghost Wagon's set for the first time.
In addition to the release of their first single "Red dirt road," came a video, in which the camera follows the protagonist driving through the countryside near Nelson Wisconsin in a '66 Chevelle to a more bitter than sweet homecoming. The interior shots were filmed at the Icehouse in Minneapolis.
Chuck Nelson writes the majority of the songs. When asked how they write, they responded, "It's like communal cooking, Chuck brings a recipe and everyone throws in a pinch of spice."
When asked where "Lost" came from they replied, "It's one of the songs. Maybe more importantly, it's where the band/country/world was at when we recorded it. Sorta just seems like where we are all at…"
IF YOU GO:
Ghost Wagon at Dempsey's
Saturday, February 16, 10 p.m.
Dempsey's, 226 N Broadway, Fargo