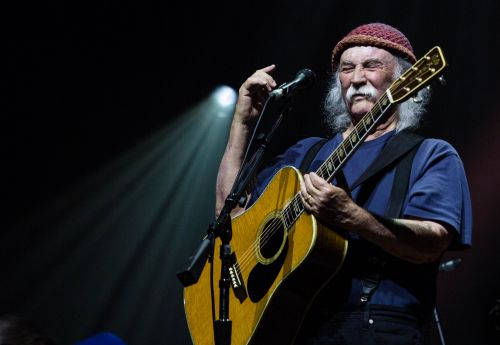 HPR had the exclusive opportunity to chat with David Crosby prior to his appearance at The Fargo Theatre on Sunday August 25. Crosby is a two time inductee to the Rock and Roll Hall of Fame for his work with The Byrds and Crosby, Stills & Nash (CSN). He was recently the subject of a documentary called "Remember my name" and he's released four albums within the last four years and is currently working on a fifth album.
High Plains Reader: Where did you find your folk/musical roots?
David Crosby: Well, my parents liked folk music. My mom bought some of the first, now this was so far back these were 10" LPs, before they started making 12" LPs. We had a few of them and that was the first folk music that I remember. Josh White, Odetta--Odetta in particular. I learned a whole lot from that woman. Man, she was a wonderful--won-der-ful singer and could tell you a tale with a song quite brilliantly. Then the Beatles came in and we said--let's plug in--whoopee! Then we started writing songs ourselves.
HPR: You were recently the solo subject of a documentary called "Remember my name," what was that like?
DC: It's weird honey, it's like being naked in public--you know? (laughs) It's really good if you look great and I don't look great. What we did is we took a really honest look at a human being. It happened to be me and the point was… not who it was but how we did it. We just didn't lie to you. We didn't polish it up and pretty it up and invent stuff to make the guy look good. We just focused on the truth. That's pretty rare these days! (laughs)
HPR: How difficult was it to open up like that?
DC: Here's the secret… it wasn't in front of the world, it was in front of this guy Cameron and this guy AJ, both of who I know really well. Cameron's known me since he was 16 years old. Did you ever see the movie "Almost Famous?"
HPR: I did!
DC: Right, ok he was the kid we were the band. It's pretty simple, we introduced him to a bunch of girls and stuck a joint in his mouth and I think his mom is probably still mad at me. He knew me since then and he was in the room at the time and saw what was going on with Crosby, Stills, & Nash and Crosby, Stills, Nash & Young he saw it all real close. He knew where the truth was. We didn't want to hide. I didn't want to polish it up and pretty it up. We wanted to see if we could actually paint an honest picture and that's what we did.
HPR: What did you learn from Joni Mitchell and what do you think the secret was to her brilliance?
DC: I don't know if it was a secret--she just was immensely talented. This is a girl who was better at music and poetry than almost anybody in the world. She's got lots of flaws--trust me she was my old lady for a year I can tell you for sure--she is not perfect. Boy, can she write, she's the best of all of us at writing. The thing she taught me the most was to write everything down. If there's four words in a row that you like just write em down, if you don't write em down it didn't happen. I save them up and look at them later and say--oh! That leads to this and bang you're off and running at the start of another song. It happened to me just last night.
HPR: THis question is from one of my good musician friends here in Fargo, he was wondering if you had any kind of a guide or advice on getting along with your bandmates.
DC: There's no secret to it, it takes work, what happens is…when you start a band you like each other. That's why you picked each other. You like the music you're playing and you like the experience of playing a LOT. It's all pretty wonderful… 10 years later, 20 years later, 40 years later it ain't so much fun and you're not friends anymore and you're doing it for the paycheck and it's turns into "turn on the smoke machines and play your hits." That's not it at all.. That's not what I came to the party for at all. A paycheck is marvelous but the rest of it SUCKS. That's why I left CSN because it devolved to there and I--I love music man, I'm not gonna stop loving music for anybody not even them and that's what it had gotten down to.
HPR: In the film you mentioned that until you got sober you didn't go on stage without the assistance of some sort of substance. Do you feel that you perform better now?
DC: Yeah, I think I do. My joke about it is that I need all the brain cells that are still holding man, I need them all in one place in order to do the best job that I can and that's really sort of the truth. I have a lot of fun if I play stoned but I think I do a better job of communicating with the audience if I'm straight and get stoned afterwards. That's how I usually do it.
HPR: Reflecting on the experience of your documentary, and your history performing and writing. What do you think your legacy is?
DC: You know, I don't think about that. I don't see myself the way other people see me of course, so I don't really look at myself in that really "larger than life" way. I don't think it's really good for you to do that. I assume my legacy will be the songs. They're what I do and they're my art and they're what I'll leave behind. I don't look at it as a legacy because that's kind of self aggrandizing and I know what a bozo I really am. I do think I write good songs and that's the art I make. I make good music--that's the only thing I can do but I can do it, so that's my legacy. If people love it and people listen to it then I did good.. These are pretty dark times, this is not a good time for the United States of America it's very dark and the music lifts and it lightens. What's that song of James Taylor's? "Shed a little light?" Music does that, so I feel like I'm doing the one thing I can do to help and aside from that I don't really look at my "legacy."
IF YOU GO:
David Crosby & Friends and Sky Trails Tour
Sunday, August 25, 7 p.m.
The Fargo Theatre, 314 N Broadway, Fargo