​"Love, Loss, & Regret"—Pat Lenertz Band comes into its own
Music | April 3rd, 2014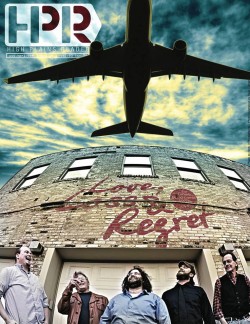 Having singer/guitarist Pat Lenertz in town is like having our very own John Prine, Jerry Garcia, Waylon Jennings or Willie Nelson. These comparisons are huge, but the humble Lenertz has a really strong knack for paying respects to his heroes.
In fact, he has so many heroes that he brought in 24 of his favorite local musicians to play on his very first solo record, "Love, Loss, & Regret," set to release April 17 with a party at The Aquarium.
"It's a reflection of the downtown music collective," Lenertz said. "We play with each other and we respect each other. As far as the way I've always dealt with people, it's together."
With 15 years of experience leading numerous bands in Fargo-Moorhead, Lenertz has built quite a positive reputation. It shows. For HPR's Best of the Best Awards, he's nominated for Best Musician, Pat Lenertz Band is up for Best Original Band and his other band, Heavy is the Head, is up for Best Cover Band.
Here's HPR's exploration of one of valley's favorite musicians.
The album
"Love, Loss, & Regret" is 17-song concept album with lyrical content reflective of Lenertz's life.
"It was (Zach) Kobrinsky (HPR's former editor). 'I don't know what I'm going to name this record, man. There's love themes, there's loss themes and regret.' And he's like, "Idiot. That's what it's called," Lenertz laughed.
Every song on the album is voice, guitar, drums and bass driven. They also mostly have an Americana rock feel to them.
Somehow, however, each song is very different from the next. Perhaps it has something to do with the number of different musicians featured. Perhaps it has something to do with the expert songwriting.
"Heavy By Midnight" is a great "regret" tune. Built by tense brass lines, a yearning vocal melody and bluesy guitar riffs, the song also allows the listener to hear resolve by the end of each chorus as the backup vocalists transition from "oo" to "ah."
An obvious loss tune, "Farewell To You," is also an obvious love tune. It's also the most distinctively folk tune on the album. The chorus, the acoustic guitar picking, the chord progression, the harmonies and the playfulness make the song, about a heavy subject, lighthearted and happy.
Other standout tracks include, "Minnesota Rose," a feel-good, alt-country love song, "Mysterious Romp," hip and colorful instrumental track, and "Riverside," a reflective power ballad with a beautiful chorus.
The album also consists of three sort of quirky segues that serve as transition points.
"It's not necessarily linear, but the segues are definitely meant to change the season," Lenertz said. "But as you know or anybody, sometimes, within a tragedy happiness can arrive or a door opens, another closes."
Massive credit for engineering and co-producing the album goes to Lenertz's longtime Legionnaires band mate/friend Ken Davis.
"Without him, it would not have been possible," Lenertz said.
The band
Pat Lenertz Band is actually only a year-and-a-half old. Lenertz has been in a number of local groups over the years, including Bad Mojo, The Quarterly, The Legionnaires, Heavy is the Head and The Moody River Band. He started the Pat Lenertz Band to do more of his own original songs.
The Sidestreet Grille and Pub is in fact responsible for forming the Pat Lenertz Band. Before the group was official, bassist Travis Atwood, guitarist Casey Conners and drummer Trevor Pearson were the house musicians for the bar's open jam night, which still goes on every other Tuesday.
"I've been playing with Travis and Trevor (both formerly of Carmen the Cactus) for a long, long time … so it just felt very natural. So when it was time, I was like, this is the band," Lenertz said.
Conners, who Lenertz described as "extremely, extremely talented" and "just the nicest, kindest man," got connected to Lenertz through Atwood.
Months later, keyboardist Mike Jenkins (of the Deb Jenkins Band) joined the group.
"I used to watch him play at Kirby's in the early 2000s at jam sessions and he was like a mentor to me. And his wife, Deb, got me my second, third gig ever," Lenertz said. "So to be able to play with him and get to know him personally and her again personally has been just amazing, to be able to play with my heroes."
Musicians galore
Some names people might recognize on the album include guitarist Matt Johnson of O'fosho, trombonist Steve Wallevand of Heavy is the Head, cellist Caitlin Benson of Less Than Organic, saxophonist Joe Mechtenberg of Wookiefootand drummer Christopher Gabriel of AM 970 WDAY.
Indeed, not many know Gabriel, a popular radio personality, is a musician.
"We'd go in (the station) and he always talks about how he plays drums and I'd say, 'Chris come play with us,' almost calling his bluff," Lenertz said smiling. "The dude comes by one night – finally wrangle him in – and lays down … "Let's Wait," that's all him. Sick stuff, and not just on time, on the beat – groove. I mean, real good."
The CD release party will be special because Lenertz wants to get as many of the musicians featured on the album to perform that night.
His advice
Lenertz balances numerous bands and several other projects. How does he do it?
"IPhone. Be annoying. Be patient. Keep busy," Lenertz said. "You have to get the plate spinning and once it's spinning, you just keep it spinning. And if it falls then pick it up and say you're sorry and shit happens and move on. I'm not perfect. I f*** up on some stuff sometimes, but I really try hard not to. I really do ... I've never been penalized for being kind to somebody, ever. It comes back if you cool to somebody."
He has good advice for newer musicians looking to get gigs too:
"You just play and play and play and play. It takes time. But networking is a huge thing, and that's why I think it's special down here. Really, go to one of those open mics, go to the open jams.
"Talk is cheap, but do what you do and someone is going to notice … Go in and annoy somebody at a bar. That's what I did when we were 17 years old."
Lastly, Lenertz has great advice on how can Fargo continue to nurture and grow its music scene:
"I really like downtown, the way it has revitalized and diversified. I think that's what it's going to take – is to have those outlets for folks who come from different genres and backgrounds. The facilitation of creativity, that's what I tell anybody.
"What are you supposed to do? Play. Suck for a long time. Play a thousand bad notes. You need places to play those bad notes or eventually good notes, and then create a following, etc. I love the bubble we live in … it just feels like we live in a very arts-filled realm in this small area and I really appreciate that and I want to facilitate that."
The future
Lenertz said he plans to continue playing and recording music his whole life. With "Love, Loss, & Regret" he's working on getting his music licensed and pushing it out there as much as he can.
"People say it's almost like a validation, people like the album," Lenertz said. "Man, I'll tell you what. I'm just proud of it.
"Music, sometimes, I feel like on a good night I'm not evening playing. It's coming through me and I am vessel. And you have to remember that. I wish I could bottle it. That's why I'm so happy Chris Larson has filmed hundreds of hours of me. That's going to be awesome when I can't remember anything. It's already starting to happen. So thank you."
IF YOU GO:
WHAT: Pat Lenertz Band CD Release
WHERE: Aquarium, 226 Broadway, Fargo
WHEN: Thurs, April 17, 10 p.m.
INFO: http://tiny.cc/ox8ldx