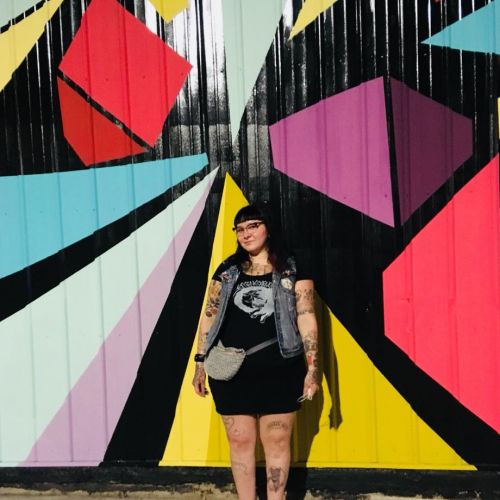 Maria Cree has been active in the music scene in Minot for 10 years, but has loved music all of her life. A drummer, music promoter, and festival organizer, Cree does not let the grass grow under her feet. She has been a part of promoting Girls Rock in Pine Ridge, Grip Fest, and Why Not Fest, an annual three day arts festival showing local and international talent.
The High Plains Reader caught up with Cree and asked her about her role past, present and future in the Minot music scene:
HPR: Talk about Why Not Fest – how long it has been going on, the future of it, etc.
Cree: Why Not Fest just had its tenth fest. We started it in remembrance after a friend passed away. We kept it going and it kept getting larger. We get bands from all over the world. The furthest, I think, we have brought anyone in is from Australia. This was the last Why Fest.
HPR: Who is behind Why Fest?
Cree: Pangea House was behind it and other music events. It was a collective – an all ages venue running in downtown Minot. We promoted it as an all ages, drug-free space. We had fashion shows, punk music shows. We collectively put our money together to pay the rent. Any money we made at the door we would split between the space and the traveling artist we brought in.
We are not active any longer. We decided to retire the name and also Why Not Fest this year. But we are all active in promoting music.
HPR: What are you doing now?
Cree: I am still actively booking shows and doing what I can to pass onto the next generation. I'm never going to stop doing shows. This is what I stayed in Minot for. And now I have a family. It is a good home base. And promoting shows and playing in bands is the extra thing I do besides my job. I work as a housekeeper.
HPR: Why Minot?
Cree: Although Minot is in a desolate area, there is opportunity and space here for artists. And Minot has always had a music scene – at least since the early 90s. We have bands that are big deals coming through here on a regular basis. There are very heavy roots with the punk scene especially.
HPR: Talk about your own music.
Cree: Drumming is my thing. Drumming has primarily been my baby. I enjoy doing it – it has been therapeutic for me. It connects well for me. I had tried my way at bass playing. I am going to keep playing music. Me and a few of the women in town made it a point to have strictly all female bands. And being a female musician for the past several years, I have felt the heaviness of misogyny within the music scene. We are all in the music scene with queer folks and women, all booking our own shows.
I have been practicing with my niece who plays drums I would like to do stuff with.
My first band was called Chapstick. I am a mother to an 8-year, soon to be 9-year old. I started drumming with Chapstick about the time I got pregnant and kept drumming with them until I gave birth. I took one month off then went right back to it. We were a band for at least a solid two years.
I was also in The Greasy Doilies, a power girl group for a year. Then a band called Dirt Flower. We played at the North Dakota State Fair Parade with another Minot group, led by my friend Jasmine Schultz, Vanity Play. Some of the music of bands I've been in is available online on the web site Band Camp.
I have always been interested in music. I first got into record collecting when I was 16. I grew up on the Reservation and did not have a lot of access to music. I did have free access to a library at the college. I would mail order zines and those zines I could mail order music from a lot of DIY labels and I would get a big package of music delivered. I would make mix tapes for crushes and pen pans. And I just kept going. It was therapeutic for me. I am also a rape trauma survivor and my therapeutic outlet was music. It was a solid outlet to help me through it.
Then I received a flyer from an ex-partner of mine about music in Minot. When I first started there was a big basement scene – it wasn't at places like Pangea – I used to hitchhike and go to house shows in Salt Lake City, etc.
HPR: You are into a sober music scene.
Cree: A lot of people I grew up with are now trying to be sober. The music scene is growing into something that is really healthy. It has brought so much opportunity for me to find people who are healthy. I love the really loud music of my friends – it builds confidence and you feel the resilience.
HPR: What do you do when you are not promoting or performing music?
Cree: I have pen pals. I make mix tapes. I am working on a zine for local kids this about bands that I have booked so they can discover them and have easy access to them. The zine will also include local things going on. I want to get younger people stoked about the scene.
HPR: I understand that you participate in Girls Rock Pine Ridge.
Cree: I am a drum instructor at Girls Rock Pine Ridge. I want to continue to go to that and I usually bring a couple of girls with me who are interested in playing music.
I am First Nations and I go to my community events and bring kids there and trying to get back into actively dancing. I am enrolled in Turtle Mountain Band of Chippewa but I grew up with the MHA Nation (Three Affiliated Tribes) and in New Town prior to the boom.
HPR: Any shows coming up you would like to mention?
Cree: I have a show I am promoting coming up on September 6 with a power feminist music group, KItten Forever, from Minneapolis, at the 62 Doors Gallery and Studio in Minot.
The band Curse, from Baltimore, is coming October 1 to play at the Blue Rider for a 21 and over show.
On October 2 we have Dumpster Dick (queer trans punk from Madison WI) with Brooke Pridemore (Brooklyn, NY).
I also recommend people check out "The Agenda" that covers all of North Dakota for music events.
IF YOU GO:
WHEN: September 6, 7:00 – 11:30 p.m.
WHERE: 62 Doors Gallery & Studios, 11B Main St S., Minot, ND